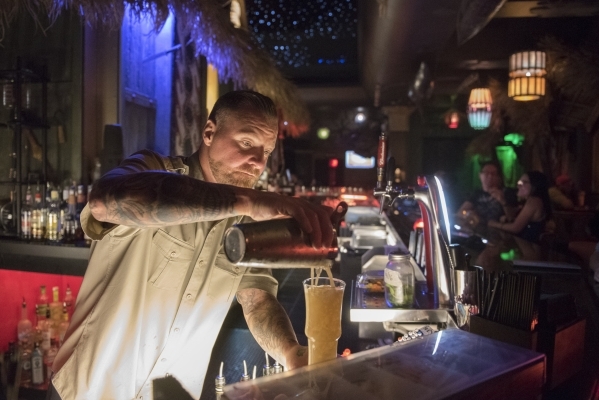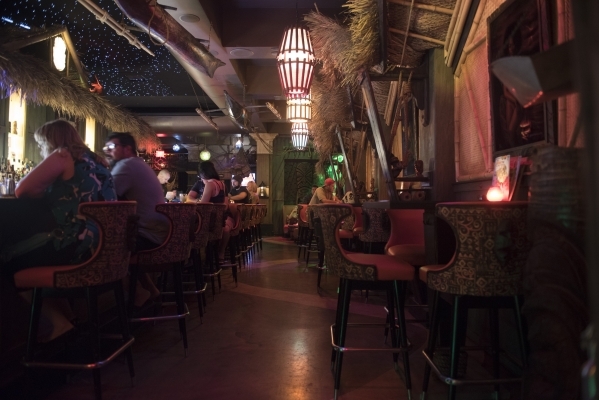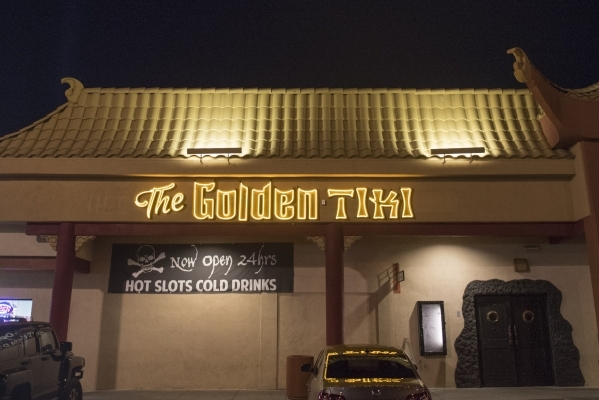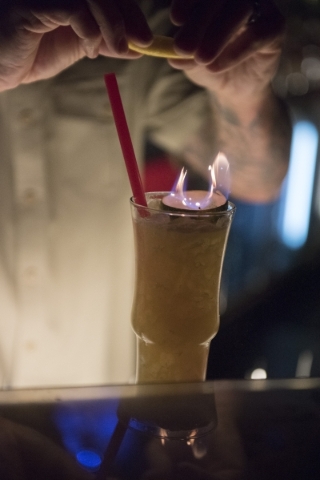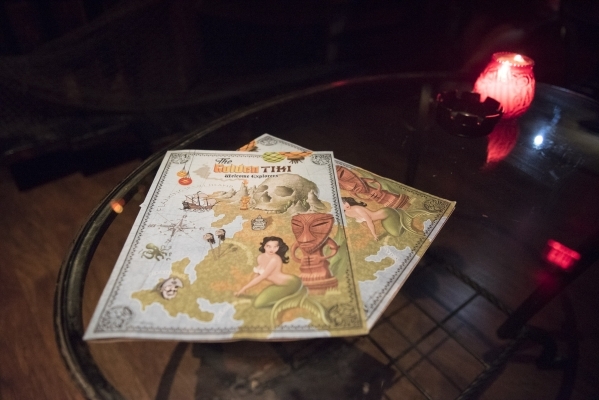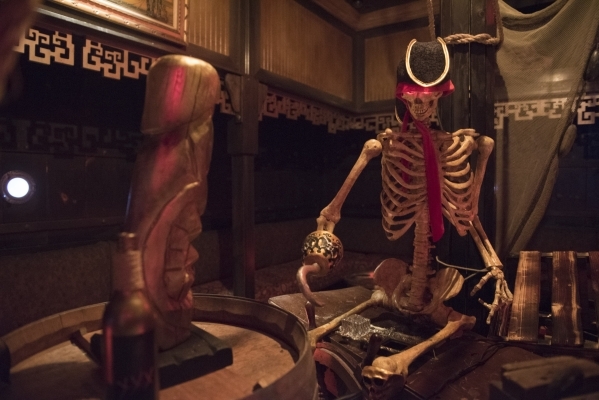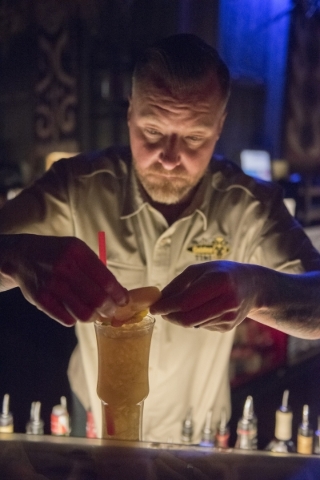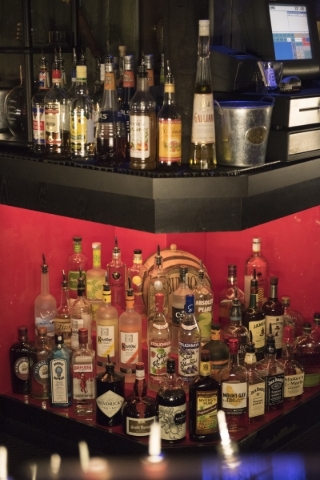 Golden Tiki manager Jim Kleiss said entering the double doors at the new 3939 Spring Mountain Road tiki bar is just like stepping into the Pirates of the Caribbean ride at Disneyland … except this amusement destination is just for adults.
Visitors pass through a dimly lit cave-like entrance with trickling water and pirate voices yo-hoing away any trace of sound from the Chinatown strip mall outside.
Through the second door, the bar is home to a pirate cove, a headhunter village, a mermaid cove and more, all crafted according to owner Branden Powers' plans.
"This is his brainstorm," Kleiss said.
Goldy — a singing, talking tiki head — presides over the bar beneath a faux night sky of flickering LED stars.
But the star attraction is Captain William Tobias Faulkner, aka Captain WTF, an animatronic skeleton who reveals his tale of doom bit by bit, pausing, he says, to "get some grog."
Cocktail waitress Alona Mitchell said that the captain and his crew were after the gold on Skull Island.
"But William Tobias Faulkner couldn't get his ship close enough because of the reefs and the headhunters who protected the island," she said.
So he stayed aboard his ship, drank from the barrels of rum and let his crewmen venture onto the island where they were picked off by headhunters.
"Eventually, he took a chance and swam for it. And he almost made it," Mitchell said.
Mermaids discovered him, nursed him back to health and revealed the location of the ultimate treasure, the Golden Tiki.
"He snatched the Golden Tiki and swam back to his ship," Mitchell said. "But he didn't realize that the Golden Tiki had put a trance on him."
The trance, she said, kept him staring into its eyes until he was nothing but the bones on display.
His bones are only the beginning. The bar is packed with details from a giant tiki man custom crafted in Hawaii to pirate ship portals, weathered wood walls and hand-carved masks on the back of every bar stool.
Much of the lounge's tiki art was crafted on site with chainsaws, chisels and hammers by a local artist, who goes by Billy the Crud.
"The craftsmanship and the work is amazing," Kleiss said. "Everything is handcrafted in the lounge; all the wood, all the paint, all the artwork was made for us."
And then there are the collectables.
"Did you see Hunter S. Thompson's bowie knife?" asked cocktail waitress Asia Delucia. "It's stuck in the tiki hut behind the bar."
There's also a unicorn horn mounted by the bathrooms, Lord Baltimore the shrunken head, and an ever-changing lenticular ghost ship picture from the Haunted Mansion ride at Disneyland.
In another nod to Disneyland, the bar serves Dole Whip, a soft-serve pineapple sorbet sold outside the Enchanted Tiki Room at the amusement park.
"Our claim to fame is the Dole Whip machine. That's what everybody comes here for," Delucia said.
Bartender Mikel Kortan said while he serves the Dole Whip virgin, it can also be spiked, preferably with Coruba dark rum.
"It's like a rootbeer float, but with rum. It's sweet," he said.
It's not downtown or on the Strip, but so far, Kleiss and his staff said the bar has been packed, especially on weekends. But packed or not, don't expect a cover charge.
"Go down to the Strip, and you can have a cover charge," Kleiss said.
He said it's a place everyone feels welcome, where you'll see guests from age 21 to 60 or 70, some dressed up in rockabilly style, others in suits and evening wear or in shorts and flip-flops.
Delucia describes the crowd as eclectic.
"We're really popular with the industry people because they understand what goes into creating handcrafted, multilayered cocktails," she said. "This isn't just a rum and Coke."
The Golden Tiki is open 24 hours. Visit thegoldentiki.com or call 702-222-3196.
— Contact View contributing reporter Ginger Meurer at gmeurer@viewnews.com. Find her on Twitter: @gingermmm.
The Golden Tiki
3939 Spring Mountain Road (in Chinatown)
Call 702-222-3196 or visit thegoldentiki.com.