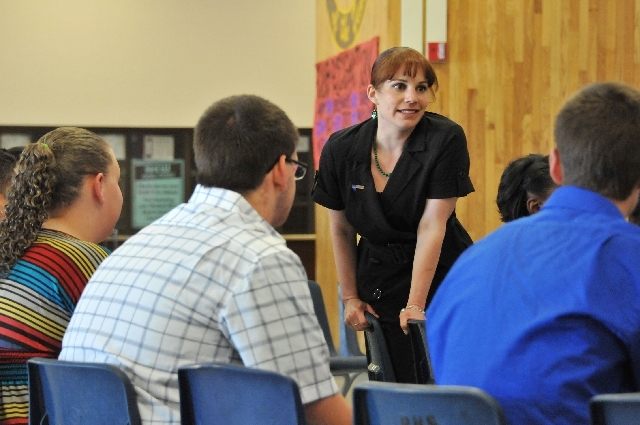 Without one special class and a special teacher, most of these 40 Bonanza High School juniors and seniors probably would not graduate.
That is not the case anymore — most are on track to graduate. And those students attribute it all to one woman, Heather Parkyn.
She is their teacher in a class called Jobs for America's Graduates, or JAG, a pilot program at four Clark County School District high schools: Bonanza, 6665 Del Rey Ave.; Valley, 2839 S. Burnham Ave.; Cimarron-Memorial, 2301 N. Tenaya Way; and Desert Pines, 3800 E. Harris Ave.
Bonanza hosted a May 15 ceremony to recognize the 40 students in the school's program. Nine students did not show up. Three were at work, and six were at orientation for their new jobs at Raising Cane's.
The program encourages students to find work during and after high school.
A choked-up Parkyn addressed her students, many of whom call her their "second mom," after knowing her for only a semester.
"If you can do this much in three months," said Parkyn, "imagine what you can do in three years, 30 years."
The JAG program started in 1980 and has operated in several states, reaching more than 800,000 students. It targets juniors and seniors who are at risk of not graduating because of academic, economic, family or personal problems. JAG specialists, such as Parkyn, meet with these students for 55 minutes per day, five days a week, to provide counseling, employability skills development and other services that will lead to graduation and post-secondary education or employment.
For more information, visit jag.org.
Parkyn will continue to help and provide support for these students for up to one year after graduation. It seemed as if lifelong bonds already were forged, though.
Vanessa Flores, 16, is a junior and vice president of her JAG class at Bonanza. She was credit-deficient and had not passed her proficiency exams entering this school year.
"I can honestly say that before this class, I didn't care anymore," she said. "I didn't have any faith I was going to graduate, and I had given up pretty much."
Flores, like the other students, was hand-picked to be part of the program. She met with Parkyn, who explained the program, and was given an application to fill out if she wanted to join.
Flores said she learned values, goals, how to apply for jobs, fill out a résumé, make a budget and more. She and her classmates also took field trips to the College of Southern Nevada and The Smith Center for the Performing Arts, where they learned about careers.
Flores has made up most of her credits and plans to take summer school to get a head start on her senior year. She wants to go to cosmetology school upon graduation.
The class has been great — her favorite ever, she said — and it is all because of Parkyn.
"She isn't your regular teacher," Flores said. "A lot of us students feel like the teachers don't care about us anymore; they just come to do their part.
"I've come across a few teachers who do still care about the students and do still feel like they can help students succeed if they push them hard enough. But most of the teachers — and it's not just at Bonanza, it's at a lot of schools — they just kind of lose hope in a lot of the students, and Mrs. Parkyn is one of those teachers who won't let you fail, and she won't lose hope in you."
Debbie Tomasetti, graduation initiative coordinator for the school district's School-Community Partnership Program, said the continuation of the program and its potential expansion will depend on the state's education funding, which is to be decided at this summer's legislative session.
There were 124 students enrolled in the pilot program among the four high schools.
"Students really have some barriers in place preventing them from being successful academically," Tomasetti said. "If those barriers are removed, students have the opportunity to succeed. We give them the tools and support they need."
Another Bonanza student, 17-year-old junior Christen Wesp, was credit-deficient and constantly in trouble for fighting.
"In the dean's office, they know my name by heart," Wesp said. "Before this, I was always getting in trouble (and) getting suspended."
She does not have those problems anymore. She said she would get kicked out of the JAG class if she gets in trouble, and she does not want that to happen. After graduation, Wesp plans to go to school to become a medical assistant.
"Mrs. Parkyn's not like a regular teacher; she's like an actual human being. … She's actually there for you if you ever need something," she said.
"Say we have a job interview and nothing to wear — she will get us something to wear. If we have no ride, she's there to pick us up. She's amazing."
Contact View education reporter Jeff Mosier at jmosier@viewnews.com or 702-224-5524.