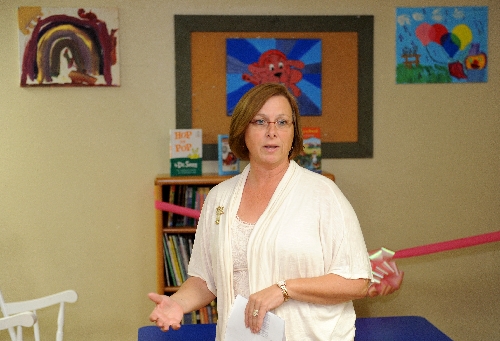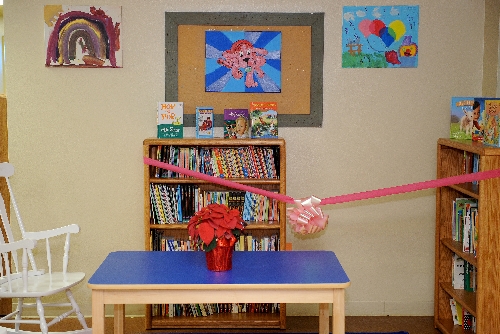 As tears overcame her, Deandra Moses thanked the sponsors of the Shade Tree's new library because now her two children are reading every day. She said her 8-year-old son loves the new book about states and a mathematics book while her 6-year-old loves any book with vivid pictures. Moses even found one of her favorite books on the shelf from when she was in elementary school that she can share with her children.
"It's so cool that it's here finally," Moses said. "It gives the kids something to do other than play and gets them reading."
The Shade Tree opened its first library on the third floor of its temporary home for abused and homeless women and children at an emotional dedication ceremony Dec. 4. The library was established by Jewish Women International and the Verizon Foundation. The foundation donated $10,000 to JWI's national library initiative campaign to build the facility in North Las Vegas, the newest of 44 in its campaign.
JWI hopes to create 100 children's libraries in domestic violence shelters across the country.
Marla Letizia, spokeswoman for JWI, used a Jewish phrase to highlight the organization's mission. "If you drop gold and books, pick up the books first, then the gold," Letizia said. "Today, we are here to celebrate giving children books, which are a resource more valuable than gold. What they read today they will carry with them for a lifetime."
JWI plans to furnish the library with more books and a computer in the next year, she said.
"This library will provide a safe haven to the youngest victims of domestic violence who are fleeing their homes with almost nothing in hand," she said. "Children who come here will find a safe and comfortable place to read, learn and grow." It plans to open at least five new libraries across the country next year.
Last year, more than 1,000 homeless and abused children found a safe place to stay at the Shade Tree. The nonprofit has worked with women and children affected by domestic abuse for more than 20 years and is the largest of its kind in Nevada. The new library includes 350 new books, small and large rocking chairs, a study table and chairs, a colorful area rug and three paintings by current residents.
Marlene Richter, executive director of the Shade Tree, said that in early December, nearly 160 women lived on that floor who could use the library with their 60 children. The shelter houses children of all ages, including up to 17-year-old boys, and the library includes a range of reading levels and interests.
"This is an opportunity for children to work on their literacy and leave this building and go to school and get an opportunity to do something different," Richter said. This means more children will get to hear their mother's voice reading them a story, she said.
The shelter is accepting new and old children's books to the library. For information on how to make a donation, contact Rachel Sablotsky of JWI at 800-343-2823 or rsablotsky@jwi.org or the Shade Tree at 702-385-0072. People can also text "TST" to 501501 to donate $10 or visit theshadetree.org.
Contact Centennial and North Las Vegas View reporter Laura Phelps at lphelps@viewnews.com or 702-477-3839.