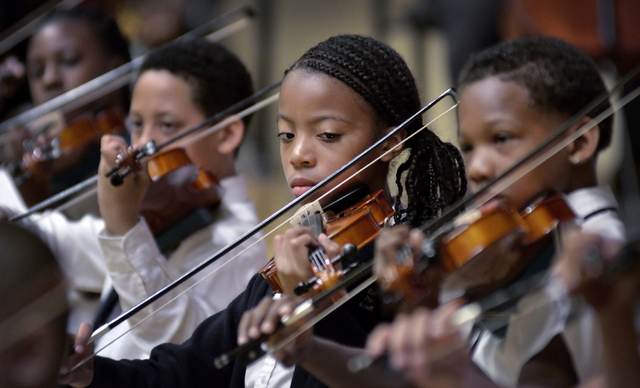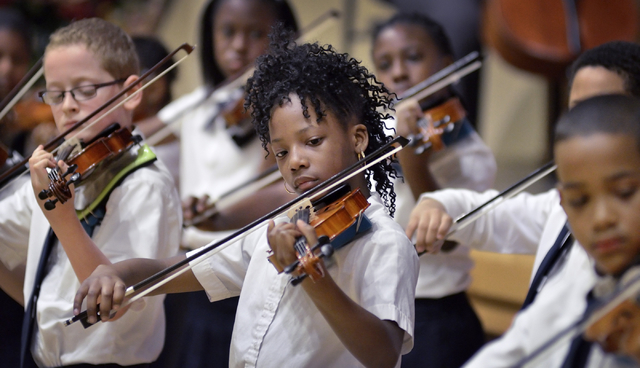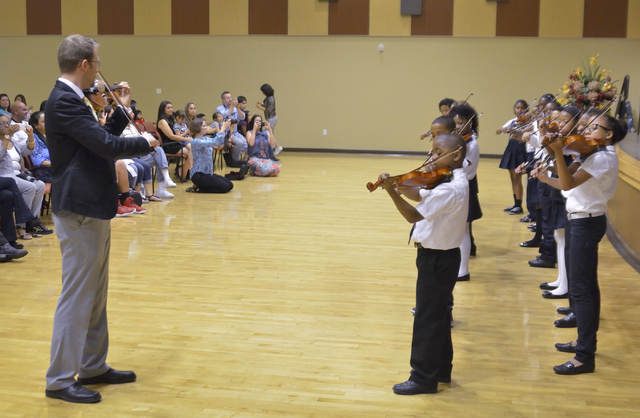 All of the third-, fourth- and fifth-grade students at Rainbow Dreams Academy, 950 W. Lake Mead Blvd., are learning to play violin, but only a handful have instruments to bring home for practice.
This left instructor Patrick Clark with a challenge as he created the new program at the charter school. He said there were a lot of "wax on-wax off" techniques.
"I had to come up with at least a half dozen ways to practice at home without having the instrument," Clark said. "It's important that you teach them muscle memory right out of the barrel. It was six weeks before they even picked up a violin."
Clark spent a lot of time making sure students were holding the violin correctly and bending their bow arm properly.
"The hardest thing for the students to learn is how to make a good sound," he said. " It's really hard for the students to feel really comfortable with the instrument."
The classes began this school year, but the students have already developed enough skill with the instrument that they can perform publicly. The idea of bringing violins into the curriculum came from co-founder and president of the governing board, Diane Hughes Pollard.
"I was partnered with the city of Las Vegas office of cultural affairs, working on the Juneteenth festival," Pollard said. "I know it sounds corny, but I heard the violin there. I had played it myself in middle school, and I thought that this might be the thing to focus our students and make us different from the other charter schools."
She sought out Clark, who teaches using the Suzuki Method. He was available to craft the program for the school. She received some push-back from teachers, who weren't sure the students would have interest in the instruments.
"You never know what's going to engage them," Pollard said. "I felt this might be the thing to focus them and bring them all together, and I think it worked. They're coming to school every day, staying on task, and that's going to lead to their grades getting better and better students all around."
The discipline it takes to learn the instrument helps the students improve on nonmusical portions of their studies.
"They know when they're in my classroom that it's serious," Clark said. "The instruments are expensive, and I'm not putting up with any guff. It's working. I really haven't had any issue with anyone for too long. I also have great support from the administration and the other teachers."
Some of the students take private lessons with Clark. Those students own or rent violins with which to practice. Clark also teaches at another private school, performs in shows on the Strip and writes music instruction guides.
Plans are underway to expand the program to all of the sixth grade next school year and to more classes the following year. When the program expands beyond sixth grade, the building will have to expand, too. Plans are under way to build a second building.
"It has been a great program so far," Pollard said. "We're very proud of our students in the program."
The school is planning performances at 4 and 6 p.m. May 21 at the West Las Vegas Library Theatre, 951 W. Lake Mead Blvd. For more information visit rainbowdreamsacademy.com.
To reach East Valley View reporter F. Andrew Taylor, email ataylor@viewnews.com or call 702-380-4532.
PERFORMANCES PLANNED
Rainbow Dreams Academy students are scheduled to perform on violin at 4 and 6 p.m. May 21 at the West Las Vegas Library Theatre, 951 W. Lake Mead Blvd. For more information visit rainbowdreamsacademy.com.