North Las Vegas 8-year-old creates wigs for cancer patients
February 28, 2016 - 7:45 am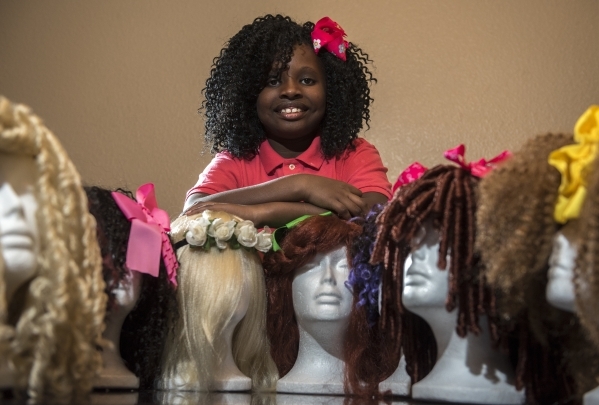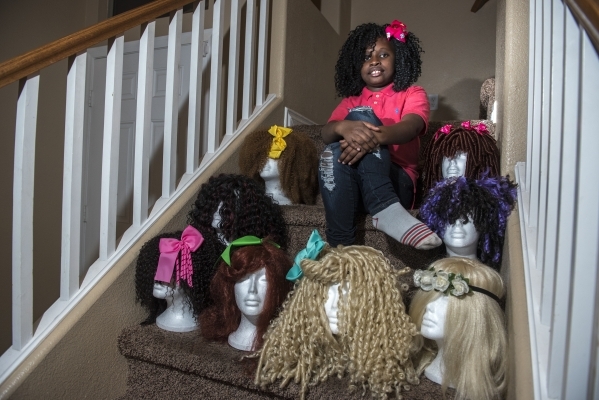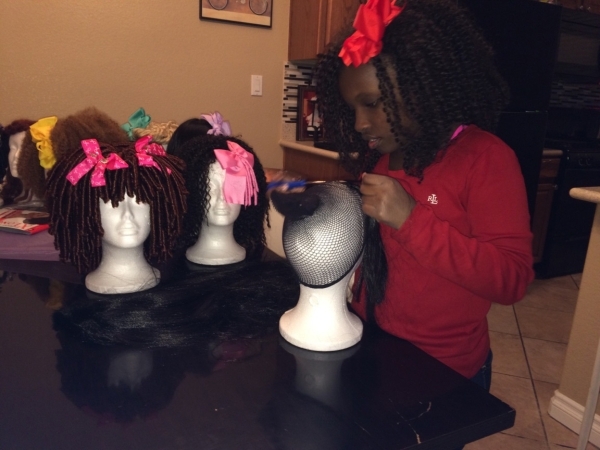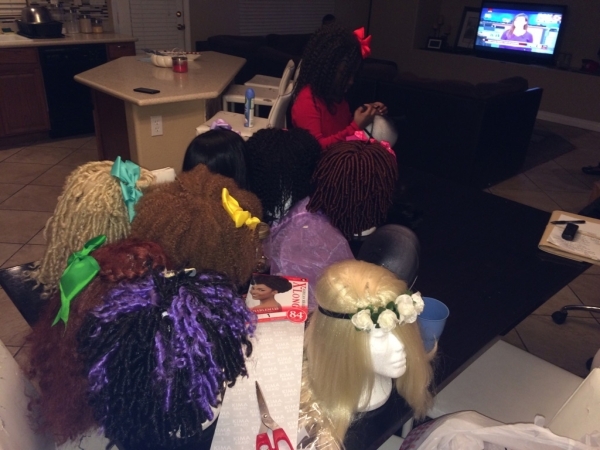 When Lauren LaRay Collins is finished with her homework for Tartan Elementary School, the North Las Vegas 8-year-old works on her own special project: crafting wigs for kids undergoing cancer treatment.
"My best friend's sister has cancer," she said, "and it made me sad. And then I learned there are all these other little girls with cancer who've lost their hair. I want to help them feel a little more girlie."
Her best friend is Celina Mendoza, and Celina's little sister, Leah, 5, did not lose all of her hair. It's growing back, so the wig that Lauren had originally intended for her will go to another girl with cancer.
In a show of support, Celina also cut off her hair to donate to those with cancer.
When Lauren's father, Larry, learned about it, he said he was "joking with Lauren, like, 'Are you going to cut your hair off?' And Lauren said, 'No, I can make the kids wigs.' … I was like, 'Is she serious?' "
Lauren was indeed serious: She had more than six wigs displayed on the dining room table, each atop a foam head form. They ranged from blonde to black, collar-length to longer, all made of synthetic hair.
"She's always been crafty," said her mother, Mia. "She has a tablet, and I (found) 10 tutorials on there where she's been making (different crafts). I knew she watched tutorials on YouTube, but I didn't know she was interested until I saw them. She was making all kinds of things. … So, she's always doing something. The first wig — she did it with ease. I mean, there was no problem. So, she does most of the work herself, but I'll just make sure everything's filled in. But 80 percent of the work, she does."
Lauren's wigs go to the Nevada Childhood Cancer Foundation, 6070 S. Eastern Ave., No. 200, which distributes them. Lauren said she plans to make more wigs by June for the foundation's Camp Cartwheel, a summer camp for children with cancer.
Lauren demonstrated the wig-making process: She starts with cutting synthetic hair, which she purchases at a beauty supply store, to the desired length. She then uses a crochet hook to pull a hank through a head net, where it is tugged to hang in the correct direction and then tied off. Working nonstop, she can make one wig in less than an hour. She said she learned how to do it from YouTube videos. Hair also can be attached with a hot glue gun, she said. She pulled out a wig that used that method — it looked as professional as one found in any store.
Lauren teaches herself other crafts and do-it-yourself skills such as soapmaking and creating Play-Doh with corn starch and baking soda. Her own tutorials can be found by Googling the words "YouTube" and "Lauren LaRay Collins."
Lauren said she wants to be an actress and plans to take acting classes the next time she visits her grandmother, Dorothy Thompson, in Arkansas, for the summer.
When not crafting, Lauren has plenty on her plate: clubs at school for choir; learning to play the recorder; and art. Then, of course, she spends time with friends, playing on the playground across the street. And she plans to continue posting YouTube tutorials to teach other kids how to do crafts.
"I think she's an old soul," said Larry. "She's always doing stuff. She's the best friend you could ever have."
Lauren had made seven wigs when View visited. Her goal is 30.
Though not a child, Brianna Jones, 27, was the first to benefit from Lauren's largesse. Jones, a Summerlin-area resident, is fighting sarcoma, a type of cancer that resulted in the amputation of her right leg in early February. She saw Lauren and her mother on Fox5's "News This Morning" and contacted the family. Within a day or two, the Collinses were at her room at University Medical Center with a wig for her.
"I was really excited, almost in tears because it's great that she's doing this for needy people," Jones said. "As soon as I reached out to them, they responded right back. It tells me that somebody cares."
Meanwhile, Lauren keeps making wigs. She said she reminds herself not to "make it too fancy."
But Lauren can't seem to help adding a bit of fancy to many of her creations. If it looks too plain, she'll curl the hair. To give it an edge, she wets it, braids it and lets it dry before fanning it out. There also are colorful hair bows added, each one placed strategically. They will be given away along with the wig.
"And I want to add lip gloss and nail polish to give away with them," Lauren said. "… I don't need a thank-you. I just need to see a smile on their face, and I'll be really happy."
Those who wish to donate synthetic hair or funds for Lauren's wig-making project can email misslaurenlaray@gmail.com.
— To reach Summerlin Area View reporter Jan Hogan, email jhogan@viewnews.com or call 702-387-2949.