Parade of Nations displays global unity in downtown Las Vegas
Updated June 30, 2018 - 10:27 pm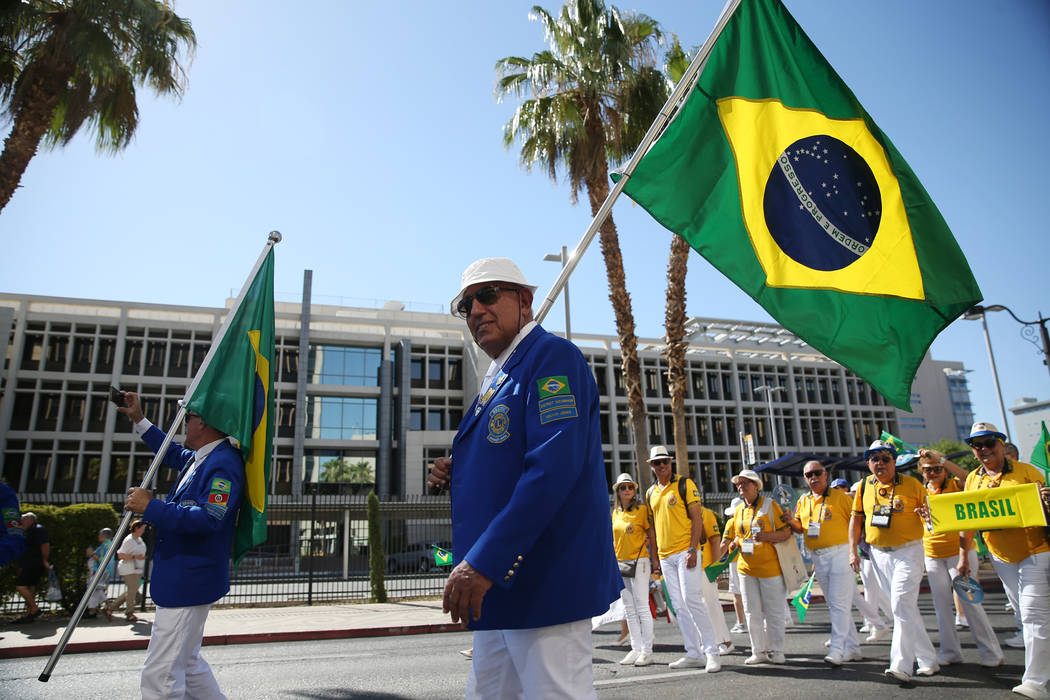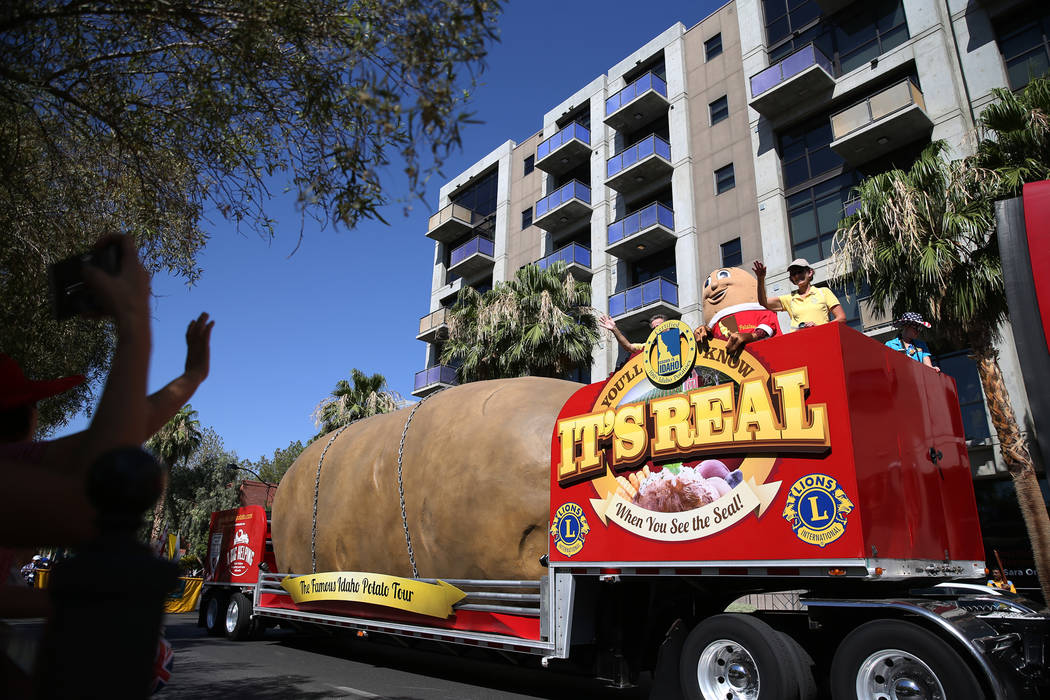 Two women from Panama, wearing intricately beaded berets and long floral skirts, stopped at a corner just south of the Fremont Street Experience to pose for a photograph with a silver-haired Indian man in a bright-orange floral shirt.
The group represented two of the 105 countries and a few of the thousands of Lions Clubs International members who marched to demonstrate global unity in the service organization's Parade of Nations held Saturday morning in downtown Las Vegas.
"For me, this is a big celebration of how international we are," said Gudrun Yngvadottir, of Iceland, the newly elected and first female president of Lions Club International since its inception in 1917. "It's a popular event because everybody is so proud of their country, what they do as a nation, what they do as Lions."
Yngvadottir plans to further diversify the global service organization by launching New Voices, a program aimed at bridging the volunteer organization's gender gap and recruiting young members. Dane LaJoy, a Lions International spokesman, said women make up only 25 percent of the international group, and the average age of its members is 58.
'We need to make it happen'
To be able to serve more people, Lions International needs more diverse membership, Yngvadottir said. The only way to achieve that, she said, is to elevate voices the club hasn't listened to in the past.
"Right now, the world is expecting that under the first woman president, certainly the women's membership will grow a lot," Yngvadottir said. "But that's not going to be a miracle happening. We need to work on it. We need to make it happen."
In Iceland, the country with the smallest gender gap in the world, Yngvadottir has never faced the obstacles women in other countries face, she said.
"If a woman does something in Iceland, it's not any news," she said. "I never had to ask myself if I could do it because I was a woman. I am just a hardworking Lion."
But female Lions members around the world are proud to be so modern and have used Yngvadottir's position to appeal their local leaders, she said. Having men and women in leading roles strengthens the organization because diverse experiences lead to better decisions, she said.
A man who marched for Nigeria's Lions Club in Saturday's parade said he joined the organization in 2008 to help the less privileged. Ade Lawal, 49, wore a vibrant green shirt and trousers, called a buba and sokoto, respectively, and a white cap called a fila.
"We find joy in making the poor happy," Lawal said. "When you make somebody happy, they smile, and you become happy. All the money in this world cannot be comparable to that."
Behind Lawal, Lions Club members from Idaho drove a semitrailer hauling a giant potato down the parade route. The truck followed a group of Lions from Zhejiang, China, who wore white linen clothing and white straw hats with red ribbons. The Zhejiang group carried black folding fans, which that they snapped open and closed as they chanted and waved to bystanders.
Giovanna Seleni, 67, a Lion for 25 years, traveled to Las Vegas from Italy to walk in the Parade of Nations. Seleni said she will attend the Lions Clubs convention Sunday before visiting San Francisco.
"I like the company," Seleni said. "I am here with the friends of the world."
Lions' newest cause
Yngvadottir said the sense of community created by the parade carries into the issues addressed at the organization's international convention, underway at the MGM Grand. The organization recently announced that it has adopted diabetes as its volunteer cause for the next 10 years.
"Maybe we are not thinking about diabetes exactly today. We are just thinking about how proud we are to be a Lion. That's today," Yngvadottir said. "But because we do this and we are happy, we are ready for big challenges, and we become stronger than ever before."
Contact Kimber Laux at klaux@reviewjournal.com. Follow @lauxkimber on Twitter.