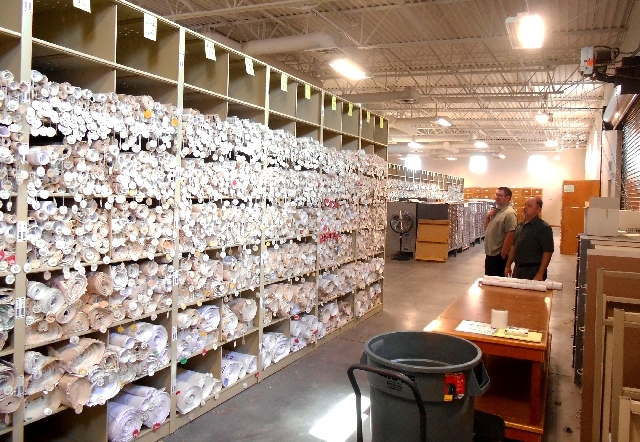 A large, nondescript building in the northwest valley is where the city of Las Vegas' written history goes digital.
Thousands of documents make their way to the city's Archives and Records Center near Cheyenne Avenue and U.S. Highway 95 each year . A six-member team of records technician s works to organize a century's worth of the city's story on paper, microfiche and film.
Most documents that pass through the center's doors these days are headed for the digital scanner, but every document that lands at "the Arch" first has to find a shelf.
And there are only so many shelves.
"We destroyed probably 1,200 boxes last year," electronic records officer Scott Widney said. "Everything we do destroy — business receipt transactions, stuff like that — is based on (Nevada revised statutes) . They tell us what to destroy and what to keep. Most of the stuff we retain is for buildings that are still standing or personnel files. City Council meeting minutes and proclamations are also permanent."
Widney estimates that tens of millions of planning, court, financial and administrative records are housed on-site.
How those city documents are stored — some in banker's boxes stacked to the ceiling, others in "coffin" drawers at least 3 feet deep — says a lot about where they came from.
Original blueprints for a hotel floor at the Stratosphere, for example, are kept in banded scrolls the size of a tree trunk and have to be carted from shelf to shelf in a red wagon.
City Council minutes and ordinances, some dating to the city's incorporation in 1910, are held together in hardbound binders and stashed in a temperature-controlled fireproof safe.
Municipal court records — at least two years' worth of paper on everything from criminal court proceedings to city traffic violations — are kept behind a 10-foot-tall chain-link fence at the warehouse's center. They're the reason Widney is not allowed to give out his work address.
But apart from the court cache, city documents are stored like produce at a grocery store, with location largely dependent on category and shelf life.
"The state has mandated that (court) records kept here are secured," Widney said. "Broadly, we categorize by barcodes that tell us what's supposed to be kept where and for how long."
On any given day, Widney and his team could be dispatched to work the depot's scanners in a frantic bid to digitize several decades' worth of musty, handwritten City Council ordinances.
Another day might involve rifling through the personal effects of former Las Vegas Mayor Oscar Goodman, who donated boxes and boxes of documents to the Arch after leaving his notoriously overstuffed office two years ago.
Still other days see records tech s drag pallets of microfiche-stored financial documents to the shredder .
"I think a lot of people would be surprised to find that some of their (cheap) brown paper towels are made out of financial records," city spokesman Jace Radke said. "It's a lot more interesting job than people think."
Widney calls the Arch the city's "nerve center ."
Every month, Widney and the crew try to shovel an avalanche of paper through the scanner faster than newer copies of similar documents come pouring in.
But for a history lover, in a town that has no official archivist or historian, that's far from a Sisyphean task.
"These (volumes) have some of the most basic things, the first things we did as a city, so with a lot of this stuff, we just want to preserve it," said Widney, a former City Clerk staffer , while thumbing through a 70-year-old book of city dispatch logs. "For people that are interested in history, you can learn a lot by just scanning."
Contact Centennial and North Las Vegas View reporter James DeHaven at jdehaven@viewnews.com or 702-477-3839.