Event at Wayne Newton's property prompts federal investigation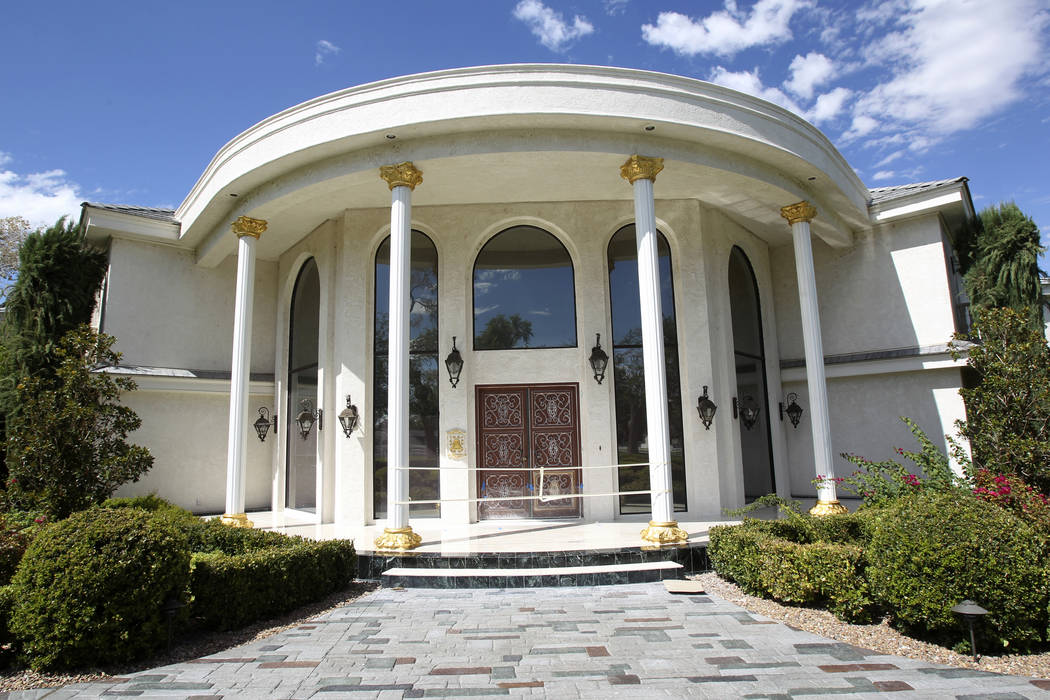 A wedding, a car show and an outdoor dinner party angered neighbors. Another event drew the eye of federal investigators.
Wayne Newton's Casa de Shenandoah closed its gilded gates for renovations in April. But last month, property owner and operator CSD LLC abandoned plans to reopen the 52-acre ranch and mansion to the public.
Clark County records reveal the decision followed months of government scrutiny into illicit events held on the property.
"They were doing things well beyond what they were authorized to do," said County Commissioner Jim Gibson, who represents the area.
Neighbors say they hope the party has come to an end.
"There was so much congestion in the neighborhood, so much loud music," said Louis Lionetti, who lives about a block to the east. "It just got to the point it was unbearable."
CSD LLC and an attorney representing the company did not return requests for comment.
Mansion turned museum
The ornate Casa de Shenandoah mansion, located east of McCarran International Airport, was built in 1976 by Wayne Newton, the crooner known as "Mr. Las Vegas." The property's grounds — which border Sunset Road to the north and Smoke Tree Lane to the south — were filled with all manner of beast and bird.
CSD LLC, headed by Texas businessman Lacy Harber, purchased the property for $19.5 million in 2010 to turn it into a museum highlighting Newton's career.
The Newtons moved off the property in 2013, and two years later CSD LLC opened the ranch to public tours.
Events were allowed on the property if CSD LLC followed a strict set of guidelines laid out by the county. Outdoor loudspeakers, alcohol sales and all events lasting past dark were banned, and the owner could not charge for events there.
County records show those rules were ignored in recent months.
Rowdy ranch
Code enforcement officer Doug Gold wrote in a report that one man said he paid $10,000 to hold a wedding at the ranch in March.
Further investigation found that at least 10 weddings happened on the property between May 2017 and March, although it's unclear how many rented the property. One article from February encouraged lovebirds to purchase a "Shotgun Wedding package" for Valentine's Day.
In April, more than 1,200 revelers clad in all-white outfits took to the Casa de Shenandoah grounds for dining, dancing and live music. Le Diner en Blanc lasted until about 9:30 p.m., according to county records.
"The bass literally shakes our home. It's that loud," next-door neighbor April Juelke said. "It's right in a residential neighborhood. We bought here for peace and quiet."
And the following month the Viper Owners Association offered "open and unprecedented access to everything on the property" to hundreds of people attending a Las Vegas car show.
"It was quite evident, especially with the car rally, these were things that were not organized overnight," neighbor Wendy Meoz said.
When a June episode of reality TV show "The Bachelorette" featured a group date at Casa de Shenandoah, neighbors wanted answers.
Federal scrutiny
In early November, the Nevada District Office of the Small Business Administration held a banquet at Casa de Shenandoah to celebrate a business building course graduation. Nevada Secretary of State Barbara Cegavske was the keynote speaker.
The federal agency set aside $1,500 to rent the property for an evening, and a cash bar was planned. Both were forbidden under the the county's rules.
A last-minute shakeup was organized the day before the event, according to county records.
CSD LLC agreed to provide the venue for free. The event's organizer, B With a Twist Catering, donated the $1,500 toward an open bar.
That was a problem. SBA money cannot be used to buy alcohol.
County code enforcement began investigating the event after neighbors complained that it lasted after dark and an outdoor loudspeaker system was used.
The county's investigation prompted the SBA to open its own internal investigation. SBA records show District Director Joseph Amato determined that two SBA employees, Roy Brady and Christina Stace, knew the money would be used to pay for alcohol but did not inform Amato.
Amato declined an interview but wrote in an email that the Small Business Administration "has referred the matter to the agency's Office of the Inspector General for evaluation."
An OIG spokesperson said the matter is "under review by the OIG," but declined to provide any further details except through a Freedom of Information Act request.
B With a Twist Catering did not respond to a request for comment.
Future uncertain
Code enforcement's investigative findings have led to consequences for Casa de Shenandoah.
County staff recommended that the ranch no longer be used for public entertainment, and last month CSD LLC agreed that it no longer would use the property as a museum or host events there for at least a year. The exotic animals that inhabit the property — including wallabies, cranes and caged peafowl — must be relocated by mid-September.
The county commission will have to approve the return of those privileges.
Some neighbors remain wary.
"We expect there to be something else happening on that property," Meoz said. "We don't believe it will turn around and just become a residential property again."
Contact Michael Scott Davidson at sdavidson@reviewjournal.com or 702-477-3861. Follow @davidsonlvrj on Twitter.