Ex-Las Vegas mortgage broker, convicted of fraud, to be released from prison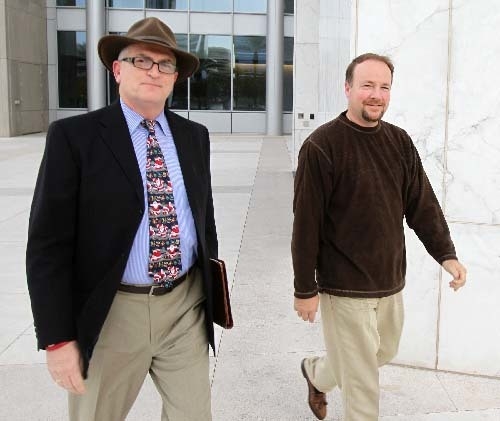 Former Las Vegas mortgage broker Steven Grimm was ordered released from federal prison Wednesday while he appeals his conviction in a $52 million mortgage fraud scheme.
Senior U.S. District Judge Roger Hunt placed several restrictions on Grimm's release, including home detention with electronic monitoring.
His lawyers said afterward they plan to file their appeal with the 9th U.S. Circuit Court of Appeals in San Francisco on Monday.
Last month, Grimm's co-defendant and ex-wife, former real estate broker Eve Mazzarella, was released from prison while the 9th Circuit considers her appeal. She is staying with her father, Mark Mazzarella, in San Diego and working at his law firm.
In granting her freedom, the 9th Circuit said her lawyers raised a "substantial question of law or fact" that could result in her conviction being overturned. The lawyers contended prosecutors withheld key evidence from the defense during the 2011 trial before Hunt.
Grimm's lawyers said they plan to raise some of the same evidence issues with the 9th Circuit.
Mazzarella, 36, and Grimm, 51, were convicted by a federal jury in December 2011 of orchestrating a scheme that caused banks to lose more than $52 million over five years.
The lending institutions made more than $107 million in mortgage loans on 227 properties in the Las Vegas Valley, according to federal prosecutors.
Two years ago, Hunt sentenced Grimm, accused of being the mastermind of the scheme, to 25 years in prison and Mazzarella to 14 years behind bars.
After the sentencings, Nevada U.S. Attorney Daniel Bogden said the scheme involved the largest number of properties and loss amount of any mortgage fraud case charged in the state.
Prosecutors say the couple engaged in roughly 450 unlawful straw buyer transactions during the massive scheme, which occurred between 2003 and 2008.