Former judge sentenced to 26 months in prison
February 25, 2015 - 7:32 pm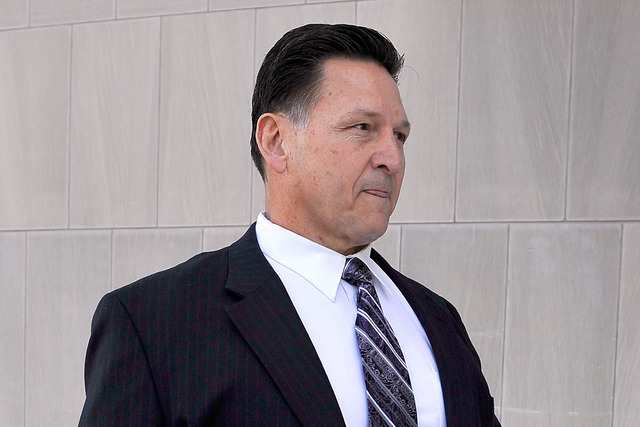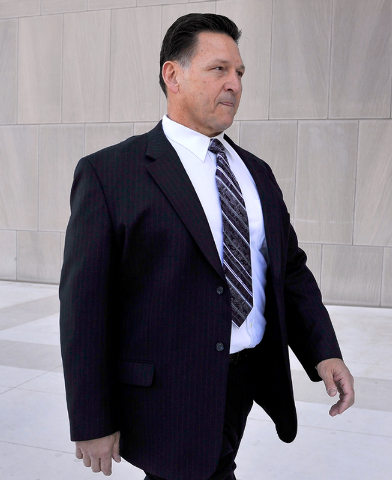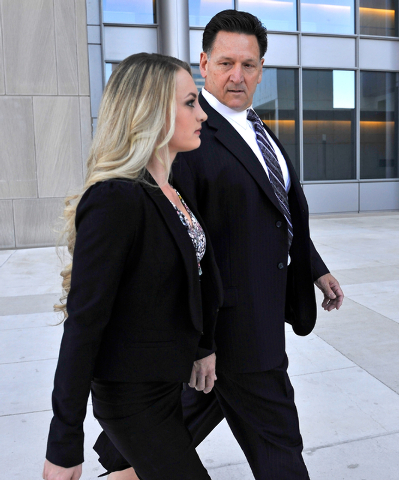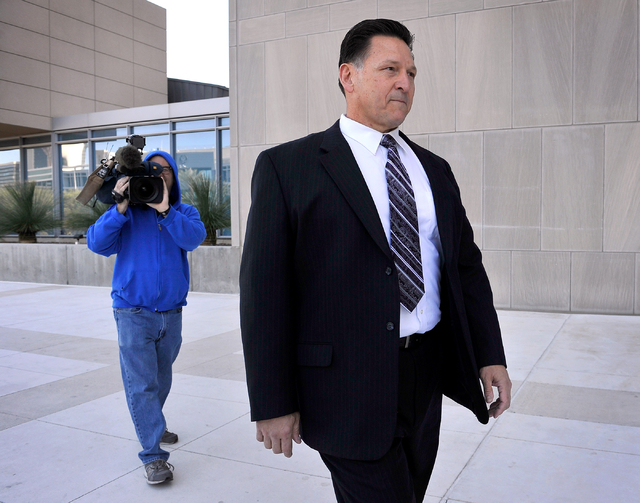 Steven Jones, who spent two decades on the Clark County Family Court bench before resigning in disgrace, soon will serve time in federal prison.
The former judge received a 26-month sentence Wednesday for his participation in a $2.9 million investment scheme while on the bench. He has until May 25 to surrender.
"Mr. Jones, I wish you the best of luck, sir," U.S. District Judge Jennifer Dorsey told the defendant at the end of a three-hour hearing.
Dorsey said Jones had violated the trust of his victims and the public's trust in the judiciary.
Jones, 57, briefly addressed Dorsey during the hearing. He apologized for his actions and said, "I can assure you that I will never find myself in a position like this again."
After the hearing, defense attorney Robert Draskovich said he had hoped for a lighter penalty, but he was pleased that Jones received less than the 27 months requested by prosecutors and the 63 months recommended by probation officials.
"He and his family are looking forward to putting this behind them," Draskovich said.
Dorsey ordered Jones and his co-defendants in the case, which had some 50 victims, to pay $2.9 million in restitution. Jones will be supervised for three years after his release from prison.
Jones pleaded guilty in September to one count of conspiracy to commit wire fraud and then resigned from the bench.
"Former Judge Steven Jones played an integral part in this investment fraud scheme and was the most prominent and indispensable member," U.S. Attorney Daniel Bogden said in a statement. "This crime was not a 'one-off' for Jones, but a calculated and deliberate decision that he replicated for years. He knew right from wrong, but engaged in the conduct anyway because he could."
The scheme, which occurred between 2002 and 2012, revolved around the longtime judge's former brother-in-law, Thomas Cecrle.
According to prosecutors, Cecrle falsely portrayed himself as a powerful man with connections to the government to lure people into investing in land and water rights deals with promises of large money returns.
Cecrle and four other defendants indicted with Jones in October 2012 also pleaded guilty in the scheme. Cecrle is to be sentenced next week.
Prosecutors contended that Jones used his office to mislead investors into a false sense of security and to ward off threats of legal action against Cecrle.
Jones funneled more than $260,000 in proceeds from the fraud through a joint bank account he set up with Cecrle and kept the scheme afloat in March 2006 by using his office to get Cecrle released from jail on bad check charges tied to the scheme and then repaying the victim, prosecutors contended.
The former judge also met with one of the victims in his chambers and received a cash payment from another victim in the Family Court parking lot, according to prosecutors.
"He denigrated and betrayed his oath of office," Assistant U.S. Attorney Steven Myhre argued at Jones' sentencing.
Prosecutors presented testimony from one of Jones' victims, disbarred Las Vegas attorney Jeanne Winkler, during the hearing.
Winkler, who now works as a law clerk in Reno, testified that she invested about $392,000 in Cecrle's scheme. She said about $260,000 of that money came from her client trust fund.
The witness said she developed a friendship with Jones while practicing family law and trusted him when he urged her to give Cecrle money.
"Someone I thought was my friend totally and utterly betrayed me," Winkler said as she fought back tears.
On cross-examination, Winkler acknowledged that she agreed to cooperate with prosecutors as part of her plea agreement in an unrelated criminal case involving fraud and corruption at Las Vegas Valley homeowners associations.
Attorneys were presenting opening statements in the HOA trial Wednesday in a nearby courtroom. Winkler also faces theft and embezzlement charges in state court in connection with use of money from her client trust fund.
Defense lawyers argued that Jones deserved leniency because of his long record of service to the community and because he is a caretaker for his elderly mother.
Review-Journal reporter Jeff German contributed to this report.
Contact Carri Geer Thevenot at cgeer@reviewjournal.com or 702-384-8710. Find her on Twitter: @CarriGeer.
RELATED
Embattled Family Court Judge Steven Jones headed back to public payroll