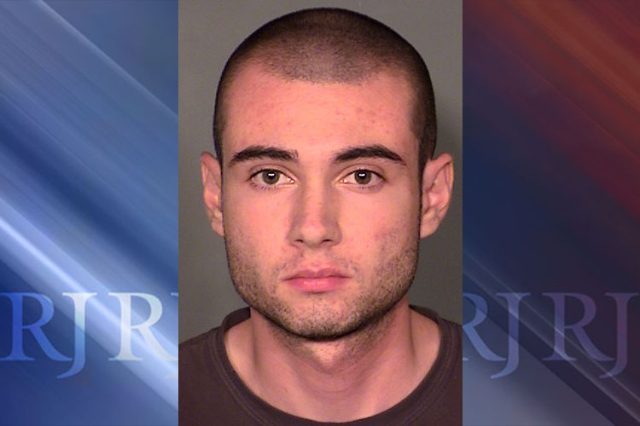 A 22-year-old former Las Vegas police Explorer has been accused of maintaining a four-year sexual relationship with a girl starting when she was just 11 years old.
Joshua Honea, 22, was able to mask the relationship as a mentorship between a "brother and sister" until his supervisors at Metro became suspicious and began investigating in March, according to Honea's arrest report. The Explorer program encourages a career in law enforcement and teaches young Las Vegans the basics of policing.
Honea, an Explorer from 2012 to 2014, was arrested July 23 on 10 counts of lewdness with a child under 14-years-old. Honea was working as a volunteer in Metro's Enterprise Area Command in a clerical position when the investigation began. He was being held at the Clark County Detention Center on Wednesday.
The girl, now 16, told police she was reluctant to admit the relationship because Honea threatened her, including a threat to report her mother because she knew the girl smoked marijuana and drank alcohol.
Police said Honea and the girl met when she was in the 6th grade, when he was a counselor at her school. Their relationship began as a mentorship, but Honea convinced the 11-year-old to kiss him, asked her to be his girlfriend and then pressured her to "do more," saying "she was not fulfilling his needs." He told her a sexual relationship would be OK because he worked for Metro, the report said.
Honea and the girl exchanged nude photos when she was 11, and engaged in regular sexual contact when she was 12.
The girl told police that Honea was possessive, and once called a boy she was dating in high school, said he was with Metro and told him to leave her alone. Honea then called the girl's mom, whose trust he had gained, and told her that her daughter was having sex with the boy.
Honea's former Explorer advisers told detectives they met the girl a "couple of years ago" when Honea brought her to Explorer meetings, but they said the two acted like siblings and they didn't sense a sexual relationship. But one of Honea's current volunteer supervisors alerted detectives after hearing Honea say he would like to date the girl, who was 15 at the time, after she turned 16.
While under investigation, Honea called the girl and told her to deny the allegations, saying there were no witnesses to confirm their relationship. Detectives were listening in on the call, the report said.
Contact Ricardo Torres at rtorres@reviewjournal.com and 702-383-0381. Find him on Twitter: @rickytwrites