'Improperly discarded' cigarettes found in Cosmopolitan fire probe, but official cause undetermined
August 24, 2015 - 5:09 pm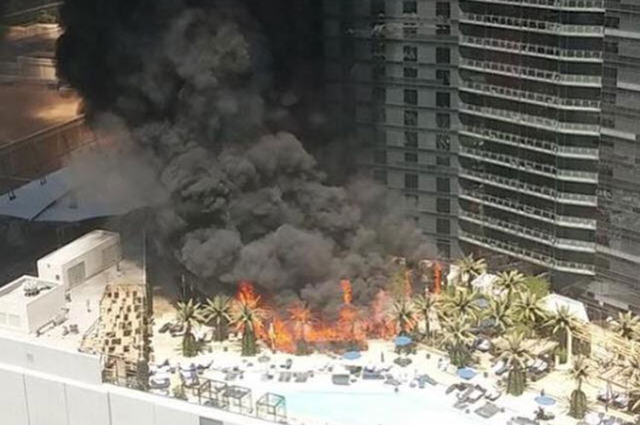 Fire investigators could not determine exactly what caused a July pool deck fire at The Cosmopolitan of Las Vegas, which caused about $2 million in damage, Clark County officials said Monday.
"Improperly discarded" cigarettes were found at the 14th floor Bamboo Pool, but officials said they can't prove "beyond an acceptable level of certainty" that they were the cause of the blaze.
The July 25 fire started in a landscape area west of the Bamboo Pool near cabanas, the news release said. Investigators, however, couldn't determine what the "exact ignition source" was or what caught fire first.
The investigation determined the blaze was not electrical, according to a news release.
There is no code or regulation in Southern Nevada that requires outdoor decorations, including artificial plants and trees, to be flame retardant.
California, however, has a law stipulating that decorations in any place where more than 10 people can gather must be treated or manufactured with flame retardant.
Ellen Atkins, president of Delta Pacific Technologies, a company that manufactures and applies flame retardant to decor and structures, helped change the fire code in California. She said treating existing decorations "is really simple," and can be applied by either spraying or rolling it on.
Atkins said she hopes Nevada follows California in regulating outdoor decor, especially in the aftermath of the Cosmopolitan fire.
"I hope they will adopt something for their own sake, and for everyone's sake," Atkins said.
Samples from The Cosmopolitan's artificial palm trees were being examined, but results won't be known for several weeks.
"Depending on what the analysis shows, we will be able to determine whether we need to work with the resort industry to advise any recommendations regarding the use of these materials or propose any changes to codes governing their use," said Ron Lynn, from the Clark County Department of Building and Fire Prevention.
The fire began shortly after noon, and authorities closed the Strip between Flamingo Road and Tropicana Boulevard to vehicle and foot traffic for about an hour.
One person was hospitalized for smoke inhalation, and parts of The Cosmopolitan were evacuated.
More than 110 firefighters responded to the blaze, which was put out in about 30 minutes. Most damage was to exterior areas and confined to artificial landscaping, patio furniture and cabanas, the release said. A suite sustained smoke and water damage. Other rooms also had water damage.
The county credits stringent building and fire codes for the damage mostly not spreading indoors.
Contact Ricardo Torres at rtorres@reviewjournal.com and 702-383-0381. Follow him: @rickytwrites Contact Colton Lochhead at clochhead@reviewjournal.com or 702-383-4638. Follow him: @coltonlochhead