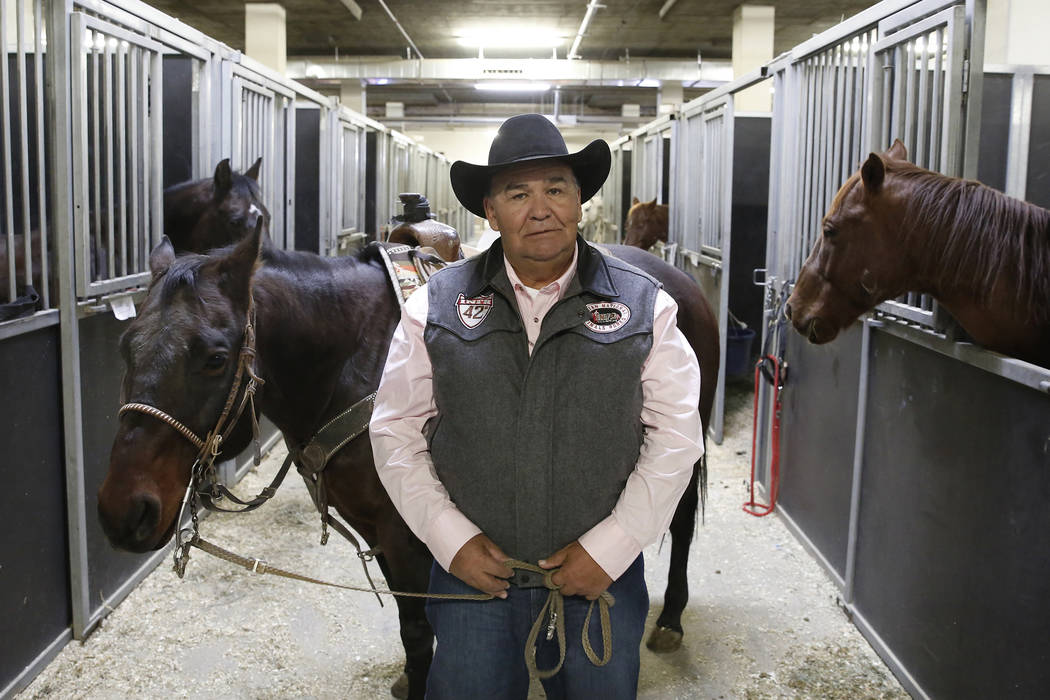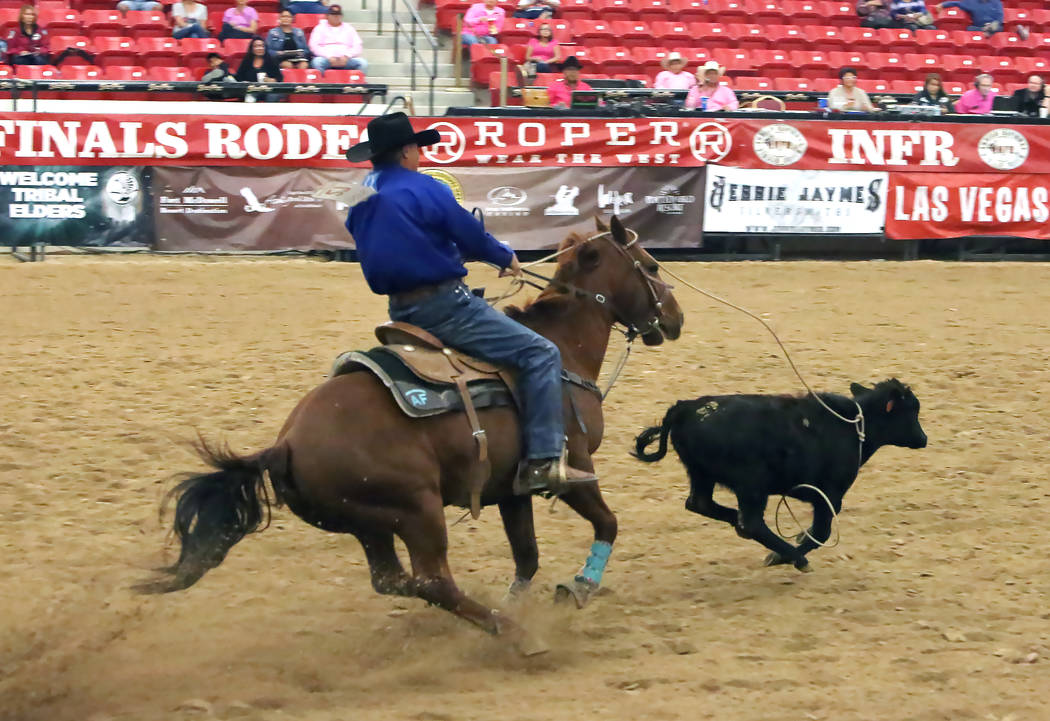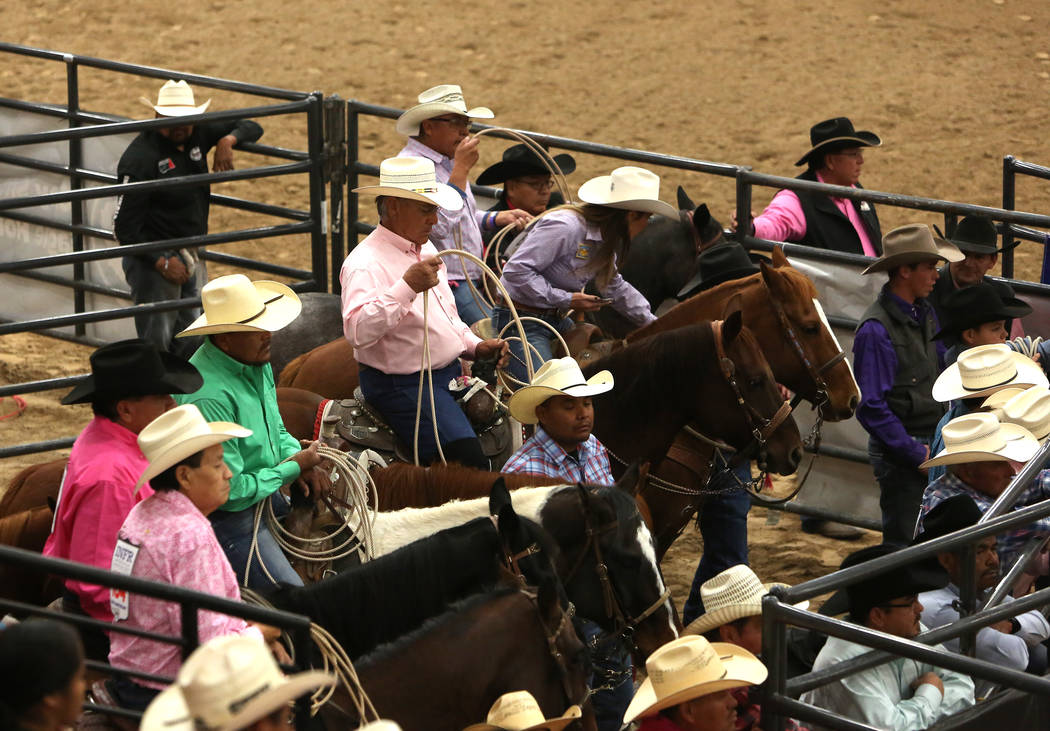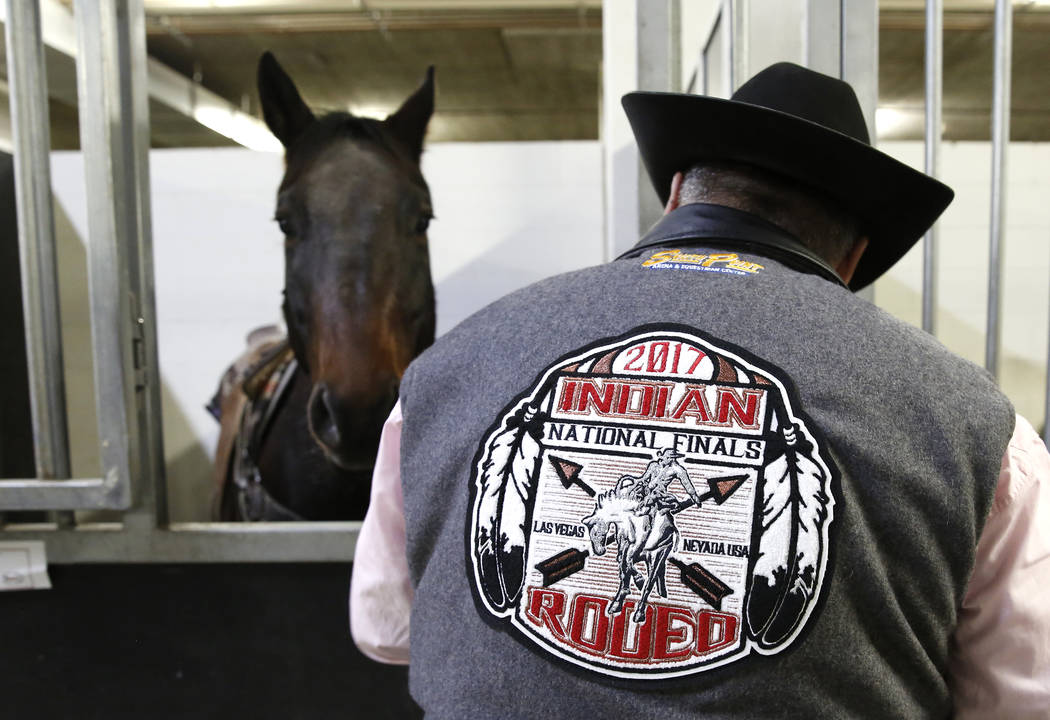 When Sam Bird charged forward on his horse Friday to rope a calf at the Indian National Finals Rodeo, he had around 40 relatives in the stands rooting him on.
Bird, one of 10 children, isn't the only member of his family participating in the 42nd annual rodeo held at the South Point Arena. His two daughters, two stepgrandchildren and a cousin will be vying for awards as well.
The pudgy 60-year old says this low-key rodeo — the Native America version of the bigger National Finals Rodeo held every December in Las Vegas — is as much about bringing family together as it is about roping.
Here, everyone knows everyone else and family from nearby states make the trip in. Bird, who also serves as one of rodeo's seven commissioners, says as many as 20,000 native Americans may make there way to Las Vegas this week.
"They come to see family and have a good time in Las Vegas, said Bird, sporting a black cowboy hat and blue jeans, as his daughters stood by his side. "This event is special because grandfathers can participate alongside their children and grandchildren."
More than 400 participants representing 65 tribes are taking part in the five-day rodeo which ends Saturday. Participants come from 40 states and Canada and vie for $950,000 in cash and prizes.
They compete in more than 180 Indian rodeos held throughout the year in the U.S. and Canada to qualifying for the finals.
The number of participants has grown since the event moved to Las Vegas 10 years ago, say organizers.
"Moving to Las Vegas has been the best decision we have made. Everyone wants to come here, so it helps us attract more people. The National Rodeo is held here so it adds some prestige," said Donna Hoyt, the rodeo's general manager and Bird's sister-in-law.
The rodeo helps pack the South Point for the week, generating about 7,000 room nights, said Steve Stallworth, the arena's general manager.
With so many Native Americans coming to Las Vegas, the tribes organize meetings around the rodeo to discuss various issues such as water conservation, said Bird.
Blackfeet Reservation
Raised on the Blackfeet Indian Reservation in Montana, Bird was taught by his elder brothers Beaver and Dick how to rope by the age of 12. Five of Bird's six brothers would actively compete in Rodeo competitions through the years.
Bird qualified for for the first Indian National Finals Rodeo in 1976, winning the team roping competition. He has gone on to qualify for 39 of the 42 Indian National Finals Rodeo to date, winning three of them.
Bird passed on his love of rodeo to his daughters Brittany and Sammy Jo, teaching them to ride by the age of three and later showing them how to rope. Bird's wife Terry is also an accomplished rider and has competed in women's rodeo events.
Brittany won the women's all-around at the Indian National Finals Rodeo in 2013. Sammy Jo won it last year.
"I have grown up on the back of a horse," said Sammy Jo, 25. "They are all I have ever known."
Contact Todd Prince at tprince@reviewjournal.com or 702-383-0386. Follow @toddprincetv on Twitter.