Jim Rogers called human exclamation point at Las Vegas memorial service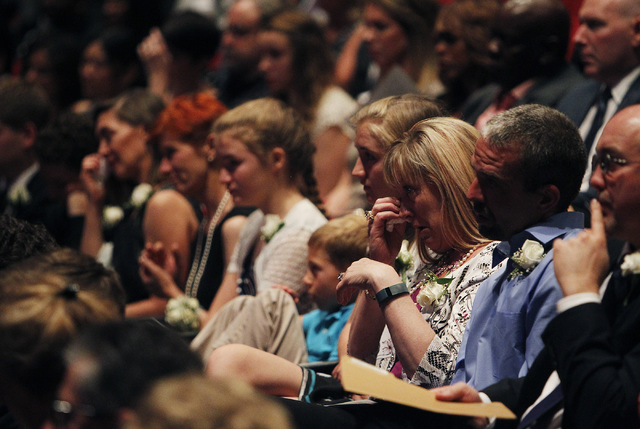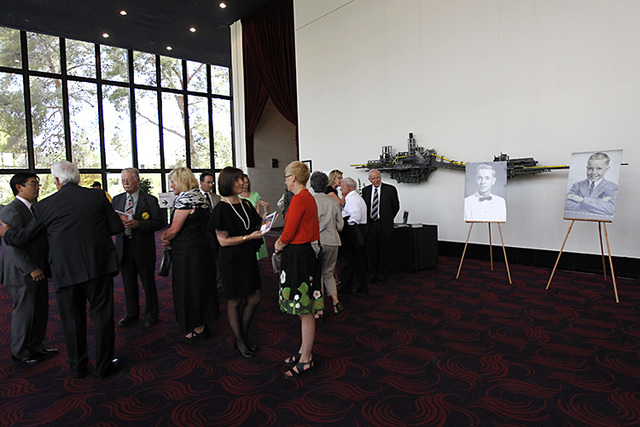 Jim Rogers was a human exclamation point.
That's what Toni Massaro, dean emerita at the University of Arizona, said at a memorial ceremony at UNLV on Saturday. The Arizona university's law school is named after the legendary Nevadan, who died June 14 at age 75 after a lengthy battle with cancer.
If Rogers was an exclamation point, he chose to put his emphasis on education, to which he gave millions.
It was for this reason that his memorial ceremony at the University of Nevada, Las Vegas, began with speakers who could attest to Rogers' sheer love of learning, which was characterized by his combative, larger-than-life approach as an education advocate.
Reflecting this, the first speaker was former UNLV President Carol Harter, who was infamously ousted by Rogers. In a surprise twist, Rogers ended up backing Harter for interim president.
Harter joked about the tension in the relationship, laughing that the two were often not on the same page, reading the same book or even in the same library.
Hundreds of people, including Gov. Brian Sandoval, gathered to mourn media mogul Rogers, who was remembered by those who knew him as a man of tenacity, not tact. Someone who always had ideas and never had patience.
"Jim Rogers scared me," former Clark County Commissioner Rory Reid said simply, sparking laughter from the audience.
Reid described Rogers as "superhuman," comparing a phone call with Rogers to a roller coaster ride: Unpredictable, thrilling and over before you know it.
Rogers didn't think it was wrong to make money, Reid said of the businessman.
"The more (money) he made the happier he was," Reid said. "It meant he would have more to give away."
Rogers financed his good will by owning TV stations in the West, including KSNV-TV, Channel 3, in Las Vegas.
The station broadcast the memorial live. Jim Snyder, of Channel 3, who acted as master of ceremonies for the memorial, said he thought Rogers would approve, joking that his only objection might have been that everyone pause for commercial breaks in order to make some money.
Rogers' devotion to excellence in television was the focus of the middle portion of the memorial, which began with a video message from celebrated longtime TV newscaster Tom Brokaw, who wanted to attend but could not because of his own battle with cancer.
The former NBC Nightly News anchor broke down on the phone when he was told of Rogers' death, Snyder said.
Brokaw praised Rogers, saying that the man might not have had his name in lights on a casino, but he lit up the state of Nevada.
Time magazine took note of Rogers' generosity in 2000, naming him one of the nation's top 12 philanthropists.
It wasn't enough for Rogers to donate his money to education. He also gave his time to it. Rogers served as the ninth chancellor of the Nevada System of Higher Education from 2005 to 2009, donating his salary back to the university system.
He also served one year as interim chancellor.
Rogers' commitment to education extended beyond Nevada.
Rogers gave a record-setting donation to the University of Arizona's law school in 1997. He had graduated from the law school in 1962.
During the ceremony, Jim Rogers' son Perry Rogers recalled when his father made this donation. Perry Rogers, who also attended the law school, remembered his dad whispering to him that the University of Arizona's president at the time, Peter Likins, who was at the memorial, was going to walk in and Rogers was going to give him $50 million for the law school.
Perry Rogers recalled his father asking for his reaction. Perry Rogers told him that $25 million was the record donation to a law school and perhaps his father should start there. After all, there would likely be other institutions he would want to donate to, Perry Rogers told his father.
"That's really good advice," Perry Rogers remembered his dad saying. Jim Rogers then promptly pledged $100 million, pausing only to raise his index finger in the air and add, "Actually let's make it $115."
The anecdote underscored the story of a man who couldn't give enough because he was so grateful for what had been given to him.
Perry Rogers described his father as a self-made man, who would never portray himself as such. Jim Rogers, he said, was a beneficiary who became a benefactor.
The year after Jim Rogers' historic donation, the University of Arizona named its law school after him. Meanwhile, Rogers was busy breaking out the checkbook again. This time it was for a law school in his hometown. Rogers pledged $28.5 million to the William S. Boyd School of Law at UNLV in 1998. The university credits him as being instrumental to the school's success.
More recently, Rogers donated $10 million to the Black Mountain Institute, UNLV's graduate-level creative writing program, which was renamed the Beverly Rogers, Carol C. Harter Black Mountain Institute.
The news that Rogers' cancer had returned broke last winter. Rogers had fought off bladder cancer seven years prior. In January, the Review-Journal learned of a Channel 3 meeting in which Rogers revealed his cancer was back.
A Channel 3 insider who attended the meeting told the Review-Journal that Rogers made it clear that when he "goes, everything goes to (his wife) Beverly, and when she goes, everything goes to the colleges."
Contact Bethany Barnes at bbarnes@reviewjournal.com or 702-477-3861. Follow @betsbarnes on Twitter.