Judge orders Silverstone to turn on golf course water again
September 8, 2015 - 10:46 pm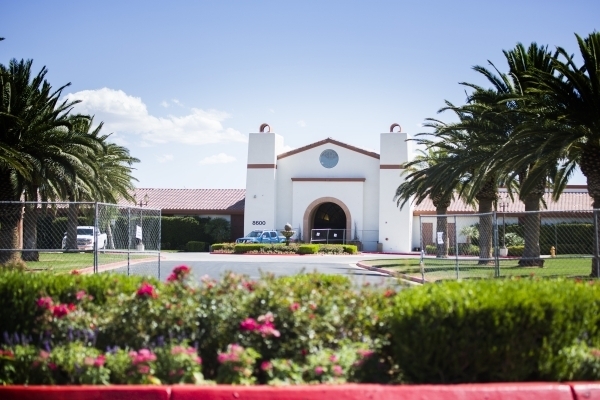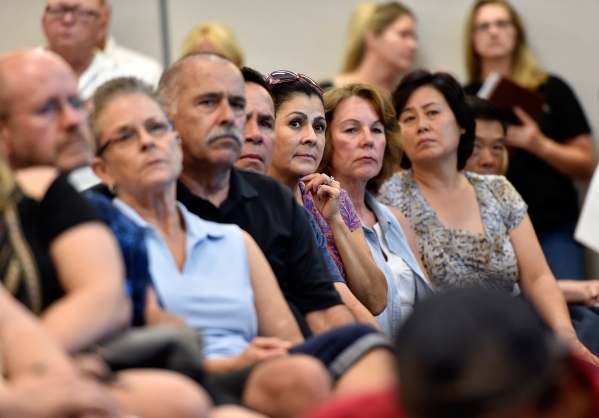 It's safe to say Silverstone Golf Club's new owner has struck a nerve.
A week after Beverly Hills-based lawyer Ronald Richards bought the cash-strapped northwest valley course, more than 300 nearby residents held a rowdy homeowners association meeting to slam the sale and take jabs at Richards, who represents a Los Angeles-based group that has faced lawsuits and heated criticism over its plans to build houses on a San Diego-area golf course.
Richards hasn't quite denied drawing up similar blueprints for Silverstone, a fact not at all lost on the hundreds of homeowners who filled two meeting rooms and spilled out into a hallway at the Centennial Hills YMCA Tuesday night.
"It's like we've had the death of a loved one," said homeowner Steve Hellerstein, one of several donors to a legal defense fund aimed at derailing Richards' plans for the course. "Everybody who bought (homes) here bought because it's a golf course community."
Hellerstein and most other residents in attendance rallied behind any and all proposed efforts to stall, stop or reverse Richards' purchase of the property.
Many wondered why a legal covenant held by course homeowners wouldn't scupper last week's sale.
HOA attorney Tim Elson said he believed that agreement, which requires 75 percent homeowner approval for any modification of the 27-hole course, goes a long way toward protecting homeowners from Richards' plans for the property.
Those not quite reassured by the covenant called on HOA board members to sue Silverstone's new owner, action Elson said he is "aggressively pursuing."
Should those legal remedies fail, at least a handful of residents said they would happily reorganize human blockades they had put together to turn back a crane they said was headed for the course Tuesday morning.
That was just hours before an attorney hired by Hellerstein's group filed a temporary restraining order that prevents Richards from removing water pumps or otherwise permitting the "waste, removal or destruction of golf course property."
The order, signed by Clark County District Court Judge Joe Hardy, also forces him to turn on Silverstone's water to irrigate its greens and fairways and fill its water features.
"We are not in the golf course operations business," Richards wrote in an email late Tuesday. "We have no set agenda and are open to numerous avenues of use other than requiring us to subsidize someone else's golf game or operate an asset that has no economically viable use to anyone except a privileged few."
Richards, who has said only that he plans to take Silverstone in a new, more "environmentally sound" direction, did not attend Tuesday night's meeting.
City Councilman Steve Ross figures that was probably a good idea.
Ross, who represents the ward where Silverstone is located, promised homeowners he would put the "full force of the city" behind getting residents what they want.
"This is going to be a battle," Ross said to ringing applause. "No permits will be issued until a judge has seen this case."
Reached for comment just before the meeting, Ross was even more strident, warning that he was "probably the last person" Richards would want to meet if and when he comes to town.
Board members estimate they have several hundred thousand dollars available to wage a legal battle over the future of the course. Resident and Las Vegas attorney Melanie Hill estimated residents in Escondido, Calif., have spent at least $750,000 fighting to keep Richards' bulldozers off their course.
Attorneys for Silverstone residents said a District Court judge plans to hear their case Sept. 22.
Western Golf Properties, a California-based golf course management company, will continue to run the course in the interim.
Western CEO Robert Heath said he wasn't sure when Richards planned to take over the property's day-to-day operations.
He declined to speculate on whether employees laid off by the course's previous owner would be rehired.
Heath said there were no employees at the course when his company took over operations this week.
Contact James DeHaven at jdehaven@reviewjournal.com or 702-477-3839. Find him on Twitter: @JamesDeHaven.