Land to expand may come, but UNLV needs money to move
December 3, 2014 - 9:46 pm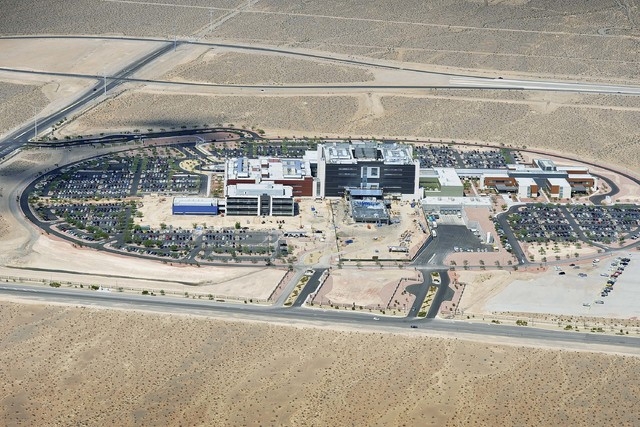 UNLV is only a couple of U.S. congressional votes away from expanding its acreage six times over.
But Nevada's largest university is still a whole state legislative session away from obtaining the seed money to develop the land.
U.S. senators Harry Reid and Dean Heller earlier this week added land legislation to a defense appropriations bill that must pass Congress before adjournment for the holiday break. The legislation sets aside 1,886 acres of federal land in North Las Vegas for the University of Nevada, Las Vegas to build a second campus.
UNLV's 340-acre campus at Maryland Parkway and Tropicana Avenue is surrounded by city sprawl.
Plans to expand to North Las Vegas, near Nellis Air Force Base, have been around for about a decade.
But questions about the best use for the land — located north of the 215 Beltway, between Pecos Road and Lamb Boulevard — arose Wednesday as some considered building the UNLV medical school there next to the newly constructed Veterans Administration Medical Center.
However, UNLV and Nevada System of Higher Education officials were noncommittal about placing the medical school in North Las Vegas, considering that the legislation from Reid, D-Nev., and Heller, R-Nev., hasn't passed. Some members of Congress have said they may try to block the land bill.
Plus UNLV officials must convince state legislators in the upcoming session to fund the medical school to the tune of $30 million.
"We have no approval yet," cautioned Board of Regents chairman Kevin Page on Wednesday.
The idea for a northern campus of UNLV has existed since 2004.
The City of North Las Vegas, UNLV and Air Force officials created a master plan that would focus on expanding academic and research activities, said David Frommer, UNLV's planning and construction executive director.
"It is very exciting, a great opportunity to expand higher education to serve the valley," Frommer said of the prospect that the 10-year-old plan to expand UNLV might actually come to fruition.
Plans called for splitting the land into three sections, allowing for more graduate education and research space, Frommer explained.
The southern end of the property — which would be closest to the freeway — would feature a more traditional campus, he said.
The middle section would be primarily for research space.
The northern section of the land would be used for intensive land research activity, devoting plots to solar and wind energy research, Frommer said.
Outgoing U.S. Rep. Steven Horsford, D-Nev., when pitching the land bill in the House of Representatives said the land could possibly anchor the long sought-after medical school.
A key provision in the final bill "is a parcel of land across from the VA hospital… which I believe could be the anchor for a new Southern Nevada medical school in partnership with the VA hospital," Horsford said.
However, higher education officials seem to have targeted downtown Las Vegas for the medical school.
Frommer said the focus for a medical school site has been on the Las Vegas Medical District at Charleston Boulevard and Shadow Lane. Frommer said there are already two hospitals there — University Medical Center and Valley Hospital Medical Center— and UNLV has its dental school and nursing simulation center in that area.
Moreover, the Clark County Commission on Tuesday approved two deals that would place a UNLV medical school downtown. Commissioners agreed to a memorandum of understanding with the Board of Regents and UNLV reserving county property at 625 Shadow Lane for a medical school. The county property, at the southeast corner of Shadow and Pinto lanes, is the old site of the Southern Nevada Health District, a building in need of extensive repair. Engineers have estimated repair costs to the 60,000-square-foot building at more than $16 million.
Commissioners also approved a lease that would allow UMC to lease real estate to UNLV.
Under the agreement, UMC will lease 8,610 square-feet at 2231 W. Charleston Blvd. to the school of medicine. The one-year lease charges no rent for the first year. After the first year ends and if the lease is extended, the rent would be $15,067.50 a month.
Gov. Brian Sandoval has voiced his commitment to a UNLV medical school.
However, with a number of new legislators elected in the Republican wave that swept the U.S. in November, higher education officials must also convince them to invest in the school.
The school needs about $27 million to get started.
UNLV has tried to sell the idea of a medical school as being an economic boon for Clark County. A study by consulting firm Tripp Umbach, commissioned by UNLV's Lincy Institute, suggested that by 2030 the economic impact of a new medical school in Southern Nevada could be $1.2 billion.
The study called for three years of planning before the first class of 60 students begins in 2017-18.
But nothing will happen without financial support from the state and private donors, said Regent Page.
And while it is a strong possibility the medical school may start downtown, buildings might be constructed in multiple locations around the valley, Page said.
"We're still exploring our options," he said.
Review-Journal writer Steve Tetreault contributed to this report. Contact Francis McCabe at fmccabe@reviewjournal.com or 702-224-5512. Find him on Twitter: @fjmccabe
FEDERAL LAND
An area 7 times the size of the current UNLV campus could be set aside for UNLV use. Click to see a larger image Also, see a Google map of the area below the story.