Las Vegas advances bill draft request that would change fire code
August 24, 2016 - 3:48 pm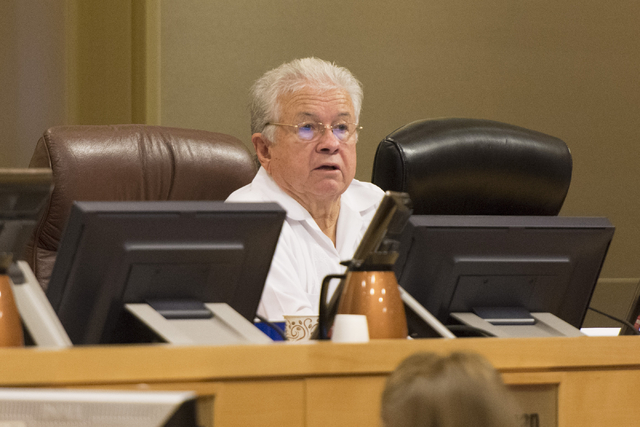 Las Vegas city officials want state legislators to change some building height fire code restrictions, but the bill draft request didn't draw across-the-board support.
It was one of three bill draft requests the City Council quickly approved in a special meeting Wednesday.
State law has several specific requirements for fire sprinklers, elevators and heating, ventilation and air conditioning systems for hotels, office buildings and high-rise residences where people live or stay more than 55 feet above the level fire and rescue vehicles can access.
The measure the council passed Wednesday requests that those safety requirements be triggered by human occupancy above 75 feet, to come in line with the International Code Council.
"I think I've said all I can say. I think it's a mistake, I will vote no," Councilman Bob Coffin said.
Coffin and Councilman Ricki Barlow cast votes against that bill draft request. At last week's City Council meeting, Coffin called the move a "developer-driven measure."
Coffin said he wouldn't vote for a measure he sees as weakening fire code.
The city Government Affairs Manager Brian McAnallen called 75 feet the national standard. Las Vegas Fire Chief William McDonald told the City Council last week he wasn't opposed to the height change.
McAnallen told the council last week the move could ultimately open the door for increased downtown development. That's because it would reduce construction costs.
The other two bill draft requests passed easily at Wednesday's 15-minute meeting. The city is allotted three bill draft requests for the 2017 legislative session, which starts in February.
The city is also requesting a bill centered on Medicaid reimbursements for emergency medical transport agencies, which would codify the practice of the state drawing federal dollars down to the local level.
Councilwoman Lois Tarkanian called the bill draft request important, and something city officials have discussed in the past.
The other bill draft request city officials approved would give the city more spending flexibility with redevelopment dollars earmarked for education.
Those redevelopment dollars, which amount to roughly $1 million per year, go toward education and housing, and the education funds are limited to existing public education facilities. The change would allow the funds to also go toward programs, such as early childhood education, literacy or summer learning academies.
Council members raised several concerns about the three city staff proposals last week; Wednesday's special session was to finalize those requests. Topics are due to the Legislative Counsel Bureau by Sept. 1.
Contact Jamie Munks at jmunks@reviewjournal.com or 702-383-0340. Find @JamieMunksRJ on Twitter.