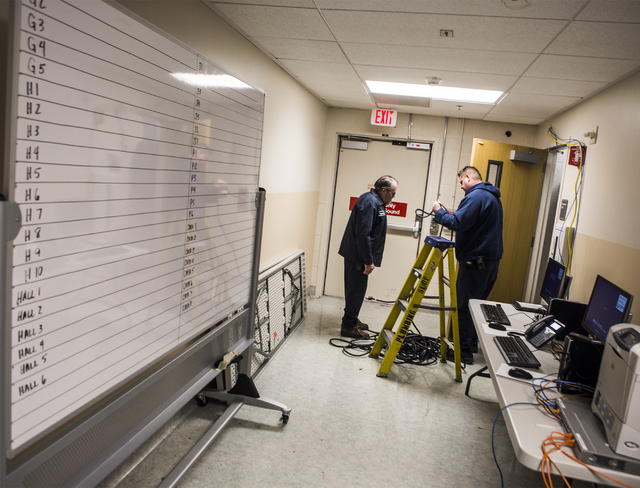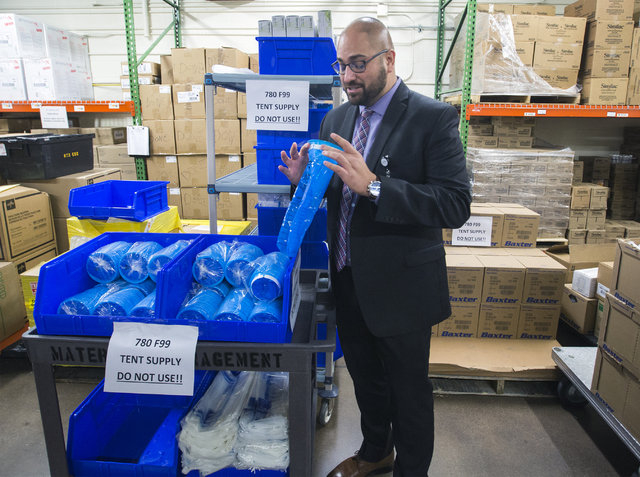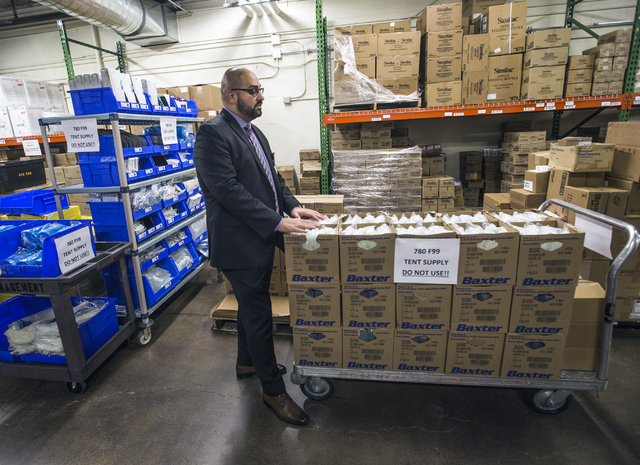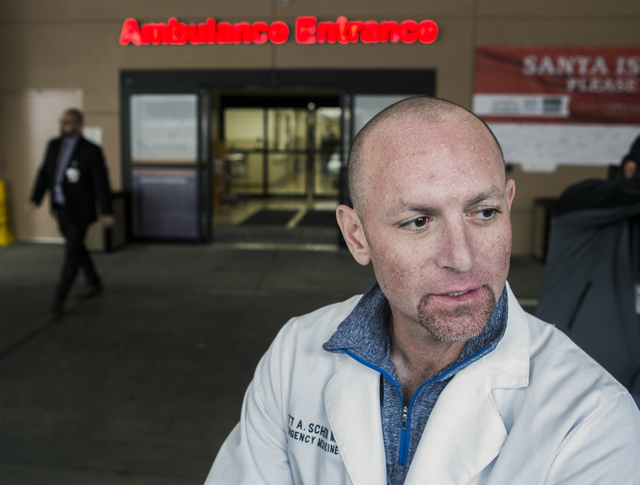 With some 300,000 visitors descending on Las Vegas for a new year's weekend of revelry, overindulgence and possible mayhem, area hospitals are gearing up for a potential flood of ailments and injuries.
For those closest to the big celebrations on the Strip and downtown, that means being ready to treat everything from serious trauma cases to the more likely parade of intoxicated partiers.
In a storage room in Sunrise Hospital & Medical Center, for instance, more than 500 bags of saline were at the ready Friday to provide people suffering from dehydration as a result of alcohol consumption with intravenous fluids.
Nearby was a pile of some 200 barf bags and larger pans ready for "heavy vomiters," said Daniel Llamas, emergency medical services director for the Sunrise Health System, which operates the hospital on Maryland Parkway, about two miles from the Las Vegas Strip.
That's just a small sample of the supplies officials have at the ready, and pallets more are available if needed, he said, describing the New Year's operation as "a real-life drill with real patients and real processes."
Sunrise and other hospitals closest to the twin epicenters of frolic — University Medical Center and Valley Health System, which operates three hospitals that could see patients from the Strip or downtown – all are boosting medical staffing to better service patients and communicate with the patients' families and friends.
As an added precaution, they're also beefing up security staffing, in case drugged or drunken patients get rowdy or a surge of admissions creates long waits for treatment.
WORST-CASE SCENARIO
They've also got blueprints in place for the worst-case scenario — a mass casualty incident.
Developed with police, emergency medical crews, fire departments and other agencies through a Clark County-organized system, the planning aims to ensure a coordinated response and lessen confusion in the immediate aftermath of such a disaster.
"There's nobody anywhere that's any better at planning than we are," Dale Carrison, chief of staff and an emergency medicine physician at UMC, said of the countywide preparation.
Much of the preparation has involved creating a system to weed out those who simply aren't feeling well after overdoing the celebrating to ensure that the most serious cases receive the care they require.
Outside of Sunrise's emergency room, for example, a white tent has been set up for staff to quickly triage incoming patients from the Strip celebration, a majority of whom will likely be dealing with alcohol-related dehydration or health problems due to the cold weather, said Dr. Scott Scherr, the emergency room medical director.
Partygoers who just need fluids or a safe environment will be directed to a separate, makeshift emergency room to ensure space for serious injuries or other emergency cases, he said.
The hospital saw about 60 people at the tents last year between midnight and 4 a.m. and is expecting 100 or more this year, Scherr said.
'TRIAGE TENTS' ON STRIP
Tents have also been erected along the Strip for emergency medical providers to determine whether or not to send patients to the hospital.
"The biggest part of it is really these triage tents," UMC's Carrison said, "because they take a huge load off of the emergency departments."
He added that UMC, the county-run hospital that treats the most severe trauma cases, doesn't typically treat a large number of critically injured patients on New Year's Eve.
But it usually does see more patients with gunshot wounds, stab wounds or those injured in car crashes than on an average night, he said.
Increased law enforcement presence on the Strip and downtown has helped prevent situations like the ones of a few years ago, when people were injured by thrown champagne bottles, he said.
But people are unpredictable, he said, and hospitals have to be prepared for whatever the adrenaline-and-alcohol-fueled celebration throws at them.
"Anything you can think of, it happens," he said.
Contact Pashtana Usufzy at pusufzy@reviewjournal.com or 702-380-4563. Follow @pashtana_u on Twitter.
RELATED
Everything you need to know about New Year's Eve in Vegas