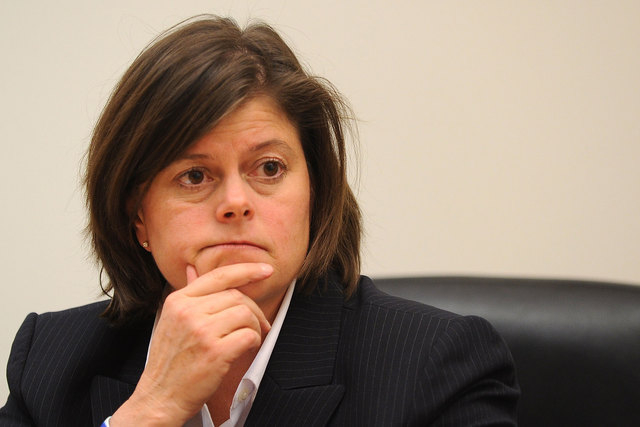 The Las Vegas City Council on Wednesday created a new salary range for city manager — a range of between $200,000 and $320,000 — then cautiously picked the low end for City Manager Betsy Fretwell.
They were also conservative when dealing with two other top managers, City Attorney Brad Jerbic and City Auditor Radford Snelding, who each got a 3 percent bump.
Mayor Carolyn Goodman urged bringing Fretwell's annual salary up to the midpoint of $260,000 in the new range, but the proposal failed to pass, even though the council raved about Fretwell's skills during the past five years.
Instead, Councilman Bob Beers proposed a 10 percent raise, slightly more than $20,000. Her new salary will be $221,490, below the $260,000 midpoint.
A Human Resources survey of 15 cities showed Reno has the lowest city manager's salary at $192,679 and Dallas paid its manager the highest at $385,022. Henderson City Manager Jacob Snow's base salary is $225,000.
Those are base salaries and Councilwoman Lois Tarkanian said she would have preferred comparisons that included benefits, but Human Resources Director Dan Tarwater said that would have been difficult because of all the variables.
By the survey, Fretwell's former salary is the second lowest at $201,355. The average salary among the 150 cities, adjusted for cost of living, is $258,173.
Jerbic's base salary was $196,197. He will receive a 1.5 percent bonus of $2,942, and his salary will increase annually by $2,942, giving him a new salary of $199,140.
Snelding's base has topped out at $153,809, so he received a 3 percent bonus of $4,614.
Fretwell started with the city in 2000 as assistant city manager and became city manager in 2009.
In 2013 she received her first raise since 2009, a 3 percent increase.
Fretwell has been repeatedly praised by the council for her leadership in keeping the city on a financial even keel during the recession, reducing budget deficits and keeping the city's bond rating at AA.
She recalled that in 2009, the top movie was "The Hangover," which she called "very fitting because for sure we were in hangover, a serious one, a very bad one."
Citing a variety of improvements including the deficits, unemployment and foreclosures, Fretwell said, "Last year we finished with more revenues than expenses for the first time in five years. … We've turned this ship around."
Contact Jane Ann Morrison at jmorrison@reviewjournal.com or 702-383-0275. Find her on Twitter: @janeannmorrison.