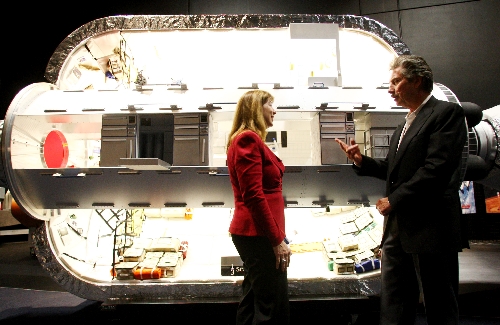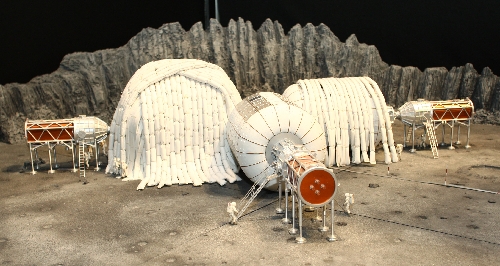 After spending what he calculates as $215 million of his own money to develop a space station, Robert Bigelow has turned to NASA for help with his next step.
The entrepreneur has asked the space agency to fund construction of an upgraded version of two modules that Bigelow Aerospace launched in 2006 and 2007. Called the Bigelow Expandable Activity Module, or BEAM, it would bolt on to the International Space Station and expand it by approximately 10 percent. More importantly, Bigelow said at a media show-and-tell at the company's facility Friday, the BEAM would serve as a proving ground for the company's space station design and viability.
Among other things, he hopes to demonstrate that private enterprise can make space travel and commercialization financially more viable than the government. "It's so expensive the government way," said Bigelow. "If we do it the private way, it's going to be a game changer for cost."
Bigelow executives did not disclose how much they had requested from NASA in their proposal.
NASA deputy administrator Lori Garver said a decision on funding Bigelow's module would not come for months. Nevertheless, she used the occasion to promote President Barack Obama's strategy to overhaul NASA by working with and funding more small contractors, an idea that has run into resistance from critics who say the strategy squanders the knowledge built up by the agency and some of the industry giants.
"Working with the private sector is a big part of our plan going forward," she said.
Bigelow Aerospace has targeted 2015 as the year it will launch and assemble a full space station, funded by clients. The focus has turned to countries that would like to have a presence in space but cannot fund it on their own, exemplified by a recently signed deal with the United Arab Emirates.
Private clients would come later, said Bigelow director of business growth Michael Gold. "It has become a real challenge to overcome the perception of this as a space hotel," Gold said.
Because of Bigelow's background in developing apartment complexes in the Southwest and his ownership of Budget Suites of America, space tourism and lodging became synonymous with Bigelow Aerospace.
Assuming someone else comes up with a way to ferry people between orbit and Earth, as he expects to happen in about three years, Bigelow Aerospace would then launch what it calls the Alpha station. It would consist of three barrel-like modules connected to a propulsion unit that could house a crew of 12. At some later point, the company would send up Bravo station, about twice the size.
Bigelow started the company in 1999 as private space efforts were getting under way. Rather than focus on rockets, as many others did, he decided to work on permanent orbiting platforms, buying the technology used in a NASA program that was canceled.
The basic concept calls for discarding the standard design, a rigid cylinder made out of metal, in favor of one with a skin made out of an extremely strong fabric called Vectran. Because it is flexible, it could be compressed on Earth for launch and then inflated in space. To test the concept, Bigelow Aerospace launched the Genesis I and II four and five years ago, with the BEAM being the projected next step.
Contact reporter Tim O'Reiley at toreiley@reviewjournal.com or 702-387-5290.