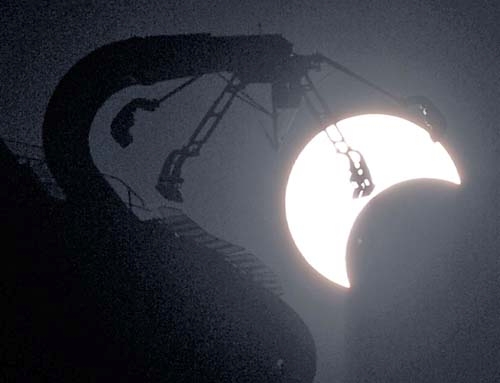 CATHEDRAL GORGE STATE PARK – The group clapped and cheered and held their gaze steady to the sky when the four-minute "ring of fire" appeared.
"Oh dear," said 86-year-old Henderson resident Gloria Holmes. "This is too much for an old lady."
Eleven-year-old Jose FaVala, who donned a shirt that read "Out of this World," paused to take in the gravity of the event.
"This is my moment," he said to his dad.
Couples embraced and one group of revelers uncorked a bottle of wine as the moon passed between the Earth and the sun.
"It's a moment you get to uber geek out," said Ben Seligman, of Las Vegas. "You could live five lifetimes and never witness this."
Necks craned to the sky or bent over modified telescopes Sunday as Southern Nevadans viewed a rare annular solar eclipse at the park, just east of the small rural Nevada town of Pioche.
The moment of totality, when the moon created a concentric ring of sunlight, occurred at 6:33 p.m., the midpoint of a 170-minute celestial show.
The most recent annular solar eclipse was May 1994. The next of its kind isn't expected for another 18 years.
LAS VEGAS TAKES A PEEK
The rare occurrence didn't go un­noticed in Las Vegas and surrounding areas. Viewing parties were hosted at the College of Southern Nevada Planetarium in North Las Vegas. Others observed the big event in Reno and parts of rural Nevada, as well as Cedar City and St. George, Utah.
The Las Vegas Astronomical Society set a visitor record at Cathedral Gorge with its gathering. Park rangers estimated about 500 people visited the park and nearby Miller's peak, a plateau with unobstructed views of the sun.
Audiences in Las Vegas could see only about 97 percent of the eclipse because Clark County is just outside the center-line viewing range, said Robert Lambert, society vice president.
"Eclipses don't happen in Vegas often," he said. "The next one to come close isn't until 2017."
The eclipse was viewed through devices to filter harmful ultraviolet and infrared rays of the sun. The CSN Planetarium sold out 2,000 pairs of protective glasses four days before the eclipse.
Although the society had about 30 telescopes at Cathedral Gorge for nighttime stargazing, specialized equipment was required for close-up looks.
"Those of us who fried ants as kids know they went up faster under a magnifying glass," Lambert said. "This is the same thing."
Other viewing devices were a little more basic.
Las Vegan Naoki Ono crafted his own pinhole projection device out of a cardboard box and tape. He poked five holes in one end which captured a shadow on the opposite end.
"I have five suns," he said.
Visitors bounced among viewing devices as the moon and sun moved through the four phases of totality. Meanwhile, temperatures went down about 10 degrees because of the eclipse.
First contact occurred at 5:22 p.m. and several stages of a crescent sun followed.
"The great goat in the sky is eating it," said Lambert to the men, women and children huddled around him.
ASTRONOMY BUFFS, TEACHERS
While many visitors traveled from Las Vegas to Cathedral Gorge for the view unblemished by city lights or buildings, others came from farther away. A man from London surprised his astronomy buff wife with a visit to the viewing within their Las Vegas anniversary trip, Lambert said.
Two women from Toronto also included the Panaca viewing party in their Vegas visit.
Others included educators from Washington, D.C., Hawaii and Las Vegas colleges. A 25-member student group from Villanova University also attended.
Lambert, an instructor at CSN, logged more than 161,000 images to use in his classroom.
"Ever since I got into astronomy, I've wanted to share the night sky and day sky," Lambert said.
The teachable moment extended to amateur astronomers, as well.
John and Jackie Taylor brought their three grandchildren to nearby Panaca to see the eclipse.
"You don't know what a kid is going to be," John Taylor said. "We try to expose them a little to all kinds of things. I think it's pretty cool to see."
The family had five viewing mechanisms among them, Jackie Taylor said. The youngest grandchild scoped out a sixth in a shadow splashing over the eroded siltstone spires in the canyon behind them.
"She was going 'Nana, Nana,' but my eyes were glued (to the sun)," Jackie Taylor said.
Lambert fielded questions and adjusted his bank of equipment throughout the eclipse.
"Now the mountain is eating it," he said, as the final stages dipped into a sunset.
The final sighting at Cathedral Gorge was about 7:38 p.m.
"Bye, bye sun," said Las Vegan Keith Caceres. "You gave a great show."
Contact View reporter Maggie Lillis at mlillis@reviewjournal.com or 702-477-3839.