Las Vegas' hottest June ends with a 117-degree high, tying the record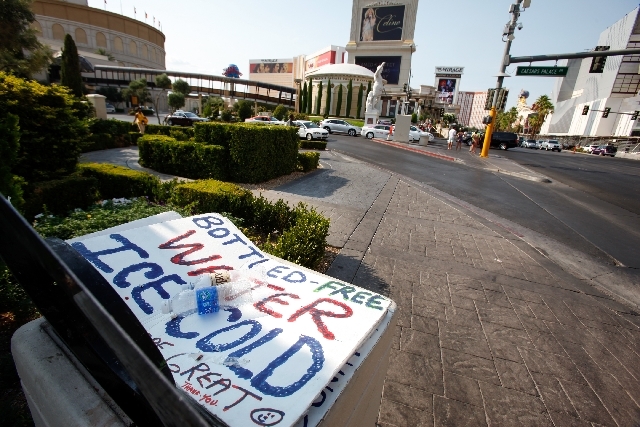 The last day of June wasn't just hot. It was as hot as it gets in Las Vegas.
The valley tied the official record of 117 degrees on Sunday, matching the record set on July 24, 1942, and July 19, 2005.
It was the hottest day for the month of June at Mc­Carran International Airport, the National Weather Service's official monitoring station.
It was also the warmest June on record; 2013's average temperature of 91.5 broke the old record of 90.5 set in 2006.
The weather service earlier predicted a record high of 118 degrees on Sunday, but said cloudy skies cooled things down a bit.
Temperatures continued steadily upward after Las Vegas saw an overnight low of 89 degrees on Sunday morning. That reading tied the city's record highest minimum temperature for the date set in 2009 and 1994.
The heat wave itself, which has brought record highs to cities throughout the Southwest over the past week and will stick around again this week, is being caused by a strong high-pressure system, they said.
Seventeen cooling stations in the Las Vegas Valley provided refuge for homeless people and others.
Aslam Abdullah, director of the Islamic Society of Nevada at 4730 E. Desert Inn Road, said a lot of homeless people used the mosque's cooling station to get out of the heat and get a cool drink. He said he had more visitors Sunday than previous days, but didn't provide numbers.
Abdullah praised people who came by to donate water to its cooling station, which was open 11 a.m. to 7 p.m. Sunday.
"We didn't ask for donations," he said. "Good Samaritans simply stopped by and dropped off extra food and water."
Las Vegas Valley firefighters continued to receive a lot of heat-related calls Sunday.
From midnight until 2 p.m. on Sunday, there were 15 heat-related calls to the Fire Alarm Office that covers fire departments in Clark County, Las Vegas and North Las Vegas, according to Las Vegas public information officer Tim Szymanski.
Since 8 p.m. Friday, the office had received 113 calls due to heat-related problems. One man in his 80s died from heat-related complications on Saturday, when the high temperature hit 115 degrees.
Of the 50 total heat-related calls on Sunday, 20 people were taken to the hospital. They ranged from 4 months old to 71 years old. None of their conditions was life-threatening, Szymanski said.
Joyce Goedeke, director of marketing at Southern Hills Hospital and Medical Center, said the hospital has seen an increase of heat-related cases the past few days with patients reporting dizziness, headaches and dehydration.
A spokesman for University Medical Center, the public hospital for Clark County, said there has been an increase in the number of patients coming in for heat-related conditions such as fatigue, nausea and dehydration.
The weather service has issued an "extreme" temperature warning through Thursday. The forecast for today calls for a high of 115, for Tuesday and Wednesday, 114.
The Fourth of July is expected to be a bit cooler: 113 degrees with a chance of isolated thunderstorms to cool off the warm front.
Other big cities in the Southwest didn't escape the heat wave.
To the north, Reno's temperature of 103 degrees on Sunday broke the record for the date of 100 degrees set in 1972. It was Reno's third straight day of such daytime record highs.
Sunday's temperature of 89 degrees at nearby South Lake Tahoe, Calif., broke the record for the date, 88 degrees, set in 1972.
Also in Northern Nevada, the heat was hampering crews battling wildfires, including a 2,500-acre blaze near Eureka and a 200-plus-acre fire near Silver City.
In Utah, the heat caused an interstate onramp to buckle in Salt Lake City, and hampered firefighters in their battle against three wildfires in Utah, authorities said Sunday.
The Interstate 215 onramp in Utah had to be closed for four hours Saturday night after a short section of it expanded and buckled in record 105-degree heat, Utah Department of Transportation spokesman John Gleason said.
A third straight day of record temperatures was reported across the state on Sunday, with Salt Lake City topping out at 103 degrees to tie the city's record for the date set in 1979.
In Phoenix, Fire Department spokesman Larry Nunez said the city hadn't seen any deaths that were classified as heat-related, but emergency workers have had 98 heat-related calls within the metro area since Friday morning.
The 119-degree high in Phoenix on Saturday marked the fourth-hottest day in metropolitan Phoenix since authorities started keeping temperature records more than 110 years ago. The high temperature for the metropolitan area hit 115 on Sunday.
In Southern California, six half-marathon runners were hospitalized Sunday for heat-related illnesses. They were extremely dehydrated, and some experienced cramps, Pasadena Fire Department spokeswoman Lisa Derderian said.
Review-Journal reporters Annalise Porter and Colton Lochhead and The Associated Press contributed to this report. Contact reporter Steven Slivka at
sslivka@reviewjournal.com or 702-383-0264.
how hot is my valley?
FORECAST HIGHS
Today: 115
Tuesday: 114
Wednesday: 114
Fourth of July: 113
COOLING STATIONS
In anticipation of the extreme heat warning, cooling stations are open throughout the Las Vegas Valley.
To find the nearest cooling station, dial 211 or visit www.reviewjournal.com/cooling_stations_2013 for the full list.