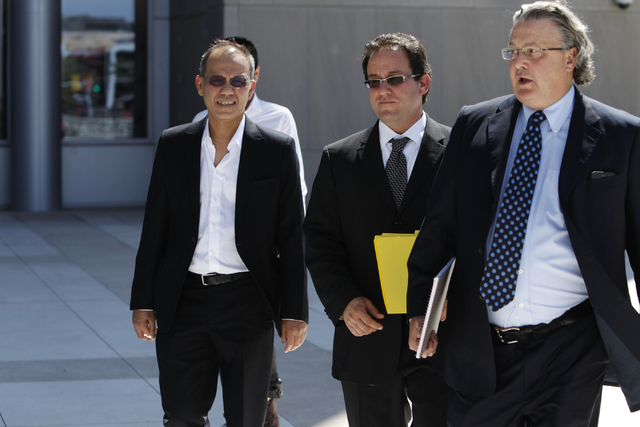 A leading Malaysian government official remains under fire for his support of a wealthy businessman charged in Las Vegas in connection with an international sports betting ring.
Ahmad Zahid Hamidi, the minister of home affairs and a potential candidate for prime minister, took a religious oath before the Malaysian parliament on Tuesday, swearing he does not know the businessman, Paul Phua, and has not received any money from him.
Zahid has been battling political fallout in his country from a Dec. 18 letter he wrote to the FBI rebutting its claims that Phua, a Malaysian citizen, has ties to a powerful Chinese Triad.
According to Malaysian news reports, Zahid reiterated that he wrote the letter to Deputy FBI Director Mark Giuliano at the request of Phua's lawyer in Malaysian and his defense team in the United States, which includes David Chesnoff in Las Vegas and Thomas Goldstein in the Washington area.
The letter created a stir in Malaysia after it was reported by the Las Vegas Review-Journal and picked up by news organizations in Southeast Asia. Chesnoff and Goldstein filed the letter in federal court in Las Vegas on Dec. 29 as part of the high-profile illegal gambling case, but withdrew it the next day.
Zahid, who oversees intelligence and security services for Malaysia, told parliament that he did not vouch for Phua in the letter and that he merely indicated Phua was not part of the Hong Kong-based 14K triad, which does not exist in Malaysia.
The home minister said the letter was meant to be confidential, and he was upset that it had become public, according to Malaysian news reports.
Phua's defense lawyers have hammered the government in court papers in the gambling case for linking Phua, a widely known poker player, to the 14K Triad on what the lawyers called flimsy evidence. They asked U.S. District Judge Andrew Gordon in court on Monday to call out the government for tarnishing Phua's reputation.
Gordon is weighing the validity of an FBI search warrant and an unprecedented ruse agents used to gain access to luxury Caesars Palace villas before raiding the multimillion-dollar betting operation on July 9.
U.S. Magistrate Judge Peggy Leen recommended tossing out evidence in the case because of the "fatally flawed" search warrant affidavit, but found FBI agents did not violate Phua's privacy rights with the ruse. Agents cut Internet service to one of the three high-roller villas on July 5 and gained entry by posing as technicians working to fix the problem. They gathered evidence that was used in the sworn affidavit to get permission to raid all three villas.
Leen criticized agents for not informing the magistrate judge who approved the raid about the ruse.
Phua, who told authorities after his arrest he was worth $300 million to $400 million, and seven others, all from Malaysia and China, were indicted on illegal gambling charges following the raid. Prosecutors alleged the operation accepted millions of dollars in illegal wagers on the World Cup soccer tournament in Brazil last year.
Six of the defendants, including Phua's son Darren, pleaded guilty in the case and have left the country on unsupervised probation. Charges against a seventh defendant were dismissed, leaving Phua to stand alone against the government.
The betting case has attracted national and inter­national attention because of Phua's prominence in the worldwide poker community and the ruse, which defense lawyers contend has not been used as a law enforcement tactic anywhere else in the country.
Contact Jeff German at jgerman@reviewjournal.com or 702-380-8135. Follow @JGermanRJ on Twitter.