Man gets probation for attack on limo driver
October 28, 2014 - 3:50 pm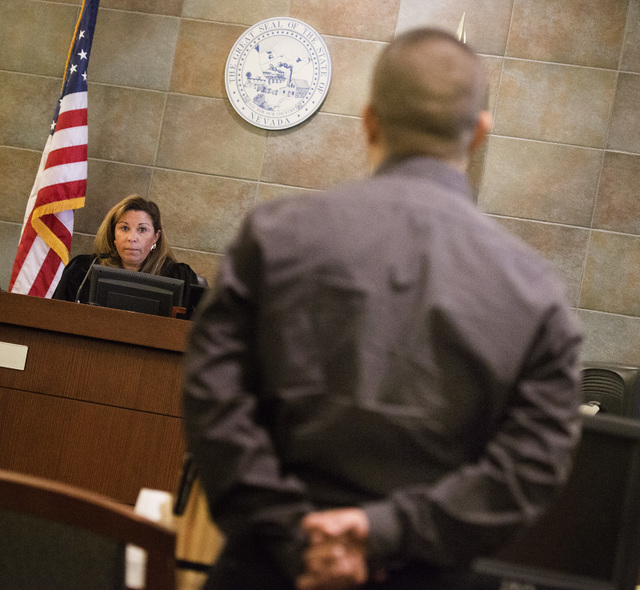 Former limousine driver Brenda Pruitt hasn't worked since she was brutally beaten and robbed on the job last year by a group of men who prosecutors said were part of the Texas Mexican Mafia.
She suffers from insomnia and has nightmares in the little sleep she gets because two of her attackers were never caught and one skipped bail four months ago.
"I don't see faces," she said Tuesday after one attacker was sent to jail. "I see outlines."
Pruitt can barely see out of her left eye. She suffered a concussion and has undergone extensive physical therapy. She has migraines and short-term memory loss.
"I had a horrible year," Pruitt said. "It's just a constant battle that I'm going through."
In June, Carlos Saenz III, pleaded guilty to attempted battery resulting in substantial bodily harm.
On Tuesday, District Judge Abbi Silver sentenced Saenz to five years' probation for the felony, but said he must spend the first six months of that term in the Clark County Detention Center.
Along with Emilio Jacob Ruvalcaba, Saenz originally faced five counts of robbery, mayhem and conspiracy and two counts of battery with substantial bodily harm.
When the two were indicted, prosecutor Danielle Pieper said this wasn't their only criminal case. They also were wanted in the stabbing of a tourist at South Padre Island in Texas.
Las Vegas police said Saenz and Ruvalcaba were two of four men who, along with at least one woman, got into the limousine Pruitt was driving in the pre-dawn hours of Sept. 5, 2013, at the Encore at Wynn Las Vegas.
They asked her to stop at a liquor store on the way to Caesars Palace, so she did.
When Pruitt refused to buy them alcohol, Ruvalcaba taunted her, saying he was with the Mexican Mafia, had killed people and would kill her, according to police. Saenz then punched Pruitt in the head.
She fought back, but soon Ruvalcaba, Saenz and a third man had her on the ground and repeatedly kicked her, police said.
They screamed expletives and told her no one would find her body. But two bystanders saw the attack. One pulled out a gun, and the attackers ran. Saenz and Ruvalcaba were quickly found at the Palazzo, but the two other men were never caught. One of the attackers reportedly took $180 from the limousine.
In December, Silver threw out a gang enhancement charge, saying prosecutors did not present enough evidence to prove that Ruvalcaba or Saenz were part of the Mexican Mafia.
Ruvalcaba posted his $30,000 bail but never showed up for court, so Silver issued an arrest warrant.
Saenz denied being a member of the gang, but authorities in Texas said he was one of the highest-ranking members.
"Whether they are in the state of Texas, or here in Las Vegas," Clark County prosecutors wrote in court filings, "they announce Mexican Mafia to tell everyone that they should be feared, and if you do not fear them, they will show you their violence."
On Tuesday, defense lawyer Karen Winckler painted a different picture of Saenz, who spent 103 days in jail before posting bail. The 28-year-old has five children and helps take care of his disabled father.
Winckler said Saenz was "extremely drunk" at the time of the attack.
"He was totally embarrassed because his creed is never to touch a woman," she said.
Saenz apologized to the judge and Pruitt, calling the incident "a big nightmare."
"I accept full responsibility for what happened that night," he said. "And I just want to move forward with my life."
If Saenz violates his probation, he could face up to four years in prison.
Pruitt wonders if Ruvalcaba or the other men will ever face justice.
"That's why I am the way I am," she said Tuesday. "Because they got one and not the others."
Contact reporter David Ferrara at dferrara@reviewjournal.com or 702-380-1039. Find him on Twitter: @randompoker