Man killed in 3-vehicle crash on Monday was driving granddaughter to college
April 27, 2016 - 10:00 pm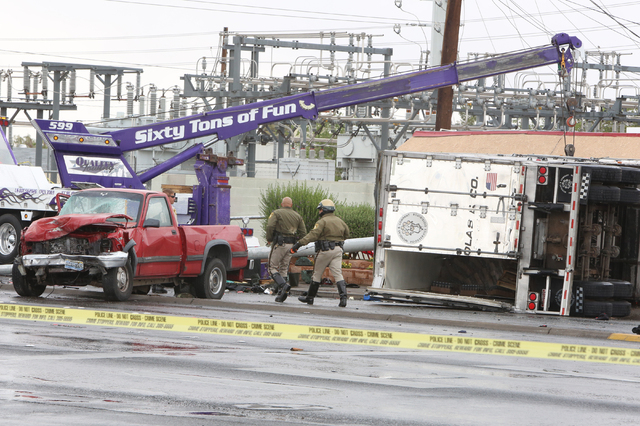 Officials on Wednesday released the name of the man who died Monday morning after a crash involving an overturned tractor-trailer.
Quirino Marcel Ortega, 60, was headed north on Nellis Boulevard just after 10:40 a.m., driving his teenage granddaughter, Faith Hubbard, to her college classes in his 1997 Ford Escort, a relative said.
As the car entered the Washington Avenue intersection, a 1991 Dodge Dakota pickup ran a red light and slammed into the Escort, then into a tractor-trailer that also was headed north on Nellis, before coming to a stop.
As a result, Ortega's Escort was forced into the semi, which caused the semi's box trailer to separate from the tractor. The separated trailer pushed the Escort through the intersection and into the west side of Buck's Tavern at 1204 N. Nellis Blvd.
The semi's separated tractor continued off the road, through an electrical box and into the heavy post supporting the tavern's sign.
Ortega was pronounced dead at the scene. His granddaughter and the pickup driver, Moroni Calvo, 39, were taken to University Medical Center's trauma unit with life-threatening injuries.
The semi's driver was not injured.
The crash caused police to shut down the intersection for several hours as they investigated. This was the Metropolitan Police Department's 39th traffic fatality this year.
Contact Rachel Crosby at rcrosby@reviewjournal.com or 702-387-5290. Find her on Twitter: @rachelacrosby