Man killed in gym parking lot in wrong place at wrong time
January 5, 2016 - 4:20 pm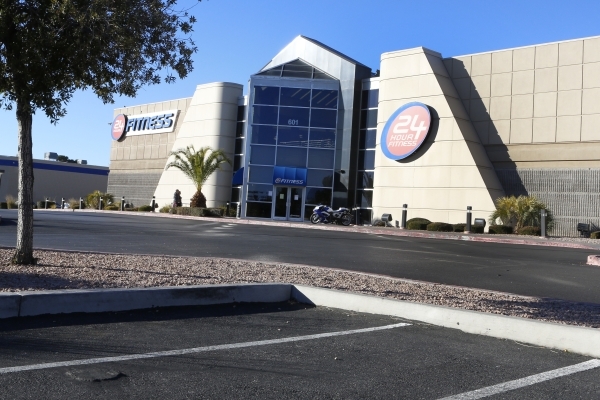 Neil Gandler called his car home. The 42-year-old Californian was a vagabond by choice, traveling from town to town, boasting a life of modesty, his friends say.
He slept in 24 Hour Fitness parking lots often because he felt safe at the round-the-clock gyms and could use their facilities for hygiene.
But on Dec. 29, his life as a rolling stone was cut short when he was shot dead in the parking lot of club No. 210, near the intersection of Rainbow Boulevard and Alta Drive, during a thwarted robbery.
He pulled into the parking lot about 10 p.m. He died there three hours later.
The pair accused in the slaying, Kyle Staats and Megan Hippie, came across Gandler's car by chance while out on a spree of car burglaries, Hippie told police at the time of her arrest.
"Don't do it" appear to have been Gandler's last known words, according to a Las Vegas police arrest report. His effort was in vain and didn't halt Staats' decision to pull the trigger, police say.
Staats, 27, and Hippie, 19, were out burglarizing vehicles when they came across Gandler, Hippie told detectives. "Did you see that?" Hippie recalls Staats telling her. "The guy is sleeping in his car."
That's when Staats made a U-turn and parked next to Gandler, the report says. Staats, a .40-caliber gun in hand, knocked on Gandler's window.
Hippie said she heard Gandler's plea moments before a shot rang out, striking him in the torso, according to the Clark County coroner's office. Gandler's car, with its window shattered, rolled onto a parking median.
"I think I got him," Staats told Hippie, according to police. They drove away. They went on to do more burglaries and at some point stole a car.
The couple were arrested Jan. 2, according to police. They were booked into the Clark County Detention Center where they both face charges of first-degree murder, attempted robbery with a deadly weapon and conspiracy to commit robbery. Staats faces an additional charge of possession of a stolen vehicle.
Gandler, a tech blogger and entrepreneur from Palo Alto, Calif., about 30 miles south of San Francisco, was invited to CES, the giant consumer electronics show, and had been in town for at least a few days, his friend Adam, who did not wish to disclose his last name, said in a phone interview Tuesday.
"He had several gym memberships. This was his strategy." A strategy to visit metropolitan areas, find a gym in each city, park there and then ride his bicycle around.
"Call it your own public transportation," Adam said of his friend's bike. It was still hooked to Gandler's car when it rolled into a median after he was shot.
What prompted Gandler's lifestyle change about 10 years ago was a housing shortage caused by the San Francisco tech boom.
An expanding real estate market in the Bay Area priced Gandler out of renting, but "he made the most of it," Adam, a landlord in the same area, said.
"Neil, who made pretty good money, came up with this solution to live out of his car."
And he didn't just accept it, he embraced it, Adam said as he began to choke up over the phone.
"Not only was he happy, he was always trying to sell others on how happy he was and efficient."
Gandler ate well at restaurants every day, visited friends and traveled the country like he wanted to.
"He was a revolutionary, a pioneer," Adam said of the man he met in 2013, when a mutual friend discovered he and Gandler had MBAs and introduced them.
Another friend, Esther Flatto, echoed Adam's thoughts on Gandler by phone Tuesday.
She confirmed that he would sleep in his car and use his gym membership for a warm shower.
"Neil always had this dream about his business, and I think that he probably wanted to save a little money to put more in his business. And it's just unrealized dreams. He had a lot going for him."
Flatto says her friend of nearly a decade was a member of the Jewish community with her. "An entire community is mourning."
"Neil had no shortage of adventures. He lived a happy life. He was a happy man."
Police on New Year's Eve released a security video from the gym's parking lot and the description of the car they say was connected to Gandler's death. On Jan. 2, detectives received "confidential" information that Hippie and Staats might have been involved in the shooting and that Hippie had talked about her involvement.
Police tracked Hippie and her 2007 Pontiac G5 coupe, which matched the suspect-vehicle description police put out. When she spoke to detectives, according to the report, Hippie admitted to her involvement in the parking-lot shooting and also revealed Staats' location.
When Staats was arrested near Smoke Ranch Road and Rainbow Boulevard, police found a stolen SUV and a .40-caliber Glock and ammunition hidden in the bathroom of the apartment he lived in, police said.
Staats has a history of violent offenses, according to Las Vegas court records. He faced charges in felony cases from 2006 to 2007 in which the counts ranged from cocaine trafficking in one case, to battery with a deadly weapon, resisting a public officer, and battery on a police officer or school employee in another.
A spokeswoman for CES, which takes place at the Las Vegas Convention Center Wednesday through Saturday, said she could not disclose whether Gandler was a registered attendee.
Membership types vary at 24 Hour Fitness, a spokeswoman said Tuesday. She declined to confirm if Gandler was a member.
"We are saddened to learn of the incident and our thoughts are with the victim's family," the fitness company wrote in a prepared statement.
Contact Kimberly De La Cruz at kdelacruz@reviewjournal.com or 702-383-0381. Find her on Twitter: @KimberlyinLV. Contact Ricardo Torres at rtorres@reviewjournal.com and 702-383-0381. Find him on Twitter: @rickytwrites