Metro officers, dead man involved in Saturday shooting identified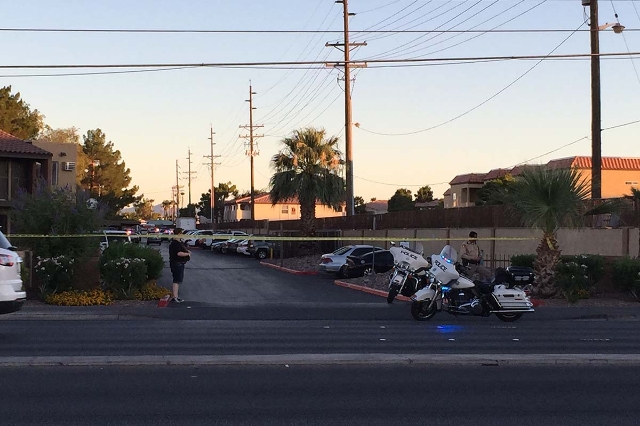 The Las Vegas police department has identified the three officers who were involved in a fatal shootout Saturday.
They are Keith McIntyre, 28, John Squeo, 23 and Christopher Gowens, 38. All are on routine paid administrative leave, the department said Monday.
The dead man is identified as Bryan Keith Day, 36, of Las Vegas, the Clark County coroner's office said Monday.
The shooting happened while police were responding to a crime involving Day's neighbor.
At about 6 p.m., officers responded to a call at the Oasis Ridge apartments, 3040 E. Charleston Blvd., where a man reported he had been beaten in his apartment, Metro Capt. Chris Tomaino said on Saturday night.
When police arrived, Day came out of his apartment and "engaged the officers in conversation," then went inside and returned with a pellet gun, Tomaino said. He shot McIntyre once under his left eye.
At least two officers returned fire, killing the man, Tomaino said.
The injured officer was taken at University Medical Center and released Saturday night, Tomaino said.
Squeo and Gowens have been employed with Metro since March 2014, and McIntyre has been with the department since August 2008.
Saturday's shooting was the sixth officer-involved-shooting of 2015 in Metro's jurisdiction
This is a developing news story. Check back here for details.
Contact Kimberly De La Cruz at kdelacruz@reviewjournal.com or 702-383-0381. Find her on Twitter: @KimberlyinLV.