Metro revamping process for handling towed vehicles
January 25, 2016 - 6:09 pm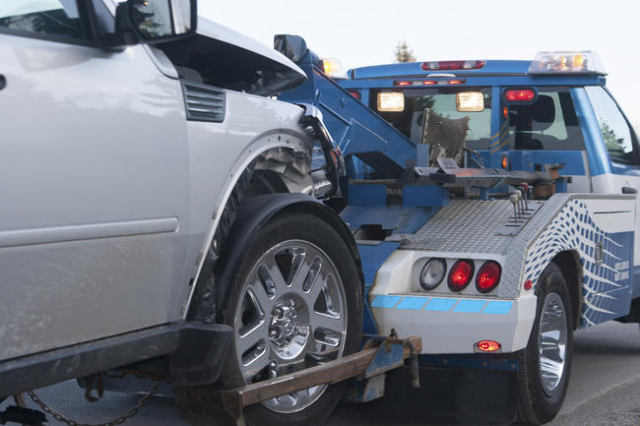 Las Vegas police hope a streamlined process for handling tows will make the unpleasant more palatable for civilians and officers alike.
In the past, the Metropolitan Police Department has had two or three tow truck companies that it rotated on a monthly basis. But concerns about response times and a lack of oversight drove the department to look for a different model. The agency's new approach will create a central point of contact for all the tow companies used, relieving burdened dispatchers and waiting officers, and offer a tracking website to help people whose cars have been hauled away.
The new procedures, outlined during a Monday morning meeting of the Metropolitan Police Committee on Fiscal Affairs, are expected to roll out around April.
Metro accepted an offer from the San Francisco-based Negsco Auto Return to take on the task of centralizing tow service for nonconsensual tows, meaning the car was in a crash or the driver committed a crime. Negsco is then going to establish subcontracts with licensed towing companies to meet the needs of police.
Ewing Bros., Snap Towing and Walker Towing are getting those subcontracts and will have trucks outfitted with GPS devices allowing for automatic dispatching of the truck closest to the crash scene or arrest. Auto Return also will handle lien sales and be in charge of tracking the vehicles — and sharing that information with people whose cars have been towed.
Not everyone is happy about the move. Fast Towing and Quality Towing have had towing contracts with Metro since at least 2011, but neither company was chosen by Auto Return as a subcontractor.
Ed Feriance, of Fast Towing, said his company has one year left on its five-year contract with Metro.
"With that one year left, we've invested at least $2 million worth of money to meet that contract. That's with property, that's with equipment and trucks," he said. "With us going off that rotation it basically is going to take out 70 percent of our business."
Feriance said if the company loses the contract, it will probably have to lay off some of its 50 employees.
"We understand years ago there was a problem with a couple companies monopolizing the tow work, so that's why we invested the money to get in," he said. "I think we've done a good job. All we want to do is be part of the system."
Currently, an officer will call for a tow on the scene and wait while a dispatcher checks which tow company is in rotation and calls them, the department said. That takes up valuable time for everyone involved.
Under the proposed system, Auto Return will have its own dispatch center that dispatch can call anytime. In the future Metro wants its officers to be able to request a tow truck digitally from the field, with Auto Return sending the closest truck from one if its subcontractors. The response time under the contract with Auto Return is 20 minutes or less, but the company, which also has contracts in Baltimore, San Diego and Austin, boasts an average response time of 12 minutes on its website.
Although officials said they wished to insulate Metro from the towing business, the move is also aimed at improving the experience for owners of towed cars by giving Metro the ability to audit data about towing charges and lien sales. They also will have a central point of contact for getting information if their car was towed and be able to track it online, Metro said. And under state law, drivers will be able to opt for the tow company or storage yard of their preference or the ones required by their insurance policy.
Contact Wesley Juhl at wjuhl@reviewjournal.com and 702-383-0391. Find him on Twitter: @WesJuhl.