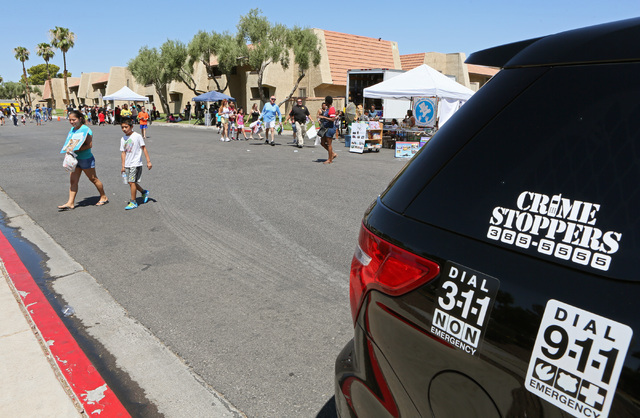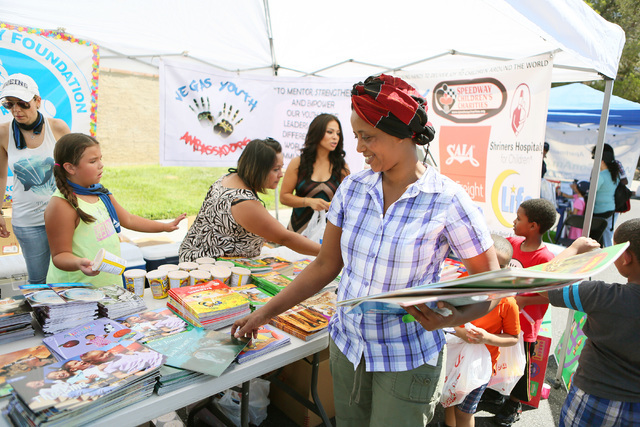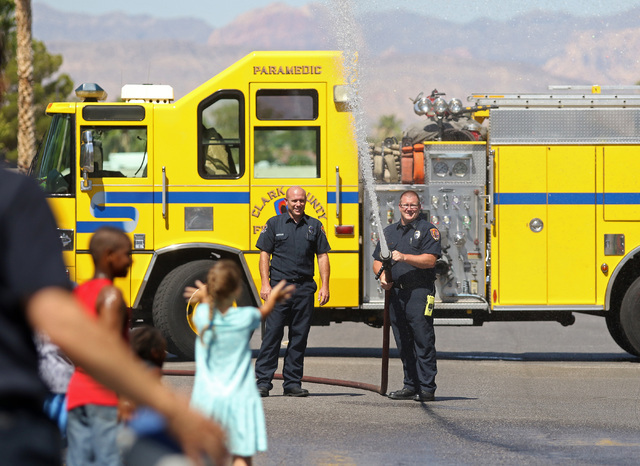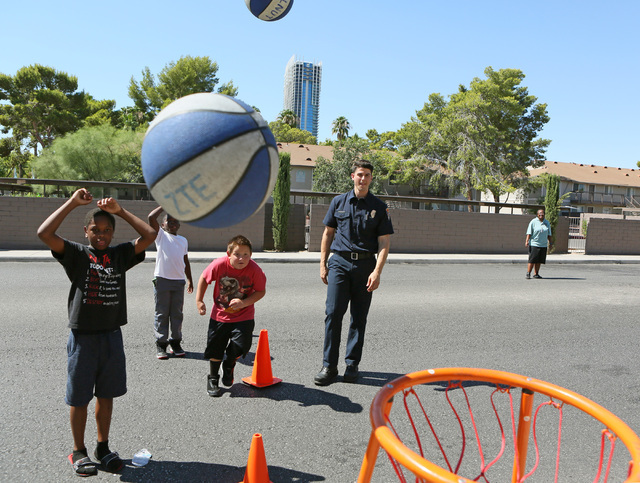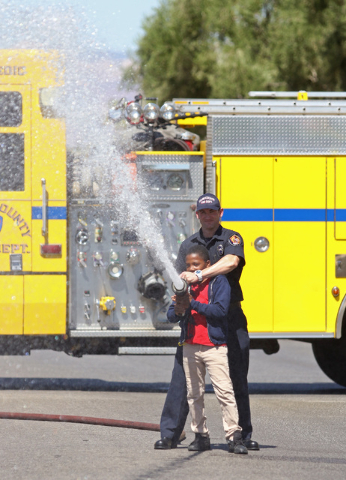 Residents from the Topaz, Silverado Village and Viridian apartment complexes slowly emerged from their apartments on Saturday morning out onto West Viking Road, curious to find the source of the loud music.
For some, it was a surprise to discover that it was the Metropolitan Police Department.
"I heard the music, looked out the window and was like, 'whoa,'" said Deja Chappell, area resident and soon-to-be freshman at Western High School. "It's amazing!"
The Summer Health and Wellness Extravaganza, hosted by the department's Enterprise Area Command, was underway, complete with live music, a free farmers market, health and wellness booths, a sports obstacle course and water games.
Officer Darryl McDonald said the community block party was the finale of a three-day sports camp, Camp Gateway. Nearly 50 kids took part in the camp, which kicked off on Wednesday at the three area apartment complexes located a few blocks west of the Rio and Gold Coast.
"There are no recreation centers or anything like that around here for the kids so every spring and summer break we host it," McDonald said of Camp Gateway. "When the kids are bored, they're more likely to get into criminal activity so this keeps them busy and helps them get to know us."
To organize the block party, the command sought out needs in the community such as food and transportation, he said.
Those attending the event could take home food and water as well as books and 24-hour bus passes from the Regional Transportation Commission.
International Church of Las Vegas South Gate Pastor Frank Holland and his wife, Linda, helped organize the farmers market, which included more than 18,000 pounds of food and beverages, including watermelons, grapes, orange juice and snack foods.
"People need fresh, healthy produce," he said. "They also need snacks because their kids are out of school for the summer."
Holland said events such as Saturday's block party help strengthen relationships between the community and police, especially in light of recent police shootings in the U.S., including the July 17 event that took the lives of three officers in Baton Rouge, Louisiana.
"Our officers are amazing but people don't always realize how amazing they are," he said. "Events like this build awareness that they're here to protect and serve."
By hosting the event, Metro sends a positive message to area residents, said Angela Henderson, a volunteer from the International Church of Las Vegas.
"It helps people see the good and gives them hope," she said. "There's so much negative news, and this shows them that it's not all bad."
Henderson added, "Metro being out here today is good because we all need that bond right now with everything that's going on."
Grant Sawyer Middle School soon-to-be sixth grader Elshaday Bruk was enjoying the music and activities Saturday morning.
"I really like it; it's pretty fun," she said. "You can make new friends, and it shows a lot of love because everyone's getting along."
RTC blocked off one side of West Viking Road with an air-conditioned bus to not only give people relief from the heat but also to show them how to pay and use bus passes. RTC employees also handed out route maps and free 24-hour bus passes.
"The RTC always supports the community, and we want our riders to know we're here to support them," said Public Affairs Administrator Laura Coronado. "We're also hoping to offer some relief from budgetary concerns by handing out the free passes and let them know that our service is available if they're new to the area."
Firefighters from Clark County Fire Department also helped keep partygoers cool by spraying water into the air, much to the delight of children.
As Chappell walked around the block party with her cousin, Justice Johnson, she reflected on the importance of such events to her community.
"Especially in an area like this, a lot of people need this stuff," she said. "And you never know, with more police around it may make things more organized."
Contact reporter Ann Friedman at afriedman@reviewjournal.com or 702-380-4588. Follow @AnnFriedmanRJ on Twitter.