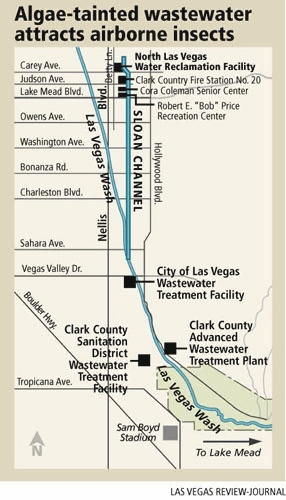 The conflict between Clark County and the city of North Las Vegas over the Sloan Channel took a turn for the buggy this week.
Firefighters at the newly opened Fire Station No. 20 at 5865 Judson Ave. noticed the arrival of a multitude of mosquitolike insects about a week and a half ago. One particular wall in the courtyard is covered with the insects every afternoon. The bugs were hovering in clouds near the Sloan Channel and the nearby park and county buildings.
"Remember the movie 'The Birds'?" said Clark County Commissioner Tom Collins, whose District B includes the station. "It's kind of like that but with mosquitoes."
The initial concern was that the insects were mosquitoes, which might carry diseases such as West Nile virus.
"Mosquitoes breed in standing water," said Clark County Vector Control supervisor Chris Bramley. "Our first step was to check the area for green swimming pools. But we didn't find any."
County pest control workers soon discovered that the swarms were chironomid midges, commonly referred to as non-biting midges and also frequently mistaken for mosquitoes. They are rarely a disease carrier and don't represent an immediate threat.
But they are annoying.
"We have some midges all across the valley," Bramley said. "We don't have them in these numbers, where they're in large swarms bothering people on the walking trail and at the fire station and the senior center. This is an abnormal amount of chironomid midge production."
County officials maintain that the midges are the result of the city of North Las Vegas releasing a constant stream of effluent from the recently opened North Las Vegas Water Reclamation Facility, which borders one of the oldest neighborhoods in the Sunrise Manor township.
North Las Vegas sewage treatment officials didn't return calls seeking comment Wednesday.
"I haven't surveyed the plant. So I can't say the midges are coming from there," Bramley said. "But I can say they're breeding in the water they're releasing into the previously dry channel."
North Las Vegas began releasing treated effluent from its new $240 million wastewater treatment facility on June 9. The water flows through Sloan Channel to Las Vegas Wash and eventually into Lake Mead. The city plans to discharge about 25 million gallons per day from the plant.
But the city ran afoul of Clark County, which maintains the flood control channel. The county and the city are still fighting in federal court over the channel. U.S. District Judge Philip Pro last month questioned whether the court has jurisdiction in the matter. County officials think the battle should go to state court, while the city is fighting to keep it in federal court, saying it belongs there because the plant is built on land leased from Nellis Air Force Base.
Pro could rule on the jurisdictional issue at any time.
While both sides were waiting for the courts to decide, the midges were breeding in shallow mud under the water. Their larvae are called bloodworms because of their bright red color. County pest control officials surveyed the Sloan Channel and discovered there were more than 500 bloodworms per square foot of water along the channel.
"That's a big number for around here," said Gary Jones, a Western Exterminator Company entomologist. "We just don't get that much moisture out here."
County specialists have surveyed the channel from Carey Avenue to Stewart Avenue and, because the area is what they describe as "a perfect breeding ground for midges," expect to find them all along the nearly four-mile channel.
"Normally, natural predators would keep their numbers down," Jones said. "A lot of the control happens in the water when they're still in their larval stage when they're eaten by frogs, fish or lizards. The water is too shallow for any natural biological control to form."
By the time they become an airborne annoyance, natural predators such as birds and bats can't really make much of a dent in their numbers, although Jones said that anywhere there are a lot of midges in the valley, spiders create great matted webs across stucco surfaces to harvest them.
"We've had a record number of bugs because of the late summer," Jones said. "But that doesn't have a lot to do with the midges. They just need the right conditions in the water."
Jones said that there are seven types of midges in the area and that biting midges are almost never seen here. He recalled that 25 years ago the midges were a real problem around the valley's man-made lakes, but local companies now treat the lakes with growth regulators that alter the life cycle of the midges, keeping them from reaching their final stage in which they grow wings.
"It was so bad some people couldn't go out on their porch because they couldn't breathe because there were so many of them. They're under control now. But you'll always have some around."
Because of the channel's volume and flow, the county's initial assessment is that treatment wouldn't work and that there is no effective solution, short of shutting down the water flow and letting the breeding ground dry out.
"Because of the continually flowing water, you're going to continuously have an enormous amount of bugs," Collins said. "It's not cost effective to control these varmints at the volume of water that's flowing."
Bramley said shutting down the water for 14 days would allow the breeding mud and algae to dry up and break the breeding cycle, but it probably would return to current midge levels around 30 days after the water flow resumed.
Because the North Las Vegas Water Reclamation Facility uses membrane bioreactor technology, it treats the sewage with living organisms, and the system is complicated and expensive to restart once it has been shut off.
County pest control officials maintain ongoing treatment to control insects in several washes across the valley but haven't previously encountered this level of rapid midge infestation.
The bugs out there now are annoying," Collins said, "but I'm concerned that if someone dumps a tire or something in there and you get standing water, we'll start having mosquitoes breeding."
Vector Control is keeping an eye on the situation and is encouraging residents who live near the channel to call 455-7543 if they have any questions or concerns.
"If they have samples in their house they believe are mosquitoes, we'll come and pick them up and identify them," Bramley said. "Just pick them up with a piece of Scotch Tape and put them in a baggie."
"North Las Vegas thought they were going to cut a fat hog by paying only $50,000 dollars to maintain that channel," Collins said, quoting the number the county suggested to help maintain the channel. "It'll cost them more than that just to control these insects."
Review-Journal reporter Lynnette Curtis contributed to this report.Contact Sunrise and Whitney View reporter F. Andrew Taylor at ataylor@viewnews.com or 380-4532.