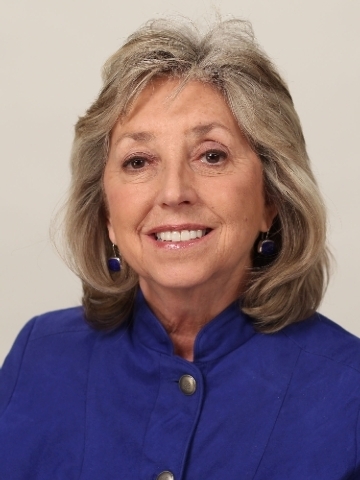 An influential Hispanic group on Saturday announced it endorsed Republican Dr. Annette Teijeiro over U.S. Rep. Dina Titus, D-Nev., delivering a blow to the incumbent in the 1st Congressional District.
In another surprise, U.S. Rep. Joe Heck, R-Nev., nearly got the backing of Hispanics in Politics, but the organization's board rejected the membership's vote for him because of Heck's views on immigration.
Instead, the Hispanic group formally endorsed Heck's Democratic opponent, Erin Bilbray, in the 3rd Congressional District. She favors comprehensive immigration reform and has used the issue in the race.
Fernando Romero, president of Hispanics in Politics, said the nine-member board of the group couldn't see backing Heck when he has not fully embraced immigration reform to their satisfaction.
"His stance on immigration has been very iffy, very shaky," Romero said in an interview. "It teeters yes and no."
Hispanics in Politics made endorsements in about 80 races, including judicial, according to Romero. The members began voting Wednesday and the board approved picks Friday into the night.
As expected, the group overwhelmingly backed Republican Gov. Brian Sandoval, Nevada's first Hispanic governor, for re-election on Nov. 4, over his little known Democratic foe, Bob Goodman.
The organization is waiting until Oct. 15 to endorse in the other state constitutional contests because most of those candidates are scheduled to appear before the group between now and then, Romero said.
In fact, on Sept. 3, the lieutenant governor candidates will debate at a Hispanics in Politics breakfast. There may be other debates as well.
The race between Assemblywoman Lucy Flores, D-Las Vegas, and state Sen. Mark Hutchison, R-Las Vegas, is the most competitive contest on the ballot. Sandoval has backed Hutchison while U.S. Sen. Harry Reid, D-Nev., is pushing Flores for the No. 2 job in the state.
In the congressional contests, the Heck-Bilbray race is the most competitive, although Heck is favored to win re-election to a third term.
On immigration, Heck has said he favors fixing the broken system, but he said he doesn't back an omnibus U.S. Senate bill that passed a year ago. Instead, he has said he and other Republicans favor taking on separate immigration issues one at a time, starting with better securing the border.
Heck also has verbally backed a program President Barack Obama approved in 2012 to allow children of illegal immigrants to legally work and study in the United States if they grew up here. But Heck has also voted against the program as it is because he objects to Obama using his executive authority to protect the youth from deportation instead of going through Congress to do the same thing by passing a law.
Romero said Hispanics in Politics leaders also don't like Heck's stance on the tens of thousands of Central American children who have streamed across the U.S. border recently, seeking asylum. Many of the children say they are fleeing violence in their home countries, but Heck and other Republicans want to hold hearings and deport the children in a timely manner — within weeks — instead of allowing them to live in the U.S. for months and even years while they try and prove their cases for asylum.
"We cannot see why we should endorse a man that does not support the wants and the needs of the Hispanic community," Romero said. "We'll be endorsing Erin Bilbray."
Asked if Heck won the membership vote as implied, Romero said, "The board decided," but he refused to offer details about the exact vote.
In the 4th Congressional District, the Hispanic group endorsed the freshman incumbent, U.S. Rep. Steven Horsford, D-Nev., over his Republican challenger, Assemblyman Cresent Hardy of Mesquite.
Romero said the vote was close, which he attributed to a lack of enthusiasm by Democrats ahead of the Nov. 4 election. He said Republicans have been more active in reaching out to Hispanics, while he suggested Democrats were taking the Latino vote for granted.
"It seems the Democrats may be slacking a little bit as far as their participation and reaching out," Romero said. "I think many of them are taking the Hispanics and thinking 'it's ours.'"
Romero said, for example, he was "shocked" that Titus didn't win backing from the Hispanic members of his group since she has done a lot for the community. But Teijeiro has been very active on the ground. In the end, Titus is the big favorite to win re-election since her urban Las Vegas district is mostly Democratic by voter registration.
In other key races, the verdict was split among parties, including in the three contests that will determine whether Republicans take over majority control of the Nevada Senate. Now, Democrats have a one-seat edge, 11-10. For control, the GOP would have to retain its two competitive GOP seats in Districts 8 and 20 and pick up the Democratic District 9.
In each of those race, Hispanics in Politics endorsed:
— Senate Minority Leader Michael Roberson, R-Las Vegas, in District 20, over his Democratic challenger Teresa Lowry. (The vote for Roberson was "overwhelming," Romero said.)
— Sen. Justin Jones, D-Las Vegas, over his Republican challenger, Becky Harris, in District 9. (Romero said the vote was very close.)
— Assemblywoman Marilyn Dondero Loop, D-Las Vegas, over Republican Patricia Farley in District 8. (Romero said Farley didn't do very well.)
In other Clark County races, Hispanics in Politics endorsed:
— Joe Lombardo for Clark County sheriff over Larry Burns.
— Incumbent County Commissioners Chris Giunchigliani, Susan Brager and Mary Beth Scow.
Asked if there were any surprises in the Assembly races, Romero said the biggest one was in District 14. The incumbent, Assemblywoman Maggie Carlton, did not win the Hispanics' endorsement. Instead, her GOP opponent, Matthew Yarbrough, got the nod.
Although Carlton is well known in the district, Romero said Yarbrough has been very active with Hispanics in Politics since he got into the race. His activism paid off among members who are looking to personally engage with the candidates, Romero said.
"We have members who are politically inclined," Romero said. "We've got people, pretty much, across the political spectrum."
Contact Laura Myers at lmyers@reviewjournal.com or 702-387-2919. Find her on Twitter: @lmyerslvrj.