Nevadan at Work: Local priest helps business community with ethics
November 4, 2012 - 1:15 am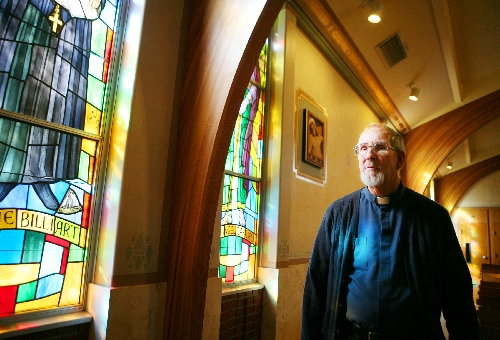 With a background in marketing, the Rev. Max Oliva has built a ministry with an attention-getting premise.
"People are fascinated with a priest that works with businesspeople on ethics," he said.
Through short talks to business groups, full-length seminars or individual sessions, he works with businesspeople – Catholics or non-Catholics – to try to sort through quandaries they encounter in the office. How should a businessperson deal with a larcenous partner, lay off people to satisfy cash flow necessities yet not crush the spirit of the former employees or handle a contract dispute with a client?
"My experience is there's not a lot of people you can talk to about this stuff," he said. "You don't want to talk to your boss. You can't talk to a pastor because he is overwhelmed with other things. You don't want to take it home and make it a big problem. In walks Father Max Oliva, a Jesuit with a background in business."
In the early 1960s, after graduating from college, he had offers to join three family-owned businesses: his father's food brokerage, his grandfather's print shop and his great-uncle's construction firm.
Instead, he diplomatically said no to all three by entering training for priesthood in 1963, but kept a hand in commerce through such projects as lining up job interviews for black men in the San Francisco's Fillmore district during the civil rights era.
"Even though I wasn't ordained then I wore the collar for protection," he recalled. "White people really weren't welcome in the community at the time."
Much of his succeeding work involved social issues, but in 2001, while in Calgary, he had "saturated the market" for conventional missions. After reading a Fortune magazine article on religion in the workplace and talking with business people in the area, he returned to his roots by starting Spirituality at Work in 2002. As a complement, he later wrote the book, "Beatitudes of the Workplace."
Answering a call to help out with a shortage of priests in the Las Vegas area, he came first on a part-time basis in 2008 and moved full time last year.
"When you go into a parish with something different like I do, you really need the support of the bishop," he said. "Here, I have it with Bishop (Joseph) Pepe."
With the help of a local nine-person advisory group, he renamed the ministry Ethics in the Marketplace.
(Las Vegas Review-Journal publisher Bob Brown sits on the group. Oliva also writes a column for the affiliated Las Vegas Business Press.)
Question: Business ethics makes for an unconventional ministry for a priest. What brought you to it?
Answer: God works on nature. If your nature is that you have entrepreneurial gifts, that your background is in business, that you have contacts with a lot of people in business, that you grew up in that atmosphere and you have an MBA, it all kind of fits for me. I'm not a high school teacher, I'm more comfortable with adults in terms of ministry. I'm not a parish priest. My provincial (regional leader) says I'm our missionary in Nevada.
Question: Where have businesspeople gone off the track?
Answer: When I was developing this ministry when I was in Canada, one of the first guys I asked about it was a venture capitalist in Calgary (Alberta). He said, "Father Max, we need you, it's a moral desert out there." People are cutting corners, focusing too much on short term. You are seeing major scandals such as HOA (homeowners association) things and medical issues. People like to see me one to one. There's a lot more stress because of the economy, morale is down. You're in a job that you don't like but you don't want to leave because there is nothing else to do, so you are unhappy there.
There are some wonderful people here who are really inspirational to me. Then I hear stories from some people about things that have happened at their workplace that are painful or from some who are out of work.
Question: What is the practical value of ethics for a company?
Answer: The key is reputation. What kind of reputation do you have? How do you treat your employees? Zappos often comes out in surveys as a company people want to work for because of the climate. Tom Morris, who wrote a book, "If Aristotle Ran General Motors," basically said ethics is creating a climate of goodness. If you have a climate of goodness in a company, you want to work there, you want to produce, you want to be effective, you want the company to succeed. You don't want to work for a company that kills the human spirit.
Question: Don't you get people who say, ethics are fine but they just don't pencil out in a tough economy?
Answer: You could say that about any time, it doesn't work when you have too much or it doesn't work because we don't have enough. Ethics is about being consistent, regardless of what the economy is like.
Ethics also matters in terms of your spirit and mental health, even affecting your physical health.
I remember one guy whose business partner absconded with the money and really hurt the company. So he talked with me about how to handle this. I said, probably the only thing you can do is pray for the grace to forgive him. You have to come to some sort of peace about this. If you are angry about it or resentful, who gets hurt? It's not the guy who's left with the money, it's you because it's eating within you.
Question: Is that a tough message to get across, because the first instinct is usually to hire lawyers?
Answer: Sometimes your only recourse is to sue. In fact, there was a situation here where someone asked me if he should sue. After laying out all the steps he had taken, I realized the guy who took advantage of him would do that to somebody else if he wasn't stopped. And the only way to stop people like that is to sue them. Normally, I believe in trying to solve problems before getting to court.
Question: Ethics would seem to be a tough sell when the economic heart of the area is the Strip.
Answer: In the three years I have been involved here, I have very little contact with the Strip. I know very few executives who work on the Strip. One of first people I met before I moved here was Terry Lanni (the late chairman and CEO of MGM Resorts International.) I met him through a Jesuit brother. I laid out for him what I was doing and he said the economy is in bad shape right now, so it would be better if you waited on this. But I am interested in what you are doing and I could introduce you to some people. Then he left (MGM).
When I first came here, I reached out by sending letters to Strip executives and never heard back from anybody.
Question: What does that say about Las Vegas?
Answer: I would rather not go there.
Question: Do you ever hit the casinos?
Answer: My ancestral background is mainly Italian, Genovese. Genovese are money people, which means tight with money. So, I don't gamble because I don't want to lose money. What is the sense in that? It's stupid.
Question: Have you come up with any concrete goals?
Answer: That's a very hard question for a priest to answer. I want to know what God wants and I want to do it. And people tell me, "Yeah, we know that. But what do you want to accomplish?" I hope my being here will draw people closer to God and be better people in the workplace. I hope that what I have to offer helps to deal with serious issues both personal and work-related.
Contact reporter Tim O'Reiley at toreiley@reviewjournal.com or 702-387-5290.
VITAL STATISTICS
Name: The Rev. Max Oliva
Age: 73
Family: Three sisters and brothers, six nieces and nephews
Quotable: "Where do you want to put your time or energy or love? You want to put it in a company or organization that you believe in."
Education: Loyola High School in Los Angeles; Santa Clara University, B.A. marketing and business, 1961; University of California at Berkeley, MBA in organizational behavior and industrial relations, 1971; Nine years of training for the Jesuits, ordination in 1972.
Work history: U.S. Coast Guard, six months active duty and seven-and-a-half years in reserves starting in 1962. Sales at U.S. Products in San Jose, Calif., 1962 to 1963. Overlapping six years as assistant to Jesuit provincial for social ministries in San Francisco and 12 years with Jesuit School of Theology in Berkeley, 1972-1983. Parish work in San Diego and ministry in Tijuana, 1983 to 1999. Ministry at a native reservation in Alberta and then in Calgary, 1999 to 2008. Teaching ethics at Santa Clara University in San Jose and Regis University in Henderson and speaker, 2008-2011. Full time in Las Vegas since 2011.
Hobbies: Hiking, notably Red Rock area, Valley of Fire, Zion National Park, and working with horses in Boulder City.
Favorite book: "Spirituality at Work," by Gregory Pierce
Hometown: San Francisco
In Las Vegas since: 2011 full time, 2008 part time
The Ethics in the Marketplace ministry is at 1840 N. Bruce St., North Las Vegas. It can be reached at 649-7594 or 277-4517 (cell) or at ethicsinthemarket place.com