New Nevada prisons chief plans to prohibit birdshot in aftermath of shooting death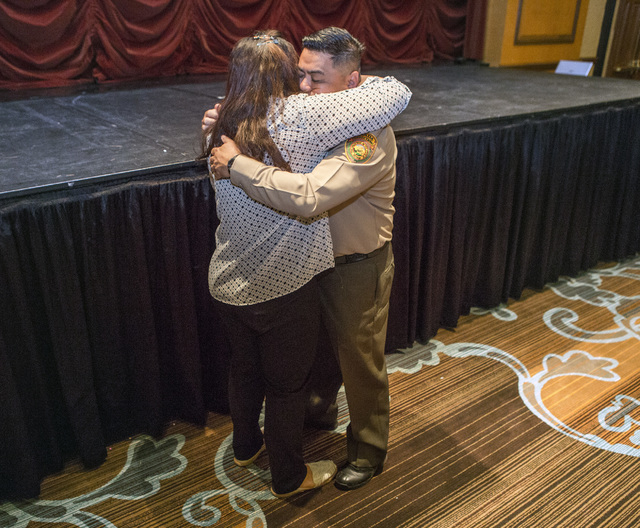 After watching 39 new correctional officers being sworn in Friday, new Nevada Department of Corrections Director James Dzurenda said he plans to temporarily prohibit the use of birdshot while a newly formed research committee looks at alternatives and reviews the department's use of force.
The graduation and order are intended to prevent the recurrence of past use of force issues inside the state's prisons, such as the shotgun death of an inmate at the hands of a trainee at High Desert State Prison in 2014.
Filling vacant positions at Nevada prisons is an ongoing issue. An October 2015 report ordered by Gov. Brian Sandoval after questionable use of force cited low staffing as one reason for the frequency in the use of weapons.
Counting Friday's graduates, department spokeswoman Brooke Keast said about 90 vacancies remain, including 52 at Ely State Prison.
Just before noon Friday, the families and friends of the graduates gathered in a ballroom at Texas Station for a ceremony that featured a talk by Dzurenda.
Graduate Daniel Horne, 27, worked as a sports coordinator at the YMCA before joining the department. Horne said he joined for the benefits and job stability and to follow in the footsteps of relatives who work in law enforcement.
Horne said the eight-week academy at a facility in Indian Springs taught him the laws inside and outside of the prison and appropriate protocols.
Horne also received training using weapons including firearms. "I was uncomfortable at first," he said.
Horne, who was born and raised in Las Vegas, has been assigned to Southern Desert Correctional Center in Indian Springs.
Dzurenda, who started in April, said he wants to re-evaluate use of force, fill more vacancies and prepare inmates for release earlier.
He previously worked with correctional agencies in Connecticut and New York.
In September, the governor asked then-Director Greg Cox to resign after scrutiny over the use of force, which led to the death of an inmate.
The department has been sued by the families of Carlos Perez, 28, who was killed, and Andrew Arevalo, now 25, who was wounded. Perez was shot in the back while handcuffed at High Desert State Prison in October 2014. Arevalo was shot in the face but survived.
At the time, the department acknowledged that one prisoner had died but did not provide details. It wasn't known until four months later that the prisoners had been shot by a trainee.
The trainee who fired the shots was terminated, and two officers involved resigned.
Former trainee Raynaldo Ramos, 28, has been charged with one count each of involuntary manslaughter and performance of act in reckless disregard of persons or property resulting in death.
The officers — Jeff Castro and Isaiah Smith — were not charged criminally, but internal department disciplinary documents released in a civil lawsuit said the two were culpable.
At the graduation Friday, Dzurenda called the use of 12-gauge shotguns "outdated" and said he is submitting a temporary change to stop using birdshot — the smallest-sized shot for shotguns. The change is expected within two weeks, pending any strong staff opposition that convinces him otherwise, he said.
A new research committee will explore alternatives to replace birdshot permanently. Officers also have access to blank and rubber rounds in the prisons. Other live ammunition aside from birdshot is on hand but is reserved for hostage situations or for transporting, Dzurenda said.
The department is reaching out to schools, job fairs and faith-based groups to attract workers.
Dzurenda said it's difficult to fill openings because the jobs pay less compared with other law enforcement agencies in the state.
Correctional officers start at $18.63 an hour and can make up to $20.27 an hour after one year.
Filling vacancies at remote prisons such as Ely is especially difficult because there is a low population nearby to draw from and because better-paying mining work lures officers away, Dzurenda said.
Though lawmakers approved about $7 million to hire an additional 100 correctional officers in 2015, Dzurenda said those are temporary positions open to retired law enforcement and are limited to Ely in northwestern Nevada.
Dzurenda said the state has about 13,500 state inmates. Of those, 25 percent are not from Nevada, with most of that 25 percent coming from California.
The director stressed that better preparing inmates for release could prevent them from harming the communities they return to in neighboring states as well as Nevada.
Contact Alexander S. Corey at acorey@reviewjournal.com or 702-383-0270. Find @acoreynews on Twitter.