New program tracks early spike in pollen counts
February 24, 2015 - 10:51 am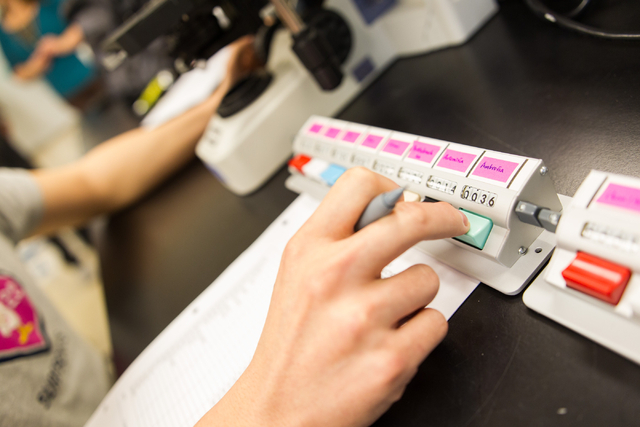 It's that stuffy, sneezy, can't sleep, achy time of year again.
A warm burst of springlike weather in January and February launched the pollen season in earnest.
But unlike recent years, folks in Southern Nevada now have a way to monitor pollen counts thanks to a revived joint program involving UNLV, the Clark County Department of Air Quality and the Clark County School District.
Right now, pollen counts are being collected weekly from the roof of UNLV's White Hall and in Jean. Stations will soon be set up at Neal Elementary School, Mack Middle School, Smith Middle School and Palo Verde High School.
Right now there's a high tree pollen count because of mulberry trees, said UNLV life sciences professor Dennis Bazylinski. However, Monday's snow storm will put a damper on pollen for a few days.
"Snow and rain pushes pollen down to the ground for the short term," Bazylinski said. "However, after a few days plant growth will be boosted by the water." It could stimulate more pollen, he said.
Warm weather earlier this year has set off allergy season, Bazylinski said. "The trees got fooled," he said, explaining that a week's worth of cold weather might slow down plant growth for a time, but hot and dry weather will soon spur pollen growth.
Bazylinski said the non-native mulberry tree, notably the male variety, is the worst contributor to pollen in the valley. Planting new mulberry trees in Clark County was banned in 1991, the professor said.
The importance of the pollen program can be seen in "what areas have a high concentration of pollen so individuals know what allergy or asthma triggers exist for themselves or for their children," Bazylinski said.
The collaborative effort will feature a website through the American Academy of Allergy, Asthma and Immunology, where folks can check pollen counts in the valley: tinyurl.com/vegaspollen.
The Las Vegas Valley had gone without a pollen count system for years, a victim of cuts made to the county budget in 2010.
The new program is funded through the School District. UNLV will collect and analyze the data and provide for the upkeep of the stations. The county's air quality department will provide power to the pollen stations.