Now you can foster a pet for a few hours or a few days in Las Vegas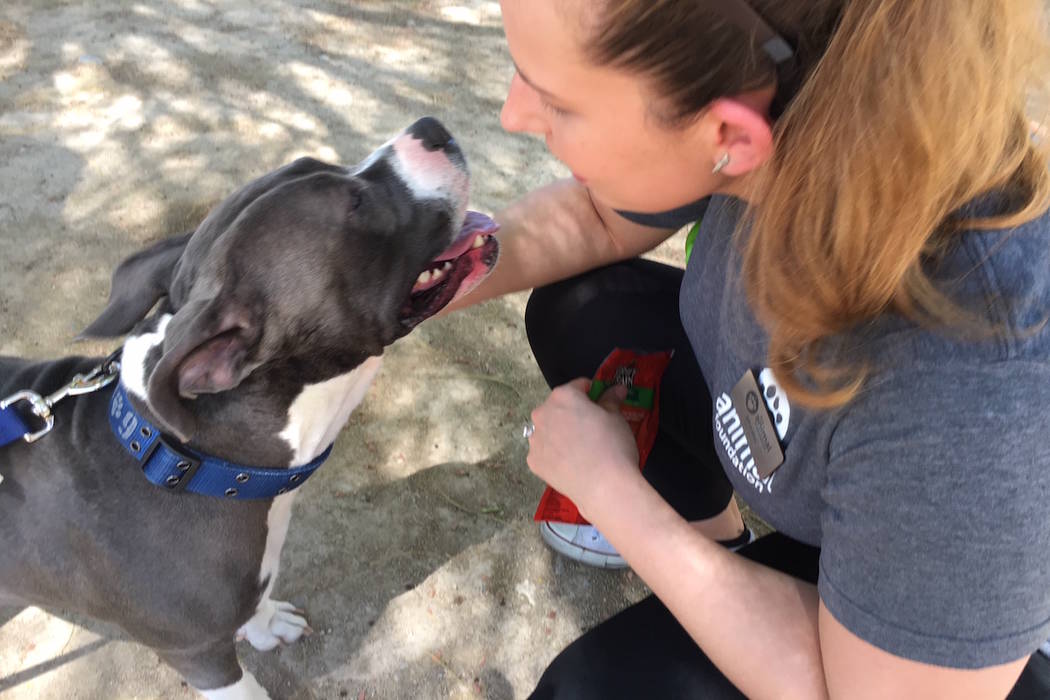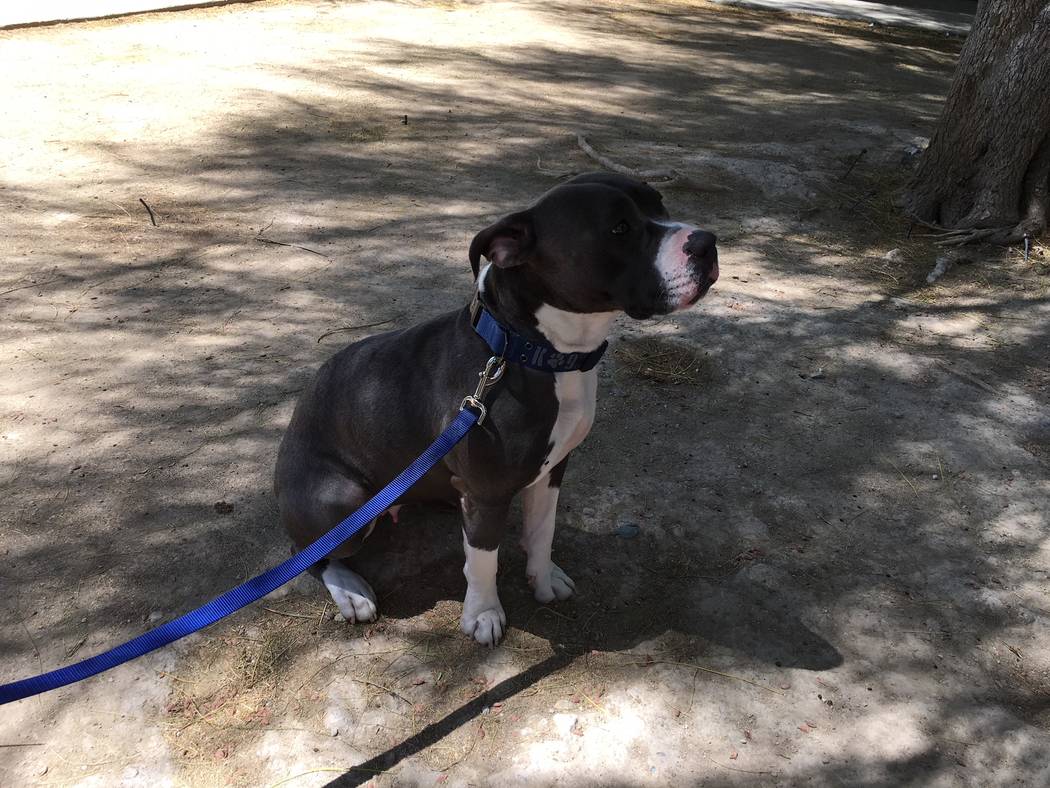 It started as a sort of computer date, and when Cristian saw Rosie's photo, sparks flew.
That was in early June. Cristian and Rosie have been together ever since, spending free time together, traveling and accommodating themselves to one another's lifestyle. Cristian has noticed that Rosie, who used to be very shy, has come out of her shell a bit since their relationship began, and Rosie probably has noticed a few changes in Cristian, too, even if she can't articulate them.
That's because Rosie is a 3-year-old American pit bull terrier that Cristian Salas is caring for as part of the Animal Foundation's foster program.
The program pairs foster caretakers with shelter animals that aren't yet ready to be put up for adoption. And while a typical foster relationship may last for as long as a few weeks, the Animal Foundation has unveiled a new twist to its program that allows Southern Nevadans to foster a pet for as little as a few hours on a Sunday afternoon to a three-day weekend.
Alec Petronsky, the Animal Foundation's foster coordinator, said the option offers pets a beneficial respite, even if only for a few hours, from shelter life. At the same time, it allows persons who aren't able to adopt or fully foster a pet to spend a few hours of quality time with a worthy dog, cat or, even, rabbit.
According to Petronsky, an animal may be fostered because of medical issues or injuries — pulled muscles or wounds, for example — that have to be healed, or socialization issues that have to be corrected before they can be put up for adoption. Foster caretakers also care for animals that are too young for adoption or who are recovering from giving birth.
Whatever the reason, fosters "give that specialized care that we at the shelter simply don't have the resources to do," Petronsky said.
The foundation currently has about 600 active foster caregivers, he said, and the new short-term foster option is a chance to expand foster care to more animals.
"So now, basically, if you have a three-day weekend coming up or a day off and want to take an animal to the park or want to just spend some time with an animal at home, you'll be able to come to our adoption department, find an animal, spend a little time with it, and just take it home for the day and bring it back the next day or after that long weekend."
"We do have an application process. There is a vetting procedure," he added. "But we try to remove excessive barriers."
Salas and Rosie are examples of fostering's benefits to both human and pet. Salas grew up around dogs, but his lifestyle and schedule — he's an academic coordinator at UNLV and sings in two bands — make adopting a dog difficult.
"It's hard," Salas said. "I live in a two-bedroom condo. I grew up with dogs that had yards, so it kind of kills me that she has to be indoors."
And whether he and Rosie take their relationship to the next level, Salas is happy that Rosie — who has lost much of her initial anxiety and skittishness since moving in with him — is happy.
"It just feels good, especially with Rosie doing a complete 180," he said. "She smiles every day now. I know she loves her life now."
Contact John Przybys at jprzybys @reviewjournal.com or 702-383-0280. Follow @JJPrzybys on Twitter.
If you foster
For information on fostering a pet, visit animalfoundation.com/get-involved/foster.
For a photo gallery of pets currently looking for foster homes, follow the link on that page.
The Animal Foundation also has a Foster-to-Adopt program — animalfoundation.com/adopt/foster-to-adopt — for prospective pet owners who wish to see whether a particular pet is right for their home.
The Animal Foundation is at 655 N. Mojave Road; call 702-384-3333.