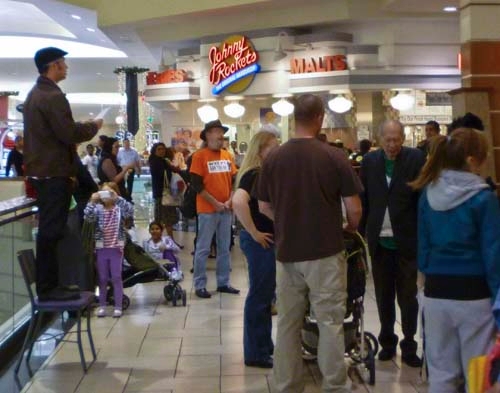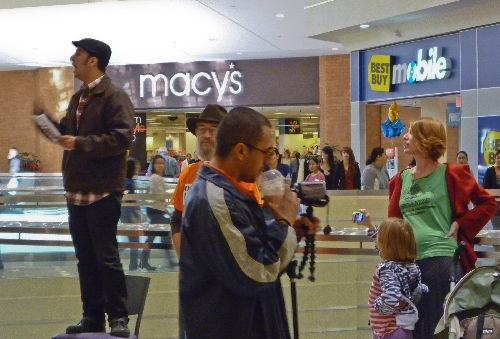 In the food court at the Meadows mall, protesters from Occupy Las Vegas lurked among the holiday shoppers, trying to blend in with the crowd.
As the unsuspecting sipped Orange Julius drinks and ate Johnny Rockets burgers, a man in a hat stood up on a chair and began screaming at the top of his lungs.
Soon, about 30 protesters hiding in the crowd shouted, repeating the man's message as part of a human "mic check," where one person shouts out a message that is repeated by a crowd.
The "mic check" method has become part of the Occupy culture, with protesters in New Hampshire drowning out President Barack Obama's speech earlier this week.
Occupy Las Vegas protesters yelled at mall shoppers:
"It's time to change the planet. IT'S TIME TO CHANGE THE PLANET! We know that we can handle it. WE KNOW THAT WE CAN HANDLE IT! Stand up and join the fight. STAND UP AND JOIN THE FIGHT! Economic and people's rights. ECONOMIC AND PEOPLE'S RIGHTS!"
A handful of mall security guards responded quietly but did not break up the event. Protesters lingered for a while before heading to the Galleria at Sunset and the Boulevard Mall.
The occupiers startled one man sitting in the Meadows mall food court when they began shouting. So much so, that his glasses slid down the bridge of his nose. As he readjusted them with his index finger, the holiday shopper said he was confused by the group's message and what the protesters wanted.
When he realized the group was part of the Occupy Wall Street movement, he disapproved.
"Oh, those are the bums of Wall Street," he said, chuckling.
Occupy Las Vegas is a local chapter of the Occupy Wall Street movement against corporate greed and influence in politics.
Early Friday morning, protesters in Las Vegas gathered at their county-leased encampment near the Thomas & Mack Center to plot out the different "mic check" locations. Protesters mapped out the mall's food court on a whiteboard and drew out directions as if they were calling football plays.
The event, protesters said, was a recruitment tool and a way to sway Black Friday shoppers from giving their dollars to large corporations to smaller businesses instead.
Then they practiced shouting in unison before caravaning to the locations. Protester Vanity, who declined to give her last name, said she and her family tried to walk to Occupy Las Vegas from Occupy Los Angeles — an 18-day, 295-mile journey. The family van was stolen in California, the 19-year-old said. The three adults and two dogs lived on canned ravioli as they made their way to the valley.
A passer-by who refused to let them walk another step down Route 66 picked the group up 10 miles outside of Baker.
"I wanted to prove to myself that I could handle the challenge," Vanity said. "I wanted to get more involved in the movement, and Los Angeles was getting too big."
The Las Vegas movement appears to be gaining momentum as a small group of protesters is scheduled to travel to Washington, D.C., from Dec. 5 to Dec. 9.
Protester Sebring Frehner said he and three other Occupy Las Vegas protesters would participate in a national protest on K Street as part of a "national call to arms."
Contact Kristi Jourdan at
kjourdan@reviewjournal.com or 702-455-4519.