Prosecutor: Vegas urologist endangered patients
September 15, 2014 - 5:35 pm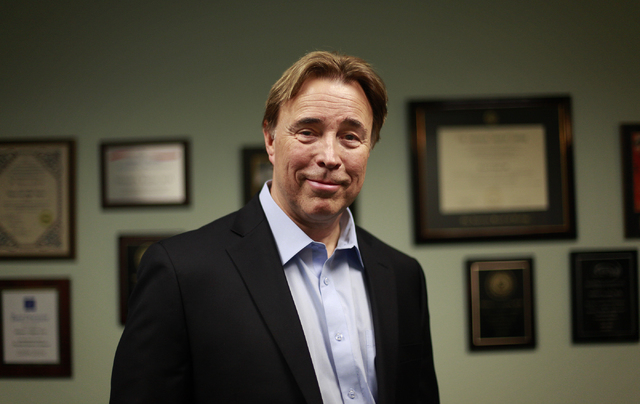 Greed and arrogance led urologist Michael S. Kaplan to reuse needle guides meant for single use during prostate procedures, a federal prosecutor told a jury Monday.
"Dr. Kaplan is the doctor who put his profits before his patients," Assistant U.S. Attorney Crane Pomerantz said in his opening statement on the first day of the veteran urologist's trial.
Kaplan, 59, who has been practicing medicine in Nevada since 1991, faces one count of conspiracy to commit adulteration and one count of making a false statement to the U.S. Food and Drug Administration.
Pomerantz said the government will prove during the two-week trial that Kaplan ignored warning labels on needle guide packaging, put his patients at risk and then lied to cover it up.
The guides, plastic-covered sheaths through which needles are directed to obtain biopsy material, were alleged to have been reused and not cleaned properly between December 2010 and March 2011. Biopsies are generally done to determine if someone has prostate cancer.
Pomerantz described in graphic detail how blood, feces, bacteria and even viruses are pulled from the rectum by needles through the guides during a 20-minute procedure. If not thoroughly cleaned and disinfected, material left in the guides can be transferred to other patients, he said.
In her opening statement, defense lawyer Paola Armeni told the jury that Kaplan did not put his patients at risk and did not intentionally lie to FDA investigators.
She said the disposable guides were cleaned with the same disinfectant used on long-lasting, stainless steel needle guides and that there was "no harm, no foul" in reuse of the plastic-covered guides.
"At the end of the day, no one was injured," Armeni said. "The proof is in the pudding."
A federal indictment last year accused Kaplan of placing his patients at "significant risk" to enrich himself.
According to the indictment, Kaplan "reused and directed and authorized and tolerated" his medical staff to reuse needle guides on multiple patients before disposing them.
Kaplan instructed his staff to use each plastic guide at his Green Valley Urology practice, which has offices in Henderson and Las Vegas, three to five times, the indictment alleged. Between Dec. 15, 2010, and March 11, 2011, Kaplan used less than 10 needle guides in 120 different procedures.
He did not inform his patients about the reuse of the guides and made "false representations" to U.S. Food and Drug Administration investigators to further conceal the unsafe practice, the indictment alleged.
Kaplan's medical license was suspended briefly in March 2011 after a joint investigation by the FDA and Nevada State Board of Medical Examiners.
The Southern Nevada Health District sent letters to roughly 100 of his patients, advising them to get tested for HIV and hepatitis B and C. The district did not report a positive case among the patients.
Earlier this year, Kaplan's lawyers tried to get the trial moved out of Las Vegas because of publicity from the criminal case of Dr. Dipak Desai, who was convicted last year of reusing disposable medical devices during procedures at Desai's gastroenterology clinics. The misconduct led to a hepatitis outbreak and at least two deaths.
Contact reporter Jeff German at jgerman@reviewjournal.com or 702-380-8135. Follow him on Twitter @JGermanRJ.