Readiness center complex named after Vegas soldier killed in Iraq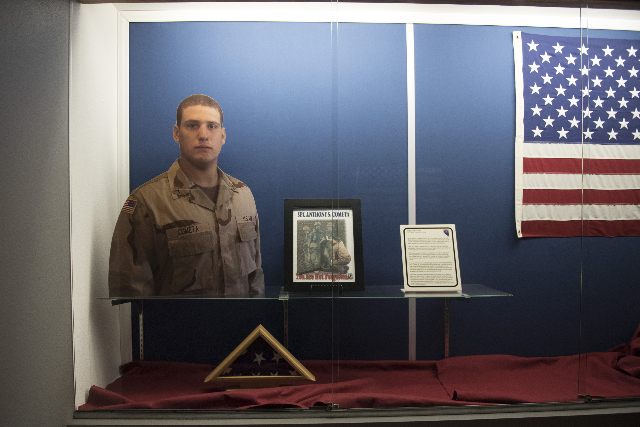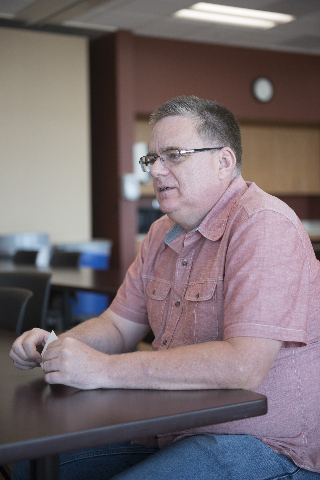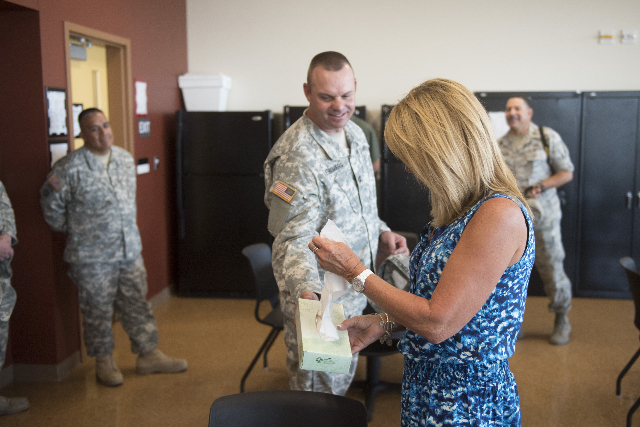 He was a strapping young soldier who had "caveman feet," a "soul and heart for loving everybody," and a passion for playing bass guitar with his garage-band buddies at their camp in Kuwait.
Nevada Army National Guard Spc. Anthony S. Cometa was remembered Friday by the soldiers he served with in the 1864th Transportation Company, their leaders at the Las Vegas Readiness Center, and his mother and stepbrother who for the first time since his death in 2005 toured the center's training complex that bears his name.
"This is just unbelievable. I'm really overwhelmed," his mom, Nancy Cometa-Fontana, said after she walked through the cavernous maintenance bay where she snapped photos of her youngest son, 15-year-old Matthew Fontana, crawling through an M1117 armored security vehicle.
"It's such a great tribute," she said.
She added that the trip from their home in Rochester, N.Y., to see the Anthony Cometa Training Complex was "bittersweet but more sweet than bitter" because of how the soldiers remembered her son, a 2002 Silverado High School graduate.
Cometa died one day after his 21st birthday in June 2005. He was in southern Iraq, 10 miles from the Kuwaiti border, when his Humvee flipped rounding a curve while escorting an Iowa National Guard convoy. He was thrown from the truck's machine gun turret and died after being flown by helicopter to a field hospital.
Sgt. 1st Class Joseph Babb said, "Everybody remembers him for his guitar playing" and how he'd walk across the gravel with his boots off.
"He had caveman feet," Babb said. "He was so full of life and always brought smiles to our faces."
Command Sgt. Maj. Jared Kopacki said the day Cometa died "was one of the hardest days of my military career. … He just had that soul and heart for loving everybody."
Cometa was the first Nevada National Guard soldier killed in the post-9/11 war on terrorism. Two others were killed the same year.
On Sept. 25, 2005, a rocket-propelled grenade struck the fuel tank of a Chinook helicopter, killing Nevada National Guard Chief Warrant Officer-3 John M. Flynn, of Sparks, and Sgt. Patrick D. Stewart, of Fernley.
In all, 79 U.S. military personnel with ties to Nevada have died in the nation's wars overseas since the Sept. 11, 2001, terrorist attacks on the Pentagon and the World Trade Center in New York.
Cometa-Fontana said that when her son saw the aftermath of the hijacked jetliner attacks in New York he told her "it just gives me a reason" to join the Guard. "It was the American in him," she said.
She said the fatal shootings of four Marines this week in Chattanooga, Tenn., by Muhammad Youssef Abdulazeez, a naturalized U.S. citizen from Kuwait, is "scary and devastating."
"We don't know what's behind us. It's everywhere," she said about the terrorism threat.
"I didn't think the war would be lasting as long as it has. I just wish that it would end," she said.
Contact Keith Rogers at krogers@reviewjournal.com or 702-383-0308. Follow @KeithRogers2 on Twitter.