Records show Las Vegas constable's office database misuse
September 7, 2014 - 10:05 pm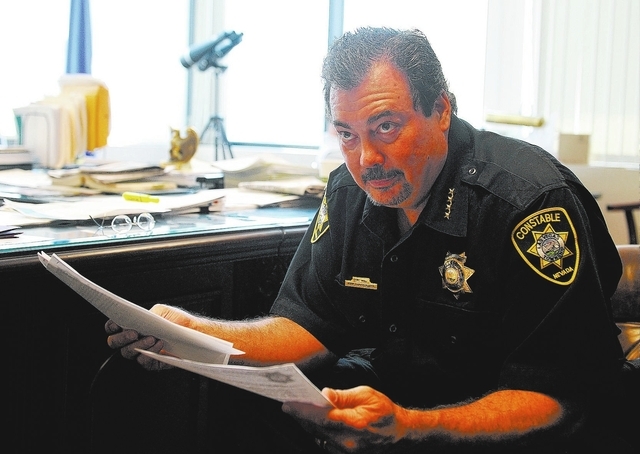 A deputy in the Las Vegas Township Constable's office updated the agency's policies on database searches of criminal histories on individuals in April 2013. The update came four months after a felony warrant for forgery was issued for her arrest in December 2012.
A high-ranking constable's officer searched law enforcement databases for one person nine times over several months. That raised a red flag with state auditors in July 2013.
An unrelated internal investigation that year found an account linked to another high-ranking officer had been used to search for porn actresses' names in a private, nongovernment database that provides addresses, phone numbers and other personal information.
Those and other issues, shown in records obtained by the Review-Journal, show that the constable's office misuses confidential systems for conducting criminal background and warrant checks.
The databases are safeguarded with audits, oversight and detailed procedures and training for accessing the information. That is because they are treasure troves of data that could be misused to improperly search for people or jeopardize criminal investigations. They include information such as outstanding arrest warrants, past convictions and addresses, birth dates and Social Security numbers.
The issues spotted by state auditors in 2013 include unauthorized checks of an individual who shared custody of a child with a deputy. Officers also have accessed the network improperly in unsecured environments from laptops at home, public audit records and emails show.
Deputies in the constable's office are sworn law enforcement officers with a badge and gun who perform evictions and serve court papers. The office, which has seen a variety of high-profile controversies, also has access to law enforcement databases that can search for confidential information on individuals. The Nevada Department of Public Safety provides oversight, and conducts audits of agencies' use of the state and national FBI databases.
The constable's commercial database, Accurint, which was used to search for porn actresses, does not have state oversight.
The office's problems with misuse in the past couple of years have largely flown under the radar, with high-profile lawsuits and spats with Clark County officials over financial matters grabbing headlines since Constable John Bonaventura's election in 2010. However, audit records show that as early as 2012, a deputy was fired for misuse of the system.
The government-run databases, filled with sensitive information, have strict rules that forbid those with criminal histories from accessing the systems.
Nevada Department of Public Safety officials performed another audit in late July. That audit was prompted by a Review-Journal article that revealed the constable's office used its commercial database to look up adult film actresses for no apparent law enforcement purpose. An audio clip obtained by the newspaper showed that Bonaventura had ordered the shredding of documents that linked the searches to the account of his deputy chief, Dean Lauer.
Lauer, who now administers the office's law enforcement databases, declined comment, saying via email that the audit issues are resolved and he will send a report to the state about the audit. Bonaventura didn't respond to a request for comment.
Clark County commissioners abolished the constable's office in March 2013, effective when Bonaventura's four-year term ends in January 2015, following multiple controversies for an agency that in the past was low-profile.
TROUBLED PAST
Deputy Allison Lear's responsibilities in the constable's office grew quickly after she was hired in 2012. On March 27, 2013, the constable's office notified the Department of Public Safety that Lear and another deputy were added as assistant terminal agency coordinators. By then, the arrest warrant filed against Lear was 3 months old.
In April 2013, she updated the constable office's policy document for the National Crime Information Center, the FBI database for law enforcement agencies.
"In God we trust, all others we run through NCIC," the document said.
But three background checks of Lear herself, including one in March 2013, failed to turn up the warrant.
On May 25, 2013, Lear and Jason Watkins, then a high-ranking officer in the constable's office, were at the Hakkasan nightclub looking for a man who had shared custody of Lear's child. Suspicious security staffers called the Las Vegas Police Department.
A Metro check found a December 2012 warrant for Lear, who was accused of forging a marriage certificate shortly after her boyfriend, Alexander Djordjevic, was killed in a Virginia City race car accident in 2010. Lear was then arrested. She resigned four days later.
By the time of her arrest, Watkins had made nine checks in databases for the unnamed individual associated with Lear.
The queries had started in August 2012, nine months earlier, and lasted through the night of the nightclub incident. Some days had multiple searches, including four searches on Aug. 7, 2012.
Watkins told the auditor that the searches were made for a civil writ case and that the person researched had felony warrants, records show. However, officers cannot access the criminal justice information system for civil matters, according to the audit.
On July 29, 2013, the constable's office told the state that the decision had been made to remove Watkins' access to databases.
The office also said it would only complete full background checks for employment purposes, records show. Watkins resigned in August 2013.
In July, Lear entered an Alford plea to a felony forgery charge, which is an admission that prosecutors had ample evidence to convict.
Sentencing is scheduled for Nov. 13, with a recommendation for up to three years of probation. Lear couldn't be reached for comment.
The 2013 audit also found that deputies were accessing the databases after regular office hours while working from home, deemed an insecure environment.
"This practice must be immediately stopped," Starr Anderson, a state auditor, wrote to the office.
The office deactivated database access from laptops, limiting its use to three computers.
'BAT CAVE'
Deputy Chief Lauer sent fresh procedures and policies for law enforcement databases to the state in August 2013.
His responsibilities in that area have grown. Bonaventura made Lauer his terminal agency coordinator for the office's databases, or TAC. Bonaventura notified the Department of Public Safety of the change in March.
Lauer is responsible for ensuring that the office's policies for databases are up to date, with professional practices for the "bat cave."
That is the office's name for the room where officers can access databases. The phrase — more famously ascribed to Batman's secret lair — is used in internal office correspondence and emails with state auditors.
Staff are called "Bat cave personnel."
Lauer's boss has defended him in the past. Bonaventura ordered the shredding of records tied to the office database searches for adult film actresses in April 2013. At the time, he said in a recorded conversation with staffers that he didn't want to know what happened.
RECENT AUDIT
Records from the latest audit show the constable's office was unable to provide documentation showing that personnel with access to the system were properly screened.
Julie Butler, a division administrator with the Department of Public Safety, said the goal is compliance and education — not penalizing the law enforcement agency.
"When we do our audits and we do come across instances of misuse, our job is to educate the user and make sure they understand that is a misuse of the system and make sure they have written polices and procedures."
Lauer's Aug. 28 letter to the state notified officials that the shortcomings were fixed by checking deputies and county employees for warrants.
The letter noted that Bonaventura completed "agency administrator training" in August.
No one from the office has been charged or arrested for abusing the databases.
However, accessing information on individuals on the FBI system without a legitimate reason can lead to criminal charges. Under Nevada law, it's a misdemeanor for a law enforcement officer to obtain criminal history records under false pretenses.
Federal reports and court records show that misuse can happen in a variety of circumstances.
In 1991, a scheme to sell criminal history data resulted in federal charges of felony bribery, theft of government property and computer fraud against 20 people in Florida and New Jersey.
William "Bill" Tatun, chief information security officer of Florida-based Diverse Computing Inc., is a former law enforcement officer and consultant.
Like any other widely used tool, misuse does occur, said Tatun, also a former member of the FBI advisory committee that provides guidance on law enforcement databases.
"Everything is recorded," Tatun said. "Even if they don't find something right now, later on the stuff is still around."
Contact Ben Botkin at bbotkin@reviewjournal.com or 702-387-2904. Find him on Twitter: @BenBotkin1.