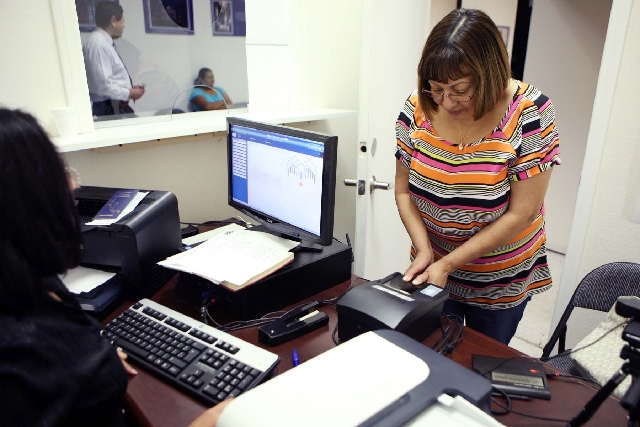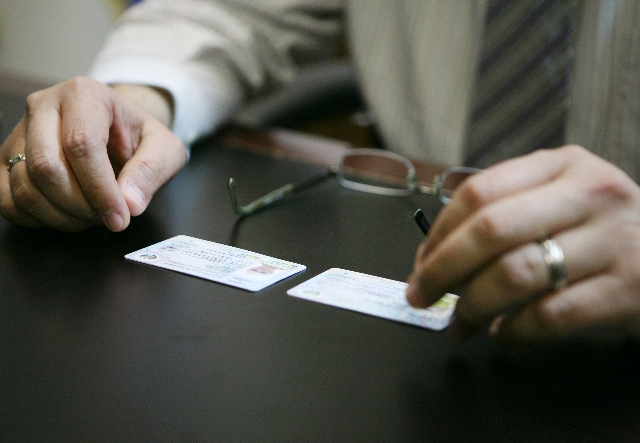 They're up to their elbows in work at the tiny El Salvador Consulate, which is tucked away inside a tiny strip mall anchored by a pair of big tire stores on the east side of Las Vegas.
The staff is having a hard time keeping up with hundreds of ID card applications from Salvadoran immigrants, many of whom entered the country illegally but have lived in Las Vegas for years.
Many of them have a house or an apartment and the most essential thing of all, a job.
But what many do not have is a simple government-issued identification with a photo that states their name, address, date of birth and passport number. Such an ID doesn't get them the right to obtain a state-issued driver's license, but it does establish their identities for all to see.
So Salvadorans since mid-March, when the local ID program started, have been showing up in droves at the consulate, which sits between the Napoli Pizzeria and 10-13 Family Shoes and Handbags at Nellis Boulevard and Harris Street.
They're plopping down $35 apiece for the cards, which take about two weeks to arrive from a distant San Salvador, the capital city of El Salvador. The smallest Central American nation — 7 million residents — sits along the Pacific Coast bordered by Guatemala, Honduras and Nicaragua.
And their numbers are expected to increase in the coming months, underscoring the no-man's land — this ID-less world — with which many immigrants living here illegally often have to deal . The Salvadoran government isn't the first to create such cards — Mexico has been doing it for years. El Salvador is just the latest country to provide the service to its citizen emigrants.
All this comes at a time when Congress is struggling to develop solutions to the nation's immigration problems.
Looking to WASHINGTON
Should the nation's estimated 12 million residents who are here illegally be made U.S. citizens?
Should they merely be made legal residents?
Or should they be forced to return to their home countries, get to the back of the long immigration line and wait like everybody else for their turn to return?
"We're looking forward to what happens in Washington," said Salvadoran General Consul Tirso Sermeno, who's been on the job for three of the nine years that the consulate has existed. "A lot of El Salvadorans will be affected by it one way or the other. It goes without saying. We're the third biggest Latino minority, behind Mexico and Cuba, in Las Vegas."
At last count, he said, there were an estimated 26,000 Salvadorans in the city and 30,000 in the Silver State.
For years, they've worked in housekeeping, in the casinos, in the kitchens, in the motels and hotels, in the nurseries, in landscaping, in construction.
Some have even opened up their own restaurants.
Some came here fleeing their country's 12-year civil war that started in 1980 and saw the rise of anti-communist death squads, which were funded by the U.S. government. Others fled Central America's earthquakes and hurricanes, while still others came just to escape excessive poverty.
Some are more recent immigrants, who rolled the dice and took their chances running the gantlet of violent transnational gangs that extort from Central American immigrants as they make their way through Mexico and into the United States.
As Sermeno explains it, many of the Salvadorans en route to the United States ditch their national IDs by the time they get to Mexico because if they are caught with them, they don't want to be deported to El Salvador. It's better to stay in Mexico and be closer to the United States.
And in a strange twist, some of the legal residents living here are applying for the cards so that they can to return to El Salvador, hassle-free. Without the national card, their vacation would be an uphill struggle at every turn.
But the vast majority of Salvadorans need it for here.
It's a sensitive subject where the immigration debate becomes contentious. There are those who feel the individual states should accommodate them since they're already here and they're not going anywhere anytime soon; and there are those who say by accommodating them, the state is condoning their presence.
So immigrants here illegally rely on their home countries to issue IDs.
CARD NOT RECOGNIZED BY U.S.
The entire process is above board, although all the card really does is prove that they are citizens of El Salvador, not the United States, federal immigration officials say.
"Generally, what we've said about these identification documents is that the United States will not interfere with the actions of another country's government as it provides a service for its citizens and is in compliance with U.S. law," said Virginia Kice, a spokeswoman for Immigration and Customs Enforcement in Laguna Niguel, Calif. "We have also noted that consular identification cards are not recognized as valid identification documents by the U.S. government, including federal law enforcement."
Yet the cards are recognized by some establishments.
They're accepted in a post-9/11 world where the identification of a person is sometimes more important than legal status .
SALVADORANS: THE CARDS HELP
"This card means so much to me. If I didn't have one, I don't know what I would do," said Karen Martinez, 31, who works at Amanecer El Salvadoran Restaurant at Main and Wyoming streets in downtown Las Vegas.
Martinez , who is in the country legally, said the card helped her get a Clark County health card to work at the restaurant.
Without the card, Martinez said, she'd still be searching for a job and might possibly be out on the streets and fending for herself.
The only catch is that she had to drive all the way to Los Angeles to get her card last year, saying she didn't have the convenience of a nearby consulate performing the same sort of services.
Then three weeks ago, the consulate here started issuing the cards, just like the busier consulates in Los Angeles, Washington, D.C., and Dallas, the three top cities where the country's estimated 3.1 million Salvadorans live and work.
Jose Hernandez, a spokesman for the Metropolitan Police Department who has years of service on the streets, said he cannot count the times that he has pulled over motorists with consulate IDs from various countries over the years.
He also can't count the times that he's come across somebody who simply does not have an ID.
"They'll give you their cash-checking card and tell you their name, but then you've got to figure out who they are, and that can be difficult because then you got to start asking who they're married to, who their brothers and sisters are, where they live," he said.
"But the bottom line is that it's the primary job of the officers, first and foremost, to figure out who it is they are talking to. You have to establish that before anything else. But that doesn't mean they're not going to get cited if they present a consulate ID.
"If they don't have a driver's license, they don't have a driver's license."
And yet any government authorized ID, whether foreign- or state-issued, is better than no ID, Martinez concedes. The problem is that Las Vegas has an underground market that thrives on the desperation of immigrants in the country illegally, and there are plenty of counterfeit cards out there.
Said the immigration office's Kice: "Homeland Security Investigation's enforcement efforts are focused on the counterfeiting of U.S. identity documents … such as driver's licenses, birth certificates, Social Security cards and 'green cards.' I don't know that we would have the authority/jurisdiction to target counterfeits of documents issued by a foreign government."
She added: "We have had a number of local cases involving document-counterfeiting operations, but our focus is on suspects who are producing immigration and identity documents issued by entities here in the U.S."
Contact reporter Tom Ragan at tragan@reviewjournal.com or 702-224-5512.