Sandoval tip to Kasich: How to say Nevada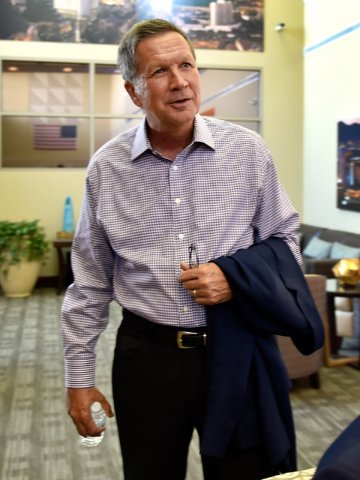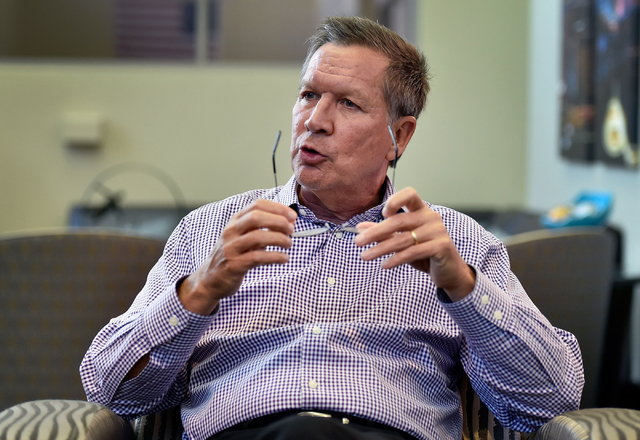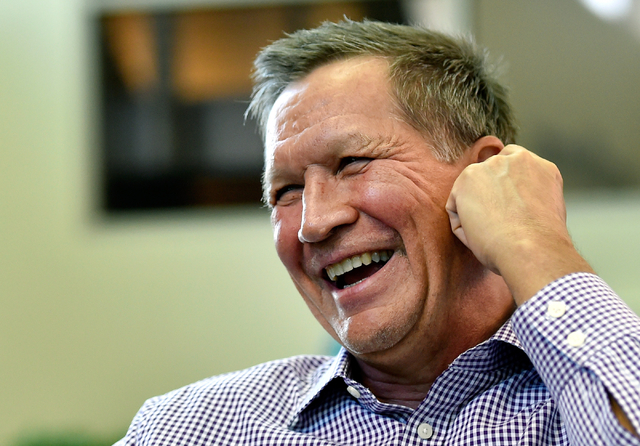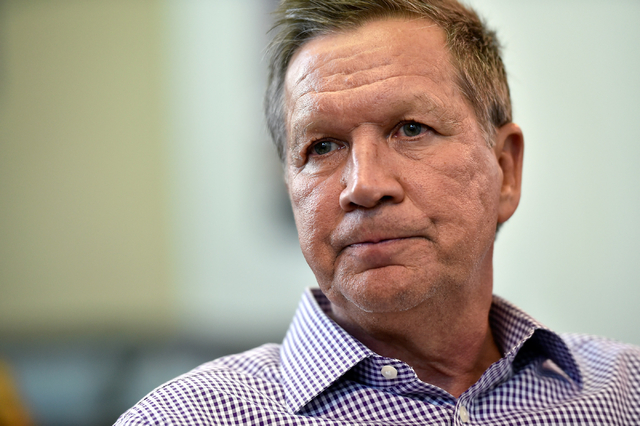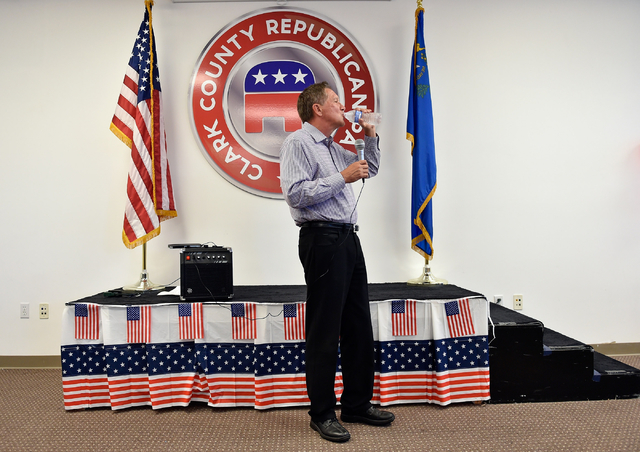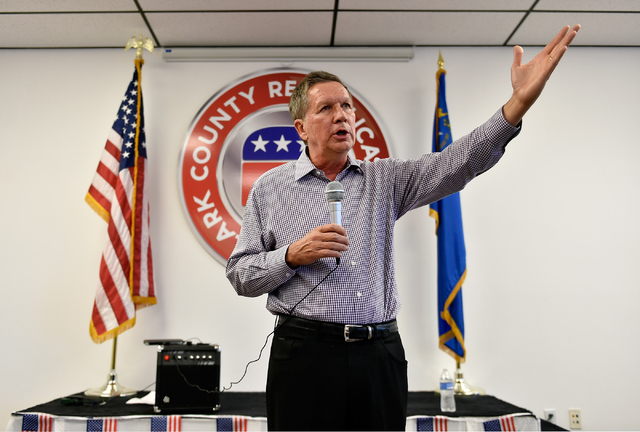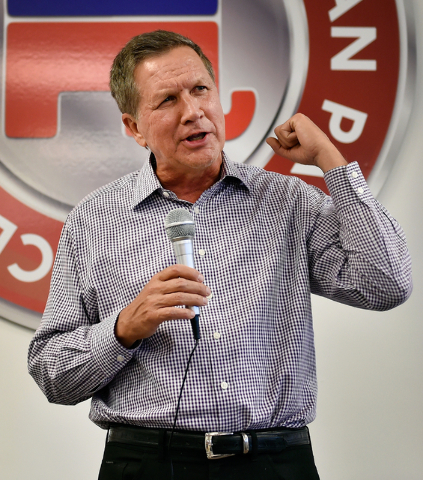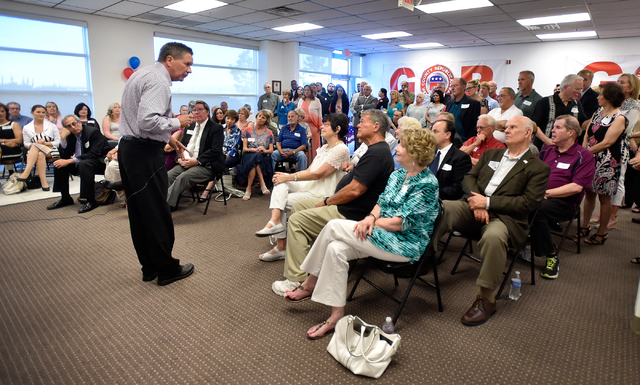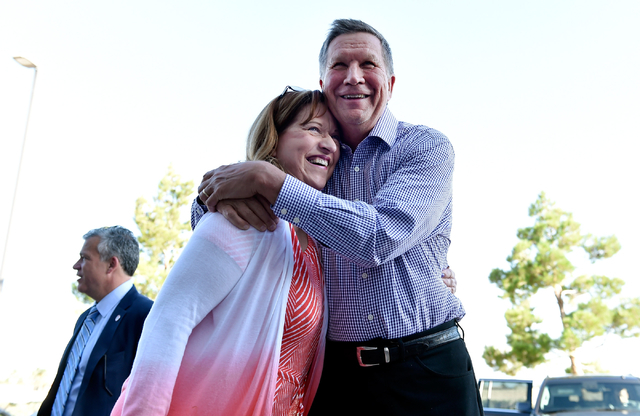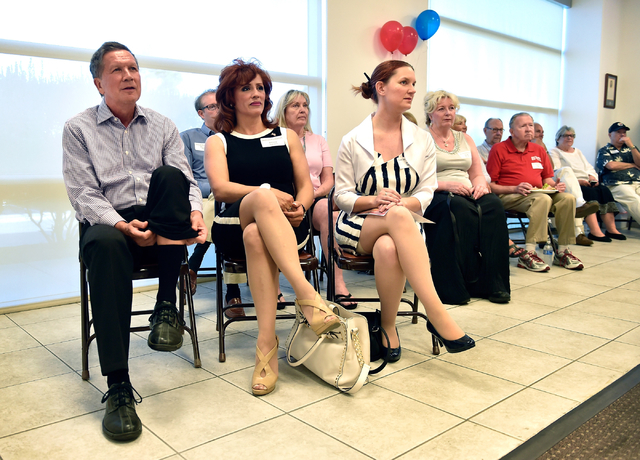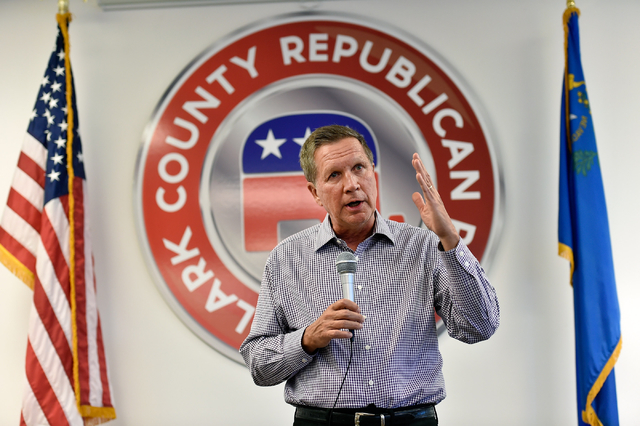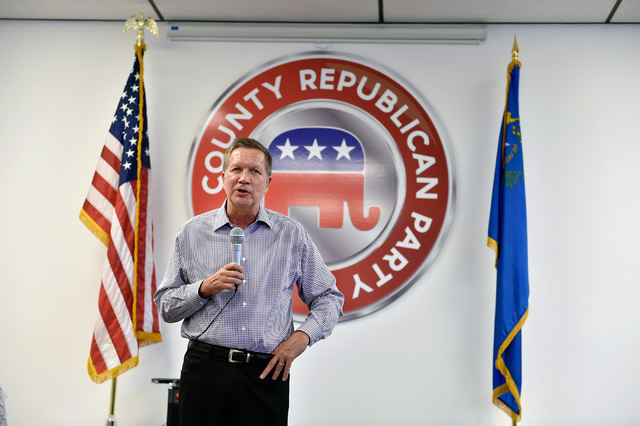 John Kasich received a text from Nevada Gov. Brian Sandoval on Thursday, before the Ohio governor arrived in Las Vegas to speak to Clark County Republicans.
Kasich, a potential candidate in the GOP presidential race, got advice that any potential candidate needs when testing the Silver State's political waters.
"He just texted me today to say it's Nevada, not Nevada," Kasich said smiling, alternating between the correct way — Ne-VADD-ah — and incorrect way — Nev-AH-da — to pronounce the state's name.
Kasich, 63, is in his second four-year term as governor of the Buckeye State, after being re-elected in November. He hasn't yet officially announced his intention to seek the nomination in a crowded field. Kasich spoke with the Las Vegas Review-Journal Thursday, shortly before his speech.
He pointed to his varied work experience, which includes being governor and serving 18 years in Congress, where he worked on national security issues on the defense committee and was chairman of the House Budget Committee when Congress passed a balanced budget in the late 1990s.
Kasich left Congress in 2000 after he flirted with a long-shot bid for president that never advanced beyond the exploratory stage. In July 1999, he put his support behind then-Texas Gov. George W. Bush.
According to a CNN news account at the time, Kasich said the people in New Hampshire and Iowa — both states that play a key early role in winnowing down the field of prospective candidates — "haven't seen the last of John Kasich."
Before becoming governor, Kasich was a managing director for Lehman Brothers' investment banking division.
Kasich said he has gained executive experience as a governor since he first considered a presidential run in the 1990s. He also noted that back then "no one knew who I was."
"A guy like you would have never come to interview me back then," he told the reporter.
Asked about the proposed Yucca Mountain nuclear repository in Nevada, Kasich said it should be used for its intended purpose.
"I'm for being able to do what we planned to do in Yucca Mountain," he said about the stalled project 100 miles northwest of Las Vegas. "Running for office out here is not a reason for me to change my position."
Concerning the issue of public lands management in the West, Kasich said there's opportunity for states to have more authority over lands and more of a partnership between the states and the federal government.
He didn't show his hand on how close he is to deciding whether to run, but said, "We'll be making a decision in the not-too-distant future."
More than 100 people attended the event that provided an opportunity for people to get to know potential candidates. The county GOP hopes to do more with others in the future, said David McKeon, chairman of the Clark County Republican Party. McKeon said Kasich's background showcases how federal and state systems work together.
Kasich is traveling elsewhere too. He has spent time in New Hampshire and South Carolina and plans to visit Iowa and Michigan.
After leaving Las Vegas, he plans to attend an event in Utah organized by Mitt Romney, the former Massachusetts governor and 2012 Republican candidate for president.
A Quinnipiac University national poll released May 28 of likely GOP contenders for president showed 2 percent of Republican voters favoring Kasich. That put him in the lower rungs of the poll's top 10 prospective Republican candidates.
But the poll also found there is no identifiable front-runner for the GOP nod, because those leading the Republican group only had 10 percent apiece. Those with 10 percent each included former Florida Gov. Jeb Bush, Ben Carson, former Arkansas Gov. Mike Huckabee, U.S. Sen. Marco Rubio of Florida and Wisconsin Gov. Scott Walker.
Former Secretary of State Hillary Clinton was the Democratic Party front-runner, with 57 percent of that party's voters supporting her in the same poll. She's followed by U.S. Sen. Bernie Sanders of Vermont, who had 15 percent support among Democratic voters.
Asked about what his two elections as governor in Ohio show about the national climate, Kasich said his home state is a microcosm of the diversity of the United States, including a mix of rural and urban populations.
"If you came from outer space and wanted to take a little picture of what America looks like, fly over Ohio and take a picture," he said.
Contact Ben Botkin at bbotkin@reviewjournal.com or 702-387-2904. Find him on Twitter: @BenBotkin1.