Several red flags led to I-15 shutdown
October 3, 2014 - 10:35 pm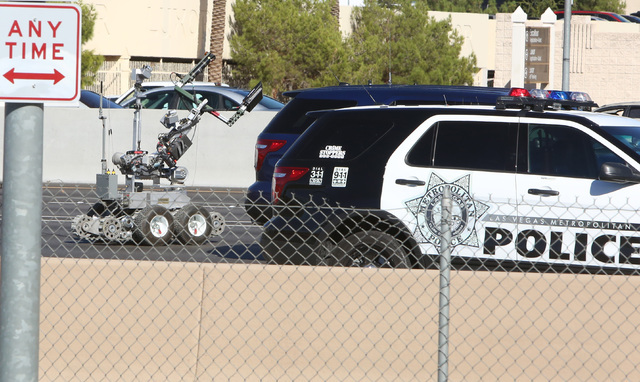 A judgment call by state troopers who routinely patrol Interstate 15 led to the nearly three-hour shutdown of the city's most important highway Thursday afternoon.
The closure of southbound I-15 between Tropicana Avenue and Russell Road snarled traffic just before 2 p.m., and the highway was reported open just ahead of the afternoon rush hour.
And what was it that closed off the city's primary route to Southern California? A toiletry duffel bag, small enough to be considered an airline carry-on bag, filled with several personal care items. The Metropolitan Police Department didn't provide an inventory of what exactly was inside.
What's important was what wasn't inside — an explosive device or biohazardous materials that could have brought harm had it not been contained.
"We love it when it turns out to be nothing," Nevada Highway Patrol spokesman Loy Hixson said. "In a case like this, we'd rather take every precaution to keep the public safe than to suffer the consequences of something happening if we had just let it go."
There were several red flags that convinced patrolmen to take a closer look at the mystery bag when it was first discovered by a Nevada Transportation Department's Freeway Service Patrol unit.
Hixson said the mystery bag was unlike most things found along the side of the road. It didn't appear to have been hit by a passing vehicle, an occurrence that often leads officers to determine immediately whether something is dangerous or not. It sat right next to the freeway median — as if it had been placed there.
The Freeway Service patrolman called in a Highway Patrol trooper for a second opinion. They decided the location of the bag didn't seem right and was suspicious enough to call in more expertise.
That additional expertise came in the form of ARMOR — the All Hazards Regional Multi-Agency Operations and Response unit, a group that includes several first-response officers from various public safety agencies. The unit arrived at the scene about an hour after the request was called in so that squad members from the various agencies could gather.
Along with what is commonly referred to as a "bomb squad" came two robotic units, one with cameras and one with X-ray technology.
The squad was notified just before 2:30 p.m. and arrived with the robots about 50 minutes later, which is about normal response time as the bomb squad members are often on regular duty when they are notified, Las Vegas Fire Department spokesman Tim Szymanski said.
The slow-moving bomb robots don't help speed the process, he added.
"It's a meticulous thing," Szymanski said. "It takes a while for them to do their jobs right."
The Highway Patrol set up a peri­meter south of the Tropicana exit and guided the robots to the package, which was near the Hacienda Avenue overpass of I-15.
The flow of traffic resumed on I-15 at 4:40 p.m., but officials with the Transportation Department said it took three hours for traffic to get up to speed.
Hixson said vehicles backed up behind Tropicana were moved to the exit and officers blocked vehicles from getting on southbound I-15 at Flamingo and Spring Mountain roads and Sahara Avenue.
"It was like traffic getting out of a concert at an arena parking lot," Hixson said. "It was just slow going until everybody got out."
Northbound traffic wasn't affected by the incident. Hixson said a concrete barrier protected northbound traffic.
Officials had no estimates of how much the shutdown and calling out the special personnel cost.
Hixson said the Highway Patrol apologized for the inconvenience the shutdown caused but that the agency would do it again the same way if the circumstance ever reoccurs.
"It's getting kind of tricky in that we're in a time when we know there are people out there wanting to disrupt our quality of life by disguising things in common, everyday items. We're working out of abundance of caution," Hixson said. "Even if we're just a little suspicious, we'd rather play it safe and that's why our officers are quick to ask, 'Does this seem out of place?' "
Transportation Department officials didn't have a role in the closure decision, but spokesman Tony Illia said they agreed with the Highway Patrol's call.
"You can never be too careful," he said. "The Highway Patrol did what they thought was in the best interests of safety, and we agreed with it."
Szymanski said the long shutdown of the highway was typical for a suspicious package and that it just happened to be at a very inconvenient location.
"What happened (on Thursday) with the team was a typical bomb squad response," Szymanski said.
In May, an object that resembled a pipe bomb prompted closure of U.S. Highway 95 near downtown Las Vegas for more than two hours.
Contact Richard N. Velotta at rvelotta@reviewjournal.com or 702-477-3893. Find him on Twitter: @RickVelotta. Contact Colton Lochhead at clochhead@reviewjournal.com or 702-383-4638. Find him on Twitter: @ColtonLochhead.