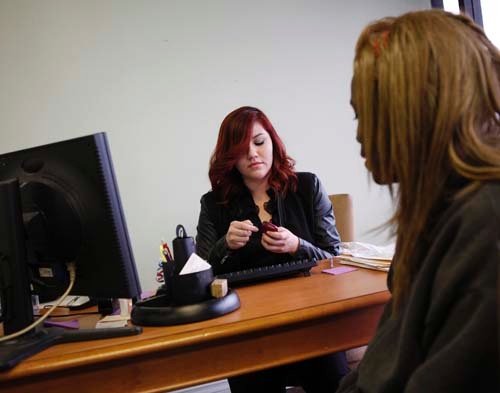 Nothing in life is free. If you dig deep enough, you'll always find a price somewhere.
Those free cellphones? As advertised in the windows of countless cellphone stores around Las Vegas? The phones might be free, but in the end the minutes and texts are going to cost you.
Welcome to one- and two-year contracts in a wireless age.
But there is a free cellphone that's beginning to surface in some of the poorer neighborhoods around Las Vegas and even among some of the hard-working middle-class folks who have fallen on hard times. And they don't have to pay a cent for it.
It's a federally subsidized program, and these days it's affectionately referred to as the "Obama phone."
The name has become a part of the lexicon. Just about everybody who needs a cellphone in West Las Vegas ends up hearing about it. All paths for the poor lead right to it.
You get up to 250 free minutes a month for a year, but be forewarned that every text message you send costs you a minute. So choose your form of communication wisely.
Every incoming text, however, is free. The phone also takes photographs, and it comes with a charger. And after the year is up, you can apply for it again.
All you need to prove is that you're a Nevada resident and that you receive some form of government assistance – whether disability, food stamps, even Social Security.
As a consequence, long lines are now a common sight at the Edmond Town Center's management office in West Las Vegas in the vicinity of Owens Avenue and J Street. The shopping center, anchored by a Buy Low Market and an Auto Zone, is directly cross the street from the Nevada welfare office. It's also just blocks from one of the largest homeless populations in the country.
DOLING OUT THE CELLPHONES
As many as 500 cellphones a month have been doled out from inside the office by Annelli Torres, a 19-year-old girl who was washing other people's clothes at the Laundry King Superstore up until October, when she decided it might be wiser to get into the ever expanding free cellphone market.
Access Wireless, the cellphone provider, makes $9.25 on every phone it gives away. She gets $2 for every application she files.
Eddie Marogi, the liaison between Access Wireless and its customers, gets $2 for every cellphone he provides. He owns Metro PCS, a cellphone store in Las Vegas. The brand is Samsung.
His days are relatively easy in the business model that he's established for himself. Much of it is due to the location he picked. It's perfect. The extent of his labor is to haul the boxes full of shiny black cellphones over to the shopping center each week after UPS delivers them to him at his cellphone store.
"It's always worth it if you can make a little money, and you don't have to spend a lot of time on it," says Marogi, who also wheels and deals in real estate.
He's thankful that John Edmond, the landlord of the shopping center, has been kind enough to give him the office space – rent free.
Edmond sees the cellphone giveaway as filling a community need. Certainly, he says, it can't hurt business. The more people that come to his shopping center, the merrier, the way he sees it.
As for Torres who works on the front line, her days are long and tedious. They are spent hours on end just sitting at a computer as a steady stream of phoneless people trickle in from either the nearby Salvation Army or the welfare office. The program accepts homeless identifications, too.
"People really need phones, and you don't realize how important they are until you see somebody without one," Torres said last week, a long line before her.
It's when she starts to punch the customer information into the database that she starts to hear the hardship stories.
PENNILESS AND PHONELESS
There's Elissia Dotson, the 28-year-old single mother who works 12-hour shifts at a local McDonald's to support her two children and who was recently diagnosed with a serious kidney problem. Thanks to the Obama phone, she can now call her mother and father who both live out of state.
There's 28-year-old Austin Webb, an unemployed chef who says the competition in Las Vegas is just too great at the mega resorts and casinos. He's decided to join the Navy. Now he has a phone to receive a call back from them.
Then there's Rosalind Brooks. She has taken it upon herself to help low-income senior citizens negotiate today's wireless world by signing them up for the free cellphone.
"Sometimes, they have to choose between medication and telephone service," Brooks says. "And the land lines these days, believe it or not, are more expensive to set up. So a free cellphone at this point is a godsend for them."
And yet there are occasions where scams are clearly evident. People are either posing as poor or they have somehow managed to purchase fancy brand new cars while receiving public assistance, Torres notes. From time to time, people have driven up in a Hummer or a Mercedes-Benz. They get out, they get in the back of line, they produce their food stamp cards and Nevada ID, then they get a free phone.
"You're, like, 'What do they need a free phone for?' " Torres asks rhetorically.
Which leads to the age old controversy over federally subsidized goods and services – a reputation that the Obama phone has had a hard time shaking.
POLITICAL AMMUNITION
Tea party members seized on it during last year's presidential election, holding it up as merely another federal giveaway in a country that's filled with freebies.
U.S. Sen. Rand Paul, R-Ky., entered the fray in December during the "fiscal cliff" debates, where he took aim at Democrats, saying, "They offer you something for free: 'Here's a cellphone. Just take the cellphone and vote for me, it'll be OK.' Here's the problem: It's not free. On the one hand, you get the free cellphone; on the other hand, you get four-dollar gas."
But the reality is the Obama phone's origins can be traced to the days of President Ronald Reagan, whose Lifeline Assistance program offered federally subsidized discounts to low-income people who couldn't afford their land line bills. In some cases, the federal government paid for their entire phone bills.
That was during the rotary days.
It wasn't until President Bill Clinton, when the cellphone was a mere twinkle in the eye of some cumbersome piece of equipment, that a Universal Service Fund was created by the Federal Communications Commission.
By law, all telecommunications carriers had to contribute a certain percentage of their revenues to the fund – as much as 18 percent these days – to help subsidize the low-income people who can't afford their bills but who rightfully deserve what is called "universal service."
It's a concept that's been around since the 1930s and mandates that everybody have access to telecommunications services, under the principle that such services should not be limited to a select few.
WHO PAYS FOR OBAMA PHONES?
To this day, there's some dispute over whether the universal fund established under President Clinton is an actual tax or a fee. One thing's for certain: tele­communications carriers – and there are currently 3,000 of them across the country – can't do business without contributing to it.
They offset their revenue losses by slapping their viable cellphone users with a fee of their own, found at the bottom of your bill under the heading "user fee." It's usually one or two bucks. By law, providers can only break even. They cannot make money on the fee.
Then the carriers of prepaid cellphones got into the game in 2005, under President George W. Bush. But it wasn't until President Barack Obama that the phones started flooding the market, popping up in virtually every neighborhood across the country.
Hence, the Obama phone.
"I cringe every time I hear that word,'" says Eric Iversen, a spokesman for the Universal Service Administration Company in Washington, D.C.
That's the nongovernmental agency that oversees the universal fund that, in the year 2012, amounted to $8.1 billion.
"The cellphone is now a part of the landscape, it's become an everyday facet of people's lives," he says.
Now you can add Dotson, the Mc­Donald's worker, to that equation. She is a happy recipient.
"I'm just going to have to learn how to monitor my minutes," she said. "Now I can call my daddy and my grandma and let them know how my hospital visits are coming along."
Contact reporter Tom Ragan at tragan@reviewjournal.com or 702-224-5512.