Southern Nevada District Board of Health rejects all level 3 trauma center applications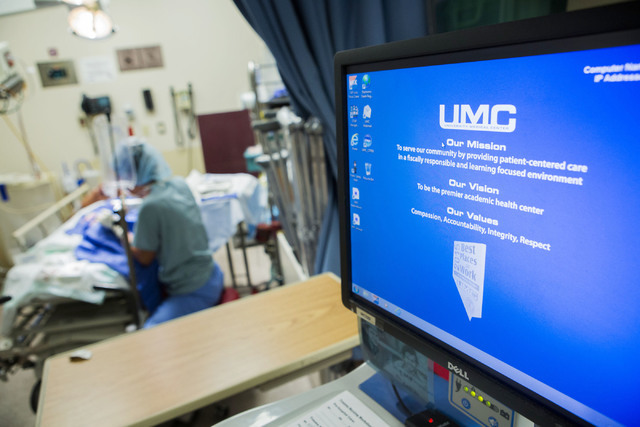 The Southern Nevada District Board of Health rejected all submitted applications for level 3 trauma centers at its meeting Thursday, offering a final decision in a monthslong public debate.
In a 7-2 vote, the board of political and community representatives decided against approving applications by MountainView Hospital, Centennial Hills Hospital Medical Center and Southern Hills Hospital and Medical Center.
Concerns that some of the applicants were driven by financial gain rather than the public interest factored into the rejections.
The hospitals applied in September for designation as level 3 trauma centers, which treat the least seriously injured patients of traumatic events like falls and car crashes.
Much of Thursday's discussion, at the Southern Nevada Health District's main facility on South Decatur Boulevard, centered on the activation fee charged when a trauma team at a hospital is "activated" to care for a patient. The fee can reach thousands of dollars and often varies by hospital.
"The bottom line is this has become about money in too big of a way," board member and Boulder City Mayor Rod Woodbury said.
Councilman Bob Beers, who also leads the health board, joined member Douglas Dobyne as a dissenting vote Thursday.
Beers said the trauma center designation process showed deeper problems with medical billing practices.
Clark County Commissioner and health board member Chris Giunchigliani said she wants health district researchers to further investigate current trauma centers' activation fees, which she said can be excessive and unnecessary.
As part of the vote, the board asked Southern Nevada Health District staff to assess the local trauma system's needs and setup. The cost, staffing and time necessary to complete that assessment have not yet been determined, the district said.
University Medical Center has argued that approving all three applicants at once would have taken patients away from its level 1 center, which can treat the valley's most and least seriously injured trauma patients.
Officials at UMC, Nevada's only level 1 center, also said a drop in patient volumes at the hospital could hurt its ability to educate medical residents and establish strong new residency programs.
"The decision by the Health Board today supports the findings of the Regional Trauma Advisory Board that trauma centers should be added based on strategic and geographic need, and right now there is no need for additional trauma centers," UMC CEO Mason VanHouweling said in a statement following the decision.
Southern Hills CEO Adam Rudd said he was disappointed with the decision and the discussion by the board, which he felt didn't focus on patients.
Southern Hills and MountainView owner Hospital Corporation of America had argued more trauma centers would help relieve UMC's patient load and allow locals to be treated closer to their homes.
"It was all about what's best for the political game for UMC," Rudd said.
Centennial Hills declined to comment on the board's decision.
The Las Vegas City Council, which doesn't directly factor in trauma center selection, passed a resolution March 2 supporting Centennial Hills' bid for a level 3 facility.
Among the speakers at the meeting were representatives of each applicant hospital and Dr. John Fildes, the medical director of UMC's trauma department and a member of the Regional Trauma Advisory Board.
The advisory board members previously issued a nonbinding suggestion that the health board reject all three applications, citing a lack of need in the local trauma system.
Bill Bullard of The Abaris Group, a health care consulting firm hired by HCA, previously said he hoped for an independent board to assess which hospitals would be approved.
HCA has expressed concerns that the advisory board was biased, as it consists largely of representatives from existing trauma centers that would face competition with the approval of a new center.
Sunrise Hospital and Medical Center is Southern Nevada's only level 2 center, which can offer care to patients with serious and lower-level trauma injuries. St. Rose Dominican Hospital – Siena campus is the valley's only level 3 trauma center.
Contact Pashtana Usufzy at pusufzy@reviewjournal.com or 702-380-4563. Find her on Twitter: @pashtana_u
RELATED ITEMS
Board says no to new trauma centers
Three Southern Nevada hospitals apply to become Level 3 trauma centers