Stadium traffic study lists improvements needed by 2020 NFL season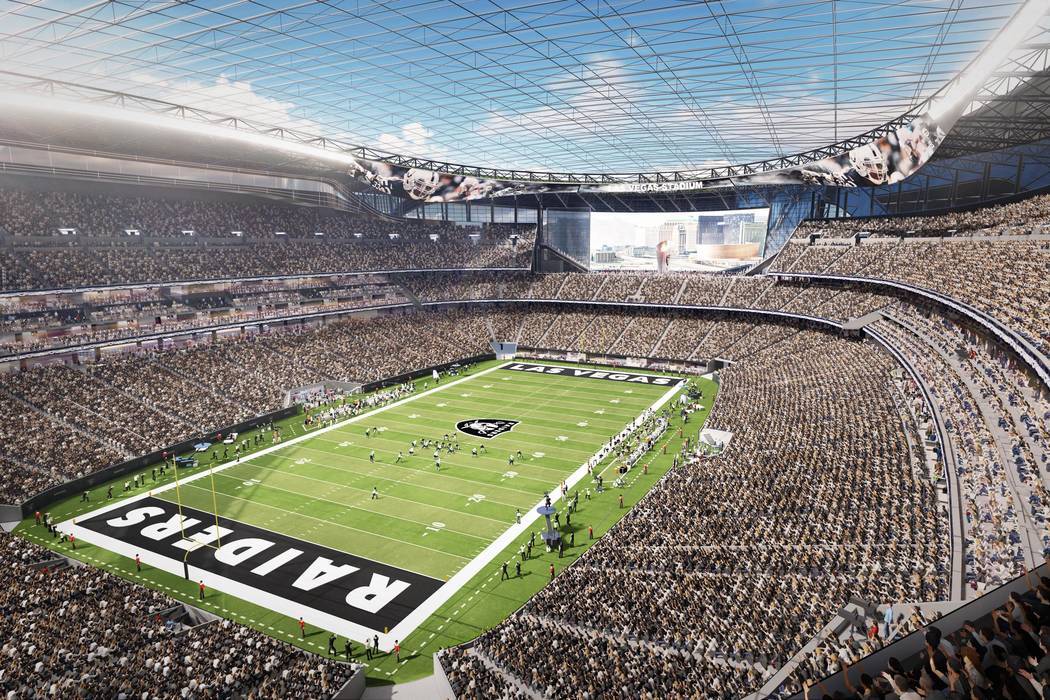 Every time a sold-out Las Vegas Raiders home game ends in 2020, thousands of vehicles are expected to take to local streets within an hour, according to a traffic impact study submitted Thursday to Clark County.
To prepare for such a mass exit, the study lists close to 40 on-site and off-site transportation improvement measures that include widening Polaris Avenue, constructing multiple access roads to the stadium and creating traffic signal timing plans for games and other events.
But the county currently has no estimates on costs or timelines to complete the suggested improvements, most of which need to be ready by the 2020 NFL season.
"All of that is going to be determined later," county spokesman Erik Pappa said. "A traffic study is only one part of the process, and it will have to be reviewed and accepted. Each proposed feature carries a cost and perhaps more traffic features will be sought by staff and the County Commission."
Limited on-site parking
The stadium estimates about 5,600 vehicles will travel to the stadium site for sold-out Raiders games.
Only about 2,400 parking spaces will be available for personal vehicles on the stadium's south side, but the traffic estimates include another 2,400 taxis and ride-share vehicles, 700 shuttle buses and 100 limousines.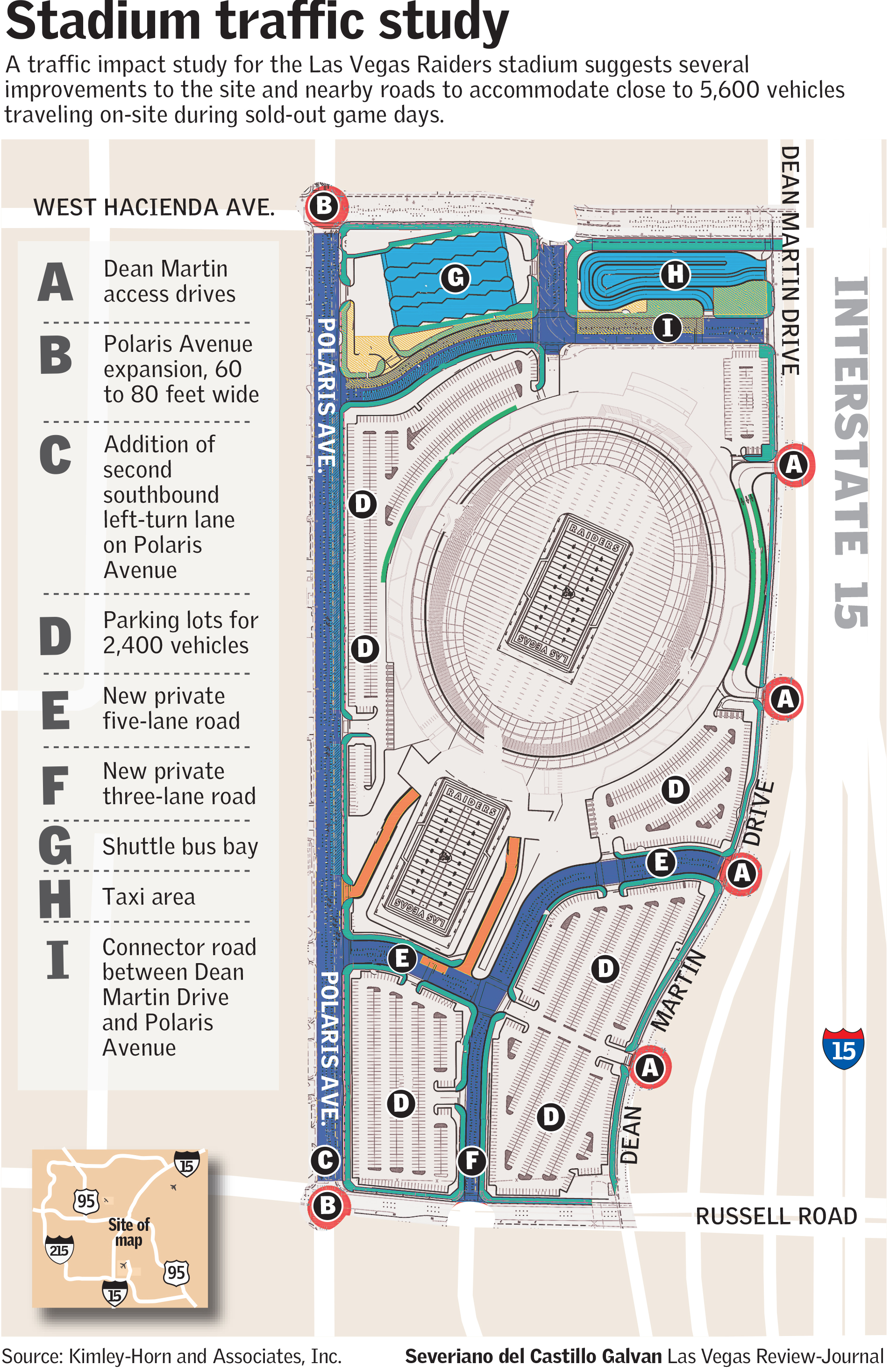 County code requires another 13,850 parking spaces for the stadium. An off-site parking plan will need to be approved by Clark County before the stadium receives a certificate of occupancy.
Those will need to be off-site, the study states, but locations have yet to be specified.
"The Raiders are going to have to do a lot of negotiating with nearby landowners to purchase land where we can put satellite lots to shuttle people in here," County Commission Chairman Steve Sisolak said.
In addition to park-and-ride lots, the study suggests coordinating with nearby casinos for parking and shuttle bus services.
The study also cites a possible expansion of the Las Vegas Monorail route by 1.14 miles from the MGM Grand to Mandalay Bay by the 2020 NFL season. Such a plan has yet to be approved by the County Commission, and monorail spokeswoman Ingrid Reisman said there's no definite timeline on when her company will move forward on the expansion.
The study estimates close to 20,000 attendees to each home game will walk to the stadium from their hotels. The pedestrians are expected to travel over a 30-foot-wide bridge that would be built above Interstate 15 between the stadium site and The Shoppes at Mandalay Place.
"With the stadium's proximity to the Las Vegas Resort Corridor it is expected have a significant number of individuals choosing to walk to a game than is found at other NFL stadiums," according to the study.
Kimley-Horn and Associates, Inc. prepared the study. It was based on data reviewed from other NFL stadiums and UNLV Men's Basketball game data.
Contact Michael Scott Davidson at sdavidson@reviewjournal.com or 702-477-3861. Follow @davidsonlvrj on Twitter.