Switching unions to get easier for Nevada employee groups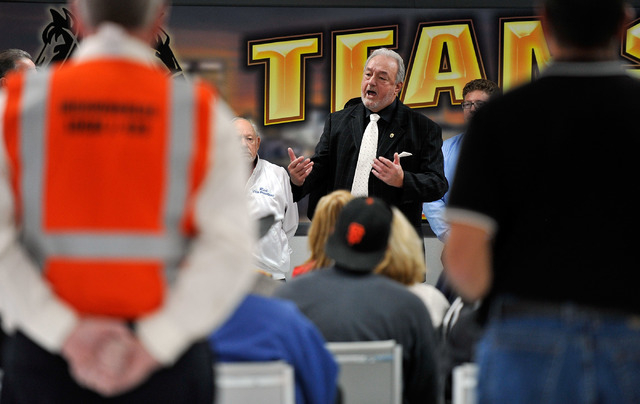 Union representation elections — a rarity in the Silver State — almost certainly will increase in frequency thanks to a recent rule change that requires fewer votes for workers to change bargaining groups.
However, challengers seeking to oust the union in power soon may have to fork over half the expected cost of an election. The state's three-member Local Government Employee-Management Relations Board has proposed splitting the price tag of such elections among the involved parties.
The EMRB previously dipped into its limited cash reserves to cover costs associated with an election, with just two occurring since about 2002. That practice was reconsidered after the state board in February voted to change its 13-year-old policy requiring a supermajority to oust a union.
To reach a supermajority, one union needed 50 percent plus 1 of total union membership to vote in its favor. Now, a simple majority of those who vote in the election is all that's needed.
"There's no doubt we're probably going to see more elections, because it's going to be so much easier to determine a winner," said EMRB Commissioner Bruce Snyder.
"There's a few — who I can't name right now — but I've had inquiries from several (unions) that might be interested in holding an election," he added. "I'm sure not all of the unions feel this way, but having the threat of an election makes them provide good service to their membership. If not, they're at risk of a takeover."
In anticipation of an increase in elections, Snyder soon will send draft regulation to the Legislative Counsel Bureau that will modify the existing payment plan.
The issue came to a head this week during a three-day meeting of the EMRB, which on Wednesday considered additional rules to govern a decade-long fight over who will represent the Clark County School District's bus drivers, janitors, cooks and other support staff at the bargaining table.
In February, 71 percent of workers who voted in a special election selected Teamsters Local 14 as its representative, a role filled for more than four decades by the Education Support Employees Association. However, only 5,190 votes were cast, which fell far short of a supermajority.
Now that the EMRB has abandoned that requirement — something the ESEA called "unlawful" — the Teamsters and ESEA will face off in a second runoff election this fall.