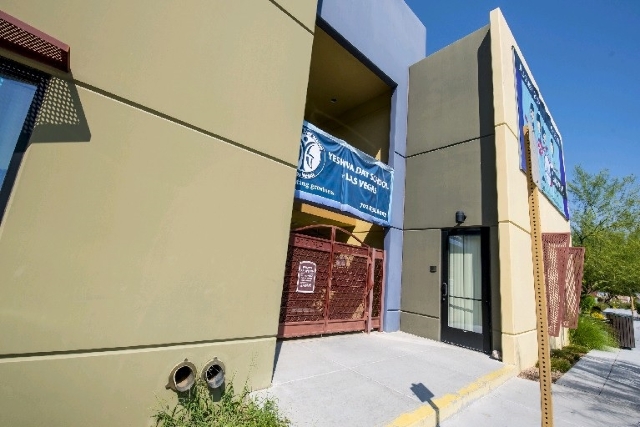 A Henderson synagogue will get a $75,000 federal grant to increase security because of potential terrorist attacks.
It's the second time Congregation Ner Tamid has gotten such a grant from the Department of Homeland Security.
Henderson Police Department records don't show a history of violence or terrorism at the synagogue. But it's aiming to be prepared.
A police threat assessment in February found Congregation Ner Tamid was vulnerable to violent attacks, according to the congregation's grant application. Police recommended the synagogue undertake "hardening activities" to decrease the likelihood and impact of a terrorist attack.
Every year, the Department of Homeland Security gives more than $500 million to "high-threat, high-density" areas to protect against terrorism through its Urban Area Security Initiative. The Las Vegas area received more than $3 million this year for governmental security efforts.
Nonprofit organizations within those urban areas, including religious groups, can apply for separate security grants. The Congregation Ner Tamid was the only one of five Nevada organizations that applied this year to get the grant, state officials said.
Jackelyn Rosen, congregation president, said an applicant must make a "wish list" of things that would strengthen its defenses against violence, then explain how it plans to implement them.
Congregation Ner Tamid's list included new internal locks on doors that connect offices, the sanctuary, the library and the school area. If an intruder breaks in through one area, they won't have access to the others.
Another request was for a communication system so administrators can communicate with each other across the property instantly in an emergency.
The synagogue also received the grant in 2011, as did Temple Beth Sholom in the western Las Vegas Valley.
Homeland security officials haven't released a list of this year's winners, but most of 2011's winners were religious establishments. Some schools and medical centers also earned grants.
Of those religious establishments, nearly all were Jewish. According to the FBI, 59 percent of reported religiously motivated offenses in 2013 were against Jews.
In its application, Congregation Ner Tamid said the likelihood of homegrown attacks by Islamic extremists has risen because of radical groups abroad. The Department of Homeland Security says on its website that the "increasingly sophisticated use of the Internet, social media, and information technology" has led more Americans to engage in religious-based violence.
Congregation Ner Tamid expects to get the grant money Sept. 1.
"We hope we can make our community safer and use the money in a positive way," Rosen said.
Contact May Ortega at mortega@reviewjournal.com or 702-387-2908. Follow her on Twitter: @MayVOrtega.