Tool of the (old school) trade: the humble notebook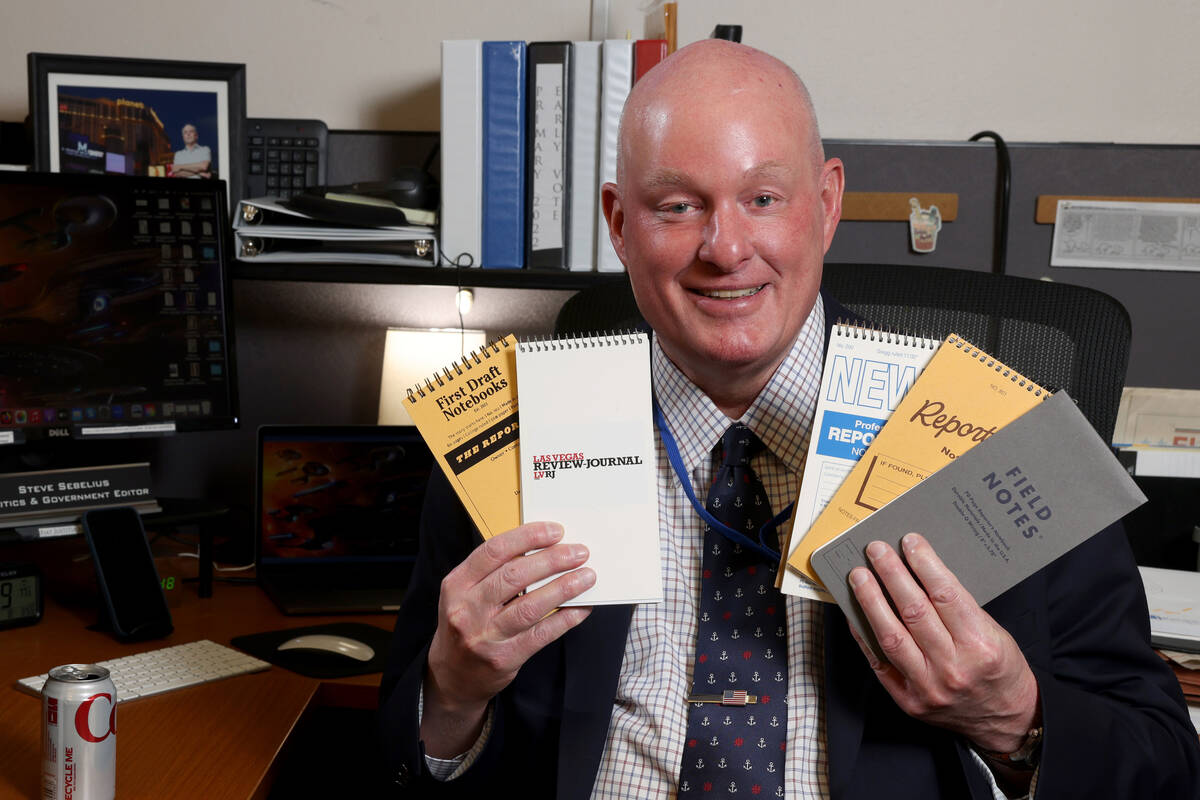 The very first reporter's notebook I ever used was not a reporter's notebook at all, but rather a steno pad. And I did it because the reporter I was shadowing for my college internship, Fred Vogelstein, then of the Huntington Beach Independent, used them, not just to take notes, but also to doodle during interminable City Council meetings that often stretched into the small hours of the following day.
Later, after landing a job at a daily paper, I switched to the ubiquitous reporter's notebook, the traditional 4-inch-by-8-inch pad that's easy to carry in a back pocket and hold in one hand while doing that most reportorial of things, writing while standing up.
Usually, a newspaper provides its reporters with notebooks, and at the big papers, they're often printed with a replica of the newspaper's "flag," or nameplate. But I've also commenced a lifelong study of the oldest of old-school reporter's tools, having used hundreds if not thousands of them during a 30-year career in the news business.
The fruits of that search are here:
1. Field Notes Front Page
These reporter's notebooks caught my eye when I saw John Dickerson of CBS News using them during a visit to Las Vegas, and my subsequent investigation revealed that Dickerson was actually involved in creating them in partnership with the company. They are extremely durable and survived the most punishing of trials, my 2016 two-week, two-city journey to cover the national political conventions in Cleveland and Philadelphia. They are pricey at $16.95 for a package of two, but still very worthwhile. (The Field Notes Original Kraft staple-bound memo books make good backups and can be carried in a pocket, another tip I learned from watching Dickerson, former host of "Face the Nation" who now heads "Primetime with John Dickerson" on CBS's streaming network.)
2. Stationers Inc. Reporter's Note Book
These were the classic brown cover notebooks that say "Reporter's Note Book" (two words, not one) on the cover. They came in wide rule (No. 800) and narrow (No. 801). For years, even long after the invention of the internet, they had to be ordered by phone from the company, which was located in Richmond, Virginia. But the owner of the store — Tom Edwards — died in 2021, and it closed, so these notebooks aren't made anymore. I was saddened to hear the news of Edwards' passing, and it brought me back to the last time I ordered from his company. Although I had not placed an order in years, the person I spoke to — probably Edwards himself — remembered my name, and took care to update my contact information in what I can only assume was a physical Rolodex. RIP, Edwards and your wonderful note books.
3. First Draft Notebooks
In the wake of Edwards death, a new company started to carry on his legacy, this one a labor of love from Nic Garcia, regions editor of The Texas Tribune. He named the outfit "First Draft," an homage to former Washington Post publisher Philip Graham's famous saying that journalism is "the first, rough draft of history." They come in two sizes, including the traditional 4-by-8 dubbed "The Reporter," and a smaller 3.75-inch-by-6-inch version, dubbed "The Scoop." The cover is as sturdy as the Stationer's brand, and the color is similar, but they are bound with a double-spiral rather than the single spiral of the original. They offer to plant the flag of any newspaper on the cover (the website shows The Dallas Morning News and the Seattle Times logos), but a combo pack of five large and five small can be had for just $30. But the best part is that Garcia is ensuring the Stationers legacy enjoyed by so many reporters will continue.
4. Portage Reporter's Notebooks
The ubiquitous notebook, with a white cover that carries the label "Professional Reporter's Notebook." It's given me insulation from criticism over the years; if anyone questions my journalistic ability, I reply that I'm a professional, because it says so right on the cover of my notebook. They also come in wide (No. 100) and narrow (No. 200) and are reasonably priced at $19.50 per dozen. The company also carries steno notebooks, which lend themselves more to desktop than in-the-field use, and the very useful Pocket Notebook (3.75-by-6-inch size) that can be carried almost anywhere ($16.49 per dozen). I am currently using one of each, for various applications around the office and in the field.
5. Moleskine
These specialty notebooks were virtually unknown outside a small nerdy community of writers until about 20 years ago, when they re-exploded in popularity. The company includes a small note in each notebook that traces its lineage for 200 years, including Vincent van Gogh, Pablo Picasso and Ernest Hemingway as customers. (The idea that, if one were to use use Hemingway's tools one is that much closer to Hemingway's success has thus far proven untrue in my case.) They come in blank, grid or lined versions, and most have a hard cover and open like a regular book. But the reporter's notebook version comes in a variety of sizes, and opens like the rest of the notebooks I've listed here, with a flip-up cover. My favorite size measures 6½-inches by 3½ inches, and easily fits into a pocket. They are much more expensive than any of the others here — $24.95 on the company's website for just one, $15 on Amazon.com — but did I mention Hemingway?
No matter what other form of paper I've used in my job — and I've used legal pads, steno pads or spiral-bound notebooks, electronic note-taking tools and, in a pinch, those little Memo books by Mead that you can find in drugstore or grocery store stationery sections — my favorite will always be the trusty, humble reporter's notebook. It's not that I'm not impressed by my younger colleagues who can take copious notes on the virtual keyboard on their phones, or the newfangled apps such as Otter that will both record and transcribe an interview, making note taking as necessary as churning butter. It's that I really like the simple, single-purpose, old-school, crash-proof, paper-and-pen reporter's notebook better.
No matter what else, it will always remind me of decades of service in journalism, marked by old stacks of notebooks containing that fragmentary first draft of history.
Contact Steve Sebelius at SSebelius@reviewjournal.com or 702-383-0253. Follow @SteveSebelius on Twitter.