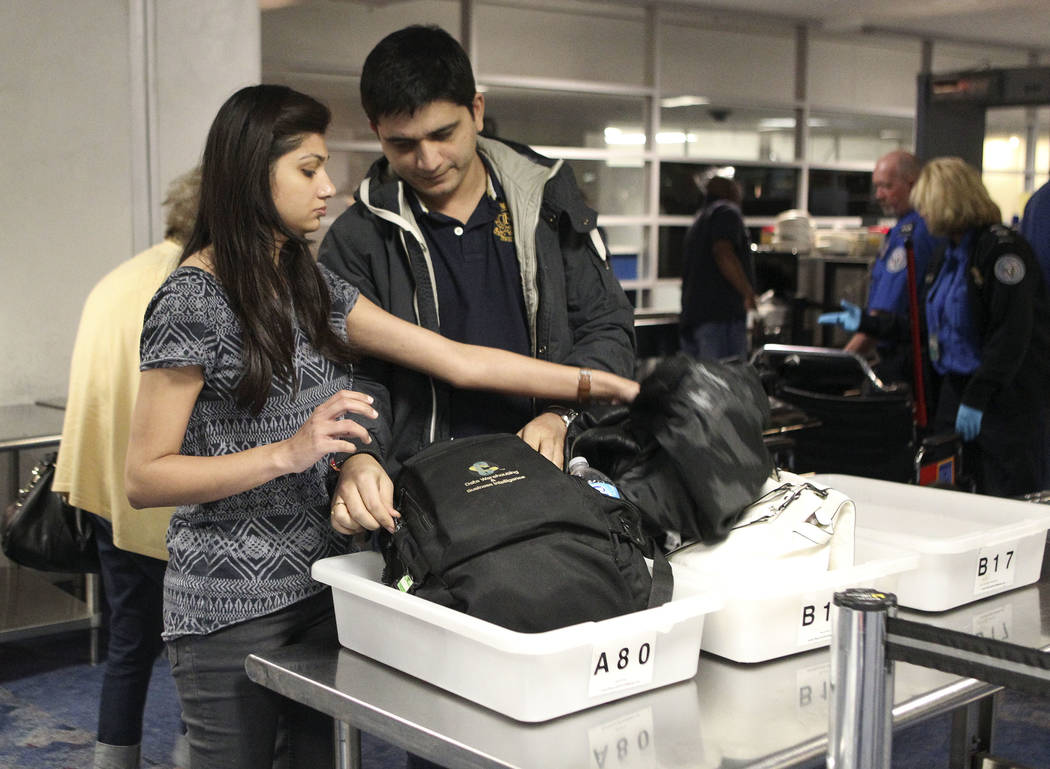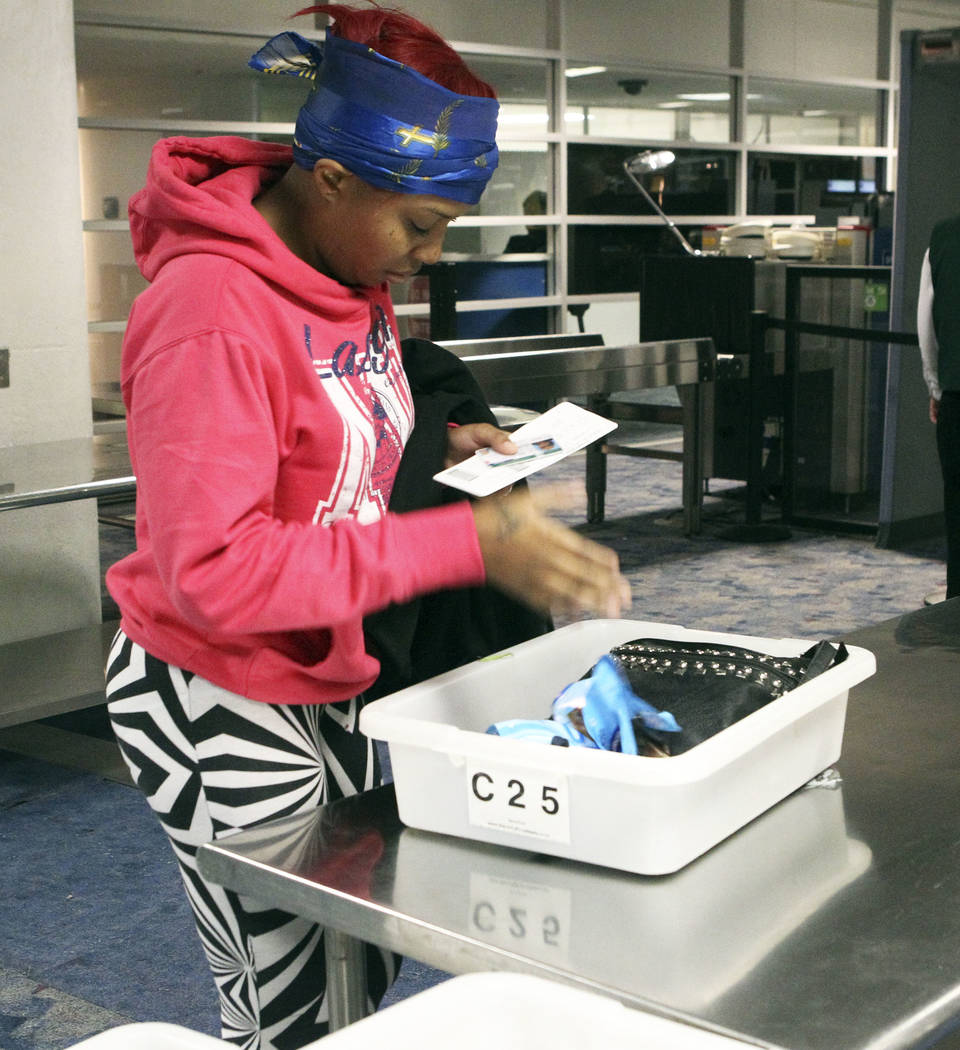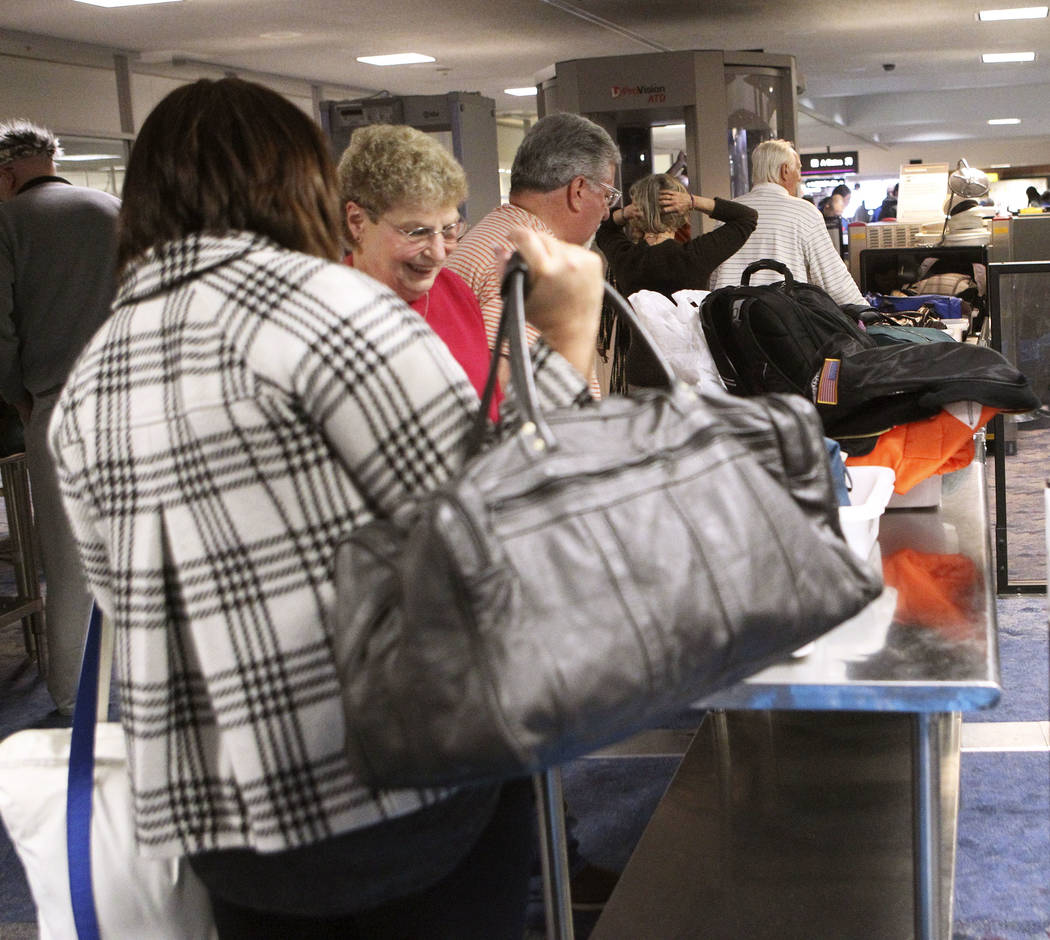 Travelers passing through McCarran International Airport in Las Vegas during the long Memorial Day weekend might notice some changes to security screening. Or maybe not, since the pilot program was quietly enacted there more than a year ago.
Airline passengers toting carry-on baggage may have already encountered a new screening process instituted by the Transportation Security Administration, which call for placing tablet computers, e-readers and other electronic products into separate bins for screening. It has long been standard procedure for laptop computers to unpacked, but the TSA's pilot program extends to all devices larger than a cell phone. Food and paper products might also be removed from bags in the screening area.
The TSA acknowledged on Wednesday that it has been testing the new process for more than a year at McCarran International and nine other U.S. airports.
The move, TSA officials said, is aimed at getting a better look inside the overpacked and cluttered bags carried by passengers who want to avoid the cost or inconvenience of checking their luggage with airline carriers.
Picking up my iPad from TSA lost and found. They're testing a new procedure at Mccarran where even tablets have… https://t.co/d77H4CZE9G

— Marty Paz (@MrpAlert) January 30, 2017
"This is quicker and more targeted by allowing our officers to get a clearer view inside bags," TSA spokeswoman Lorie Dankers said. "We need to balance that with efficiency in the screening process and make sure it continues to be smooth."
Additionally, of 2,000 TSA officers expected to be hired over the next year, Dankers said 69 new screeners will be sent to Las Vegas.
Not a response to specific threats
The protocols were not created in response to any specific security threats against Las Vegas or other airports, Dankers said. It also unrelated to a new TSA restriction on passengers traveling with computers and other electronic devices from eight countries in the Middle East and Africa.
@ThatDwayne TSA started checking tablets and laptops in Las Vegas a few months ago. The agent told me that they will change procedures for US flights.

— Paul San Soucie (@PaulCarefree) May 12, 2017
Rather, the TSA wanted a mix of small and large airports in differing geographic locations, ranging from Los Angeles to San Juan, Puerto Rico, to test the impact of the measures.
"We do know that there are people who would like to target commercial aviation, and this allows us to stay ahead of those evolving threats," Dankers said.
The TSA is testing the new methods at an unspecified number of security lines at McCarran, while maintaining standard airport screening measures in other lines, Dankers said. The move allows the agency to compare how quickly suspicious items are detected and efficiency rates for screening airline passengers.
Dankers declined to discuss the results of the new screening measures, but pointed out that it's "efficient enough" that news outlets have not reported on them over the past year.
However, a handful of observant airline passengers did take to social media to question some of the new procedures.
@TSA So iPads must come out at screening now? Would've been good to know. Long wait for bags getting extra screening at Las Vegas airport

— Robert Allen (@rallenMI) April 11, 2017
"TSA started checking tablets and laptops in Las Vegas a few months ago," Paul San Soucie of Louisiana posted May 12 on Twitter. "The agent told me that they will change procedures for US flights."
No longer lines seen
Chris Jones, a spokesman at McCarran International, said the new procedures have not created unusually long lines at security checkpoints.
Aviation consultant Mike Boyd, a frequent traveler to Las Vegas, said he didn't know of the changes, but added that they sound like another opportunity for the TSA to "put on a show."
"Given the track record of the TSA, I'm not sure why we should take any of this seriously," said Boyd, president and CEO of Boyd Group International in Colorado. "It might slow down the lines for show value, but this is nothing more than another Kabuki theater on the part of the TSA."
The TSA's disclosure comes as an estimated 789,000 airline passengers are expected to depart or arrive at McCarran International Airport during the Memorial Day weekend, with Friday expected to be the busiest day.
@TSA McCarran term 1, TSA agent is saying electronics larger than cell must be removed from bag. Why?

— Bill Bice (@BillBice1) April 26, 2017
TSA officials are expected to decide whether to introduce the program to additional airports this summer, when a record 234.1 million airline passengers worldwide will take to the skies on between June 1 and Aug. 31, a 4 percent jump from last summer, according to Airlines for America.
Contact Art Marroquin at amarroquin@reviewjournal.com or 702-383-0336. Follow @AMarroquin_LV on Twitter.
Security Screening
The Transportation Security Administration has quietly tested new measures over the past year at 10 airports nationwide.
— Las Vegas
— Los Angeles
— Phoenix
— Detroit
— Boston
— Lubbock, Texas
— Fort Lauderdale, Florida
— Colorado Springs, Colorado
— Boise, Idaho
— San Juan, Puerto Rico
Source: Transportation Security Administration