Two Vegas judges appointed to new state court of appeals
December 17, 2014 - 5:12 pm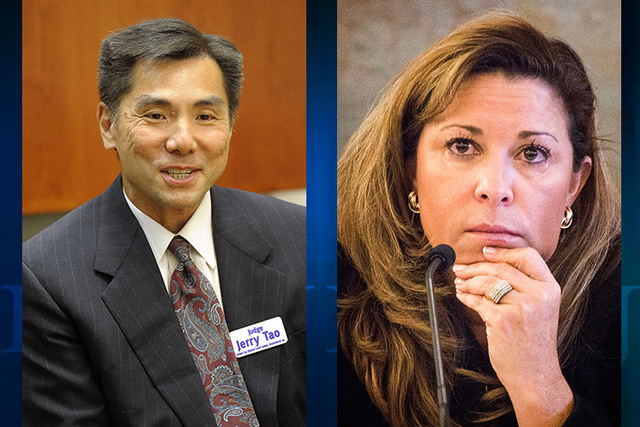 Gov. Brian Sandoval on Wednesday named Jerome "Jerry" Tao, Michael Patrick Gibbons and Abbi Silver as inaugural appointments to the newly created Nevada Court of Appeals.
The three were among nine finalists recommended by the Nevada Commission on Judicial Selection.
"I was incredibly impressed by all of the finalists for the Nevada Court of Appeals," Sandoval said. "This was a difficult decision due to the number of accomplished and qualified applicants. I am confident that Jerry Tao, Michael Gibbons and Abbi Silver will work tirelessly to build this new court swiftly and smoothly. These fine individuals will refine and enhance Nevada's system of jurisprudence."
Tao currently serves as a Clark County district judge. He also is a former prosecutor and public defender.
Silver is a Clark County district judge and a former prosecutor.
Gibbons is a Douglas County district judge and a former prosecutor.
Silver, who also has served as a judge in Las Vegas Municipal and Justice courts, said she was on the bench, overseeing a post-conviction hearing, when she received the governor's call.
"I'm so excited to be a part of history here in Nevada," Silver said. "I'm really looking forward to the challenge of handling a portion of that overwhelming caseload of the Nevada Supreme Court."
Tao said he was surprised by the appointment.
"There were some really excellent candidates," he said. "Any one of them would have made an excellent judge."
He believes serving on the appellate court presents an opportunity to assist the high court and help shape state law, "and as a judge, you can't ask for more than that."
The judges are expected to move into their new offices by Jan. 5 and start hearing cases that week.
"This is a court that Nevada has needed for a long time," Tao said. "Justice delayed is justice denied. That's a saying, but it's also a very real thing here in Nevada."
A group of senior judges, as well as sitting judges, will be assigned to cover Clark County District Court caseloads for Silver and Tao.
At the close of a ceremony for retiring judges in the Regional Justice Center on Wednesday, David Barker, who will take over as chief district judge next month, acknowledged Silver and Tao.
"Remember, come from the perspective that we've done it right," he joked.
Contact reporter David Ferrara at dferrara@reviewjournal.com or 702-380-1039. Find him on Twitter: @randompoker